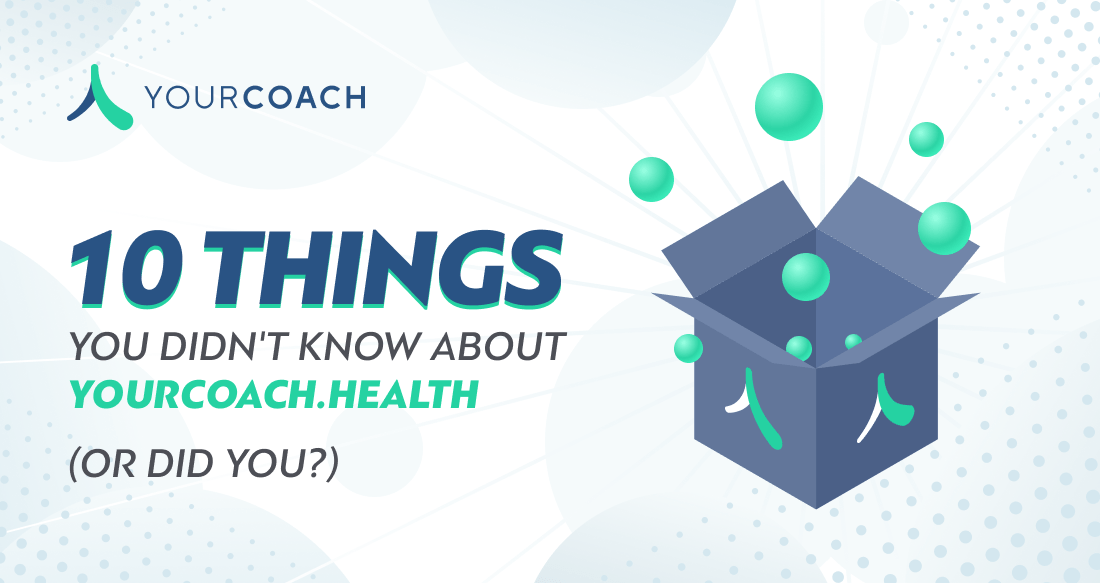 Time flies when you're having fun… YourCoach was founded in 2020 and we've come a long way since while spearheading the Health Coaching revolution! We're proud to have expanded our offering and community massively in the last several years, growing the number of practicing health coaches on our platform and introducing several new Industry Partners to our unique offering. There's no better time than now to educate the many new faces on our platform (and remind some of our early adopters) who we are at YourCoach and what we stand for.
Read on for ten fun (and some lesser-known!) facts about YourCoach.Health.
YourCoach was founded by a Health Coach
Our CEO, Marina Borukhovich founded YourCoach Health to streamline her health coaching practice when she became a health coach in order to help her clients set, accomplish and maintain their health & wellness goals without all the extra noise. What started out as a practice management platform has grown to the only Operating System for Behavior Change powered by Health Coaches, YourCoach as you know it today. YourCoach is proud to be a platform built by a health coach for health coaches in collaboration with real, practicing coaches on the platform and we're constantly sourcing feedback to ensure our evolution stays collaborative with the many talented coaches on our platform as well as our Industry Partners and their clients.
We are The Only Operating System for Behavior Change
We are the only operating system for behavior change powered by health coaches as well as the leading experts in the space. Did you know that companies embed YourCoach into their platforms in order to surround their product, service, clinical trial, patient community and more with health coaching, powered by the largest thriving and validated coach community and industry experts? We use proprietary algorithms to match end-consumers and patients with verified, credentialed health and wellness coaches we've contracted with through our platform and we supply a full stack of APIs to embed health coaching services into the offering. Of course, our industry expertise is there to support everyone along the way. Any questions? Reach our friendly team via team@yourcoach.health
Our team is ever-growing and international
We're very proud to have our company grow with team members all over the world, from Texas to New York to Barcelona to Bali and tens of places in between! We are a truly international team which has helped us see the global potential for health coaching and inspires us to continue championing the Health Coaching Revolution so that it can one day be accessible to the global population (we're targeting 2030 for this very ambitious goal!).
Our mission is simple but powerful
At YourCoach we've coined the term the Health Coaching Revolution to represent a global movement to make health coaching more accessible worldwide. As category creators, we didn't just invent the term, we're on the very frontlines of this Revolution. It's our mission to bring the power of health coaching to the projected 8.5B worldwide population by 2030, creating more Happy & Healthy Humans in the process. Not only are we partnering with organizations to bring health and wellness coaching to their clients, members and talent, we are also creating a space to educate all the stakeholders about health & wellness coaching. We created our Health Coaching Industry Report and continuous Deep Dives to share about the industry, latest research and where health coaches can and do help.
We're the Virtual Home for all things health and wellness coaching
YourCoach is a coach's virtual home for all things health & wellness coaching. From goal tracking to forms & questionnaires, from insurance to live video calls, we have everything a coach needs to run their practice successfully. Our team is working hard to bring new features and updates to coaches every week, and we always appreciate feedback and comments. The best part? Once a practicing health coach on the platform is validated, onboarded and becomes a contracted coach with YourCoach – they are already familiar with the platform and can start working with our Industry Partners right away!
Yes, we are fully HIPAA-compliant
The Health Insurance Portability and Accountability Act also known as HIPAA, is a series of regulatory standards that outline the lawful use and disclosure of protected health information. We take great care to protect coaches' and clients' privacy and data. Our platform is fully HIPAA-compliant and coaches and clients can exchange data through chats and live sessions with ease of mind.
You can consult our policies via our Privacy Policy Statement and read more about our approach to HIPAA compliance and data privacy in our recent blog.
We're category creators at the forefront of the industry
We're continuing to trailblaze through everything we do. Our team is working hard to create partnerships with organizations across industries to deliver health coaching to their clients, members and talent. Through these partnerships we're empowering validated, practicing coaches on our platform by contracting with us in order to deliver their expertise and service to even more individuals—one step closer to our mission.
Our one-of-a-kind gamified pricing model
At YourCoach, our goal is to empower coaches with tools to do what they do best—help clients realize their health goals. We've created a gamified pricing model that allows coaches to pay less for the platform as they practice more with their own clients (you can read more about it here). Coaches can also earn perks ranging from social media features to something truly unique—an opportunity to contract with us and become eligible for new client opportunities through our Industry Partnerships.
New client opportunities for practicing and validated coaches through our Industry Partnerships
Active, practicing, validated coaches on the YourCoach platform have the opportunity to contract with us and work with clients through our Industry Partnerships. These opportunities are ONLY offered to actively practicing, validated and credentialed health & wellness coaches on our platform. There's truly no better way to empower health & wellness coaches than to provide them tools, resources and new opportunities.
Educational opportunities for health coaches everywhere
We believe in delivering real health coaching with lasting, science-backed outcomes to as many people as possible. This dedication was our inspiration behind the Rita & Gene Presman Memorial Scholarship program which sponsors 5 individuals per term who are pursuing their NBC-HWC certification. Not only this, but it also provides them with educational support ahead of the exam. We've even gone so far as to create a separate study group open to practicing coaches on our platform to encourage and prepare even more coaches for this important certification. We believe in REAL health coaching, the kind that brings outcomes and improves lives. We firmly believe that education is key to shaping better health coaches and that health coaches are key to creating more Happy & Healthy Humans. You can learn more about the Rita & Gene Presman Scholarship Program, apply or nominate fellow health coaches here.