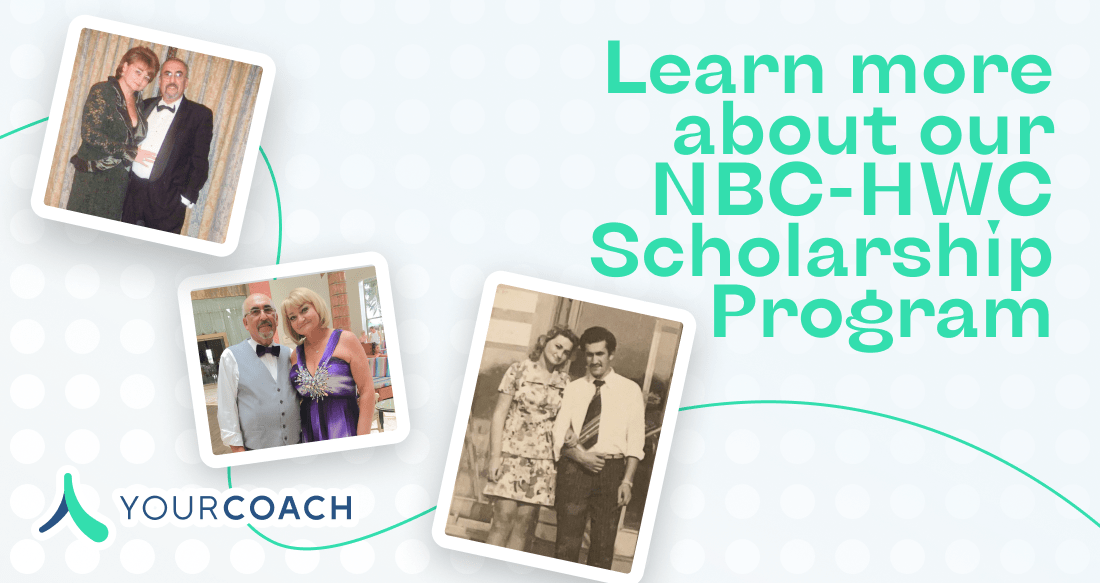 As a health coach, receiving your NBHWC certification can be a pivotal moment in your career. Though it's not required to practice, this certification is often seen as the gold standard across the industry and may be a requirement when pursuing health coaching roles within digital health or healthcare. The preparation and training required to pass the exam can also help shape you for success with your clients.
Here at YourCoach, we want to ensure cost is never a barrier for anyone who wants to become a health coach. The program's namesake (and our CEO's parents), Rita & Gene Presman, held these same values—a strong commitment to education and a dedication to creating more opportunities wherever possible. We're proud to offer these scholarships in their honor, and today, we're shedding light on all the fabulous benefits to the program.
The cost of your exam is covered, so you can focus more on studying. 
First and foremost, we're proud to cover the full cost of the exam sitting fee for five students each exam term. If selected, we work with you and the National Board to ensure all associated costs for your exam are covered so long as you've prepared a complete application for that exam period. It's our hope that with costs out of the way, you can focus more on preparing for your exam and worry less about the fees (especially given the holiday season!). 
Winners receive exclusive exam prep from our Director of Health Coaching Operations and NBC-HWC, Ashlee Honeycutt.
In addition to covering exam fees, we want to make sure every scholarship recipient is fully set up for success in advance of their exams. Our Director of Health Coaching Operations and an NBC-HWC, Ashlee Honeycutt, leads study sessions for recipients to ensure they have the tools to succeed ahead of the exam. These sessions include working through key study topics, answering questions and focusing on any problem areas. 
In addition to in-person sessions, we also provide a proprietary resource guide to supplement self-study, complete with the most up-to-date exam prep information. Both options offer additional support for any recipients who might have difficulty accessing study resources or could use more hands-on support.
Winners have access to a network of fellow health coaches in pursuit of their NBC-HWC certification, as well. 
As an added benefit, our winners can easily network with one another through an exclusive group-chat. We create this as a safe space to exchange questions and share exam tips and best practices. We believe that having a micro-community of individuals preparing for the same goal can have a major impact on individual success rates.
Winners are connected to and supported by YourCoach Health for the future.
We believe that this scholarship program is a long-term investment in the coaching community and that our recipients will go on to accomplish incredible things within the world of health and wellness. We're proud to forge lasting connections with our recipients and support them on their health coaching journeys whether it's with YourCoach or beyond after they've sat for their exam. 
Applications will be accepted through December 2022 through our program website. Please note this scholarship program is need-based and passion-focused.