For health coaches
Your client's health coaching journey.
Simplified.
We are NOT a directory, we are your HIPAA-compliant practice management platform and community to centralize and streamline the coaching experience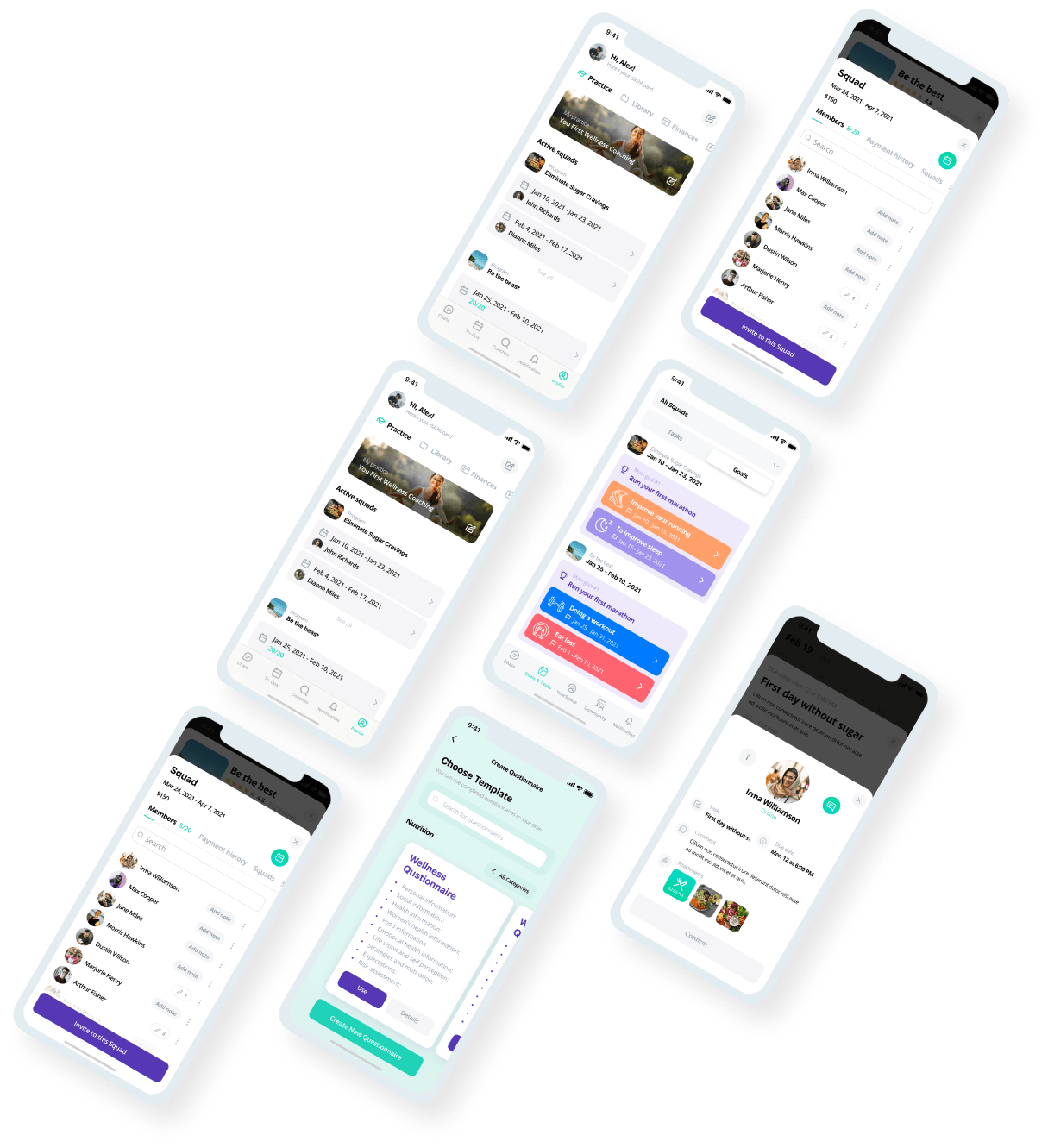 Coaching Platform Features
All-in-one solution for your existing practice
Set-up and streamline your practice by creating Individual and Group programs, onboarding clients, accepting payments, setting up tasks for accountability, creating and tracking short and long-term goals with your clients, creating and sending interactive forms and questionnaires and so much more all in one place!
YourSpace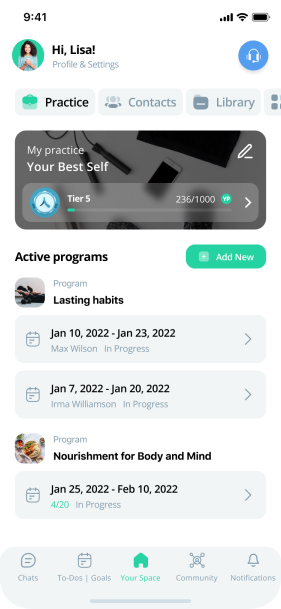 Group
Goals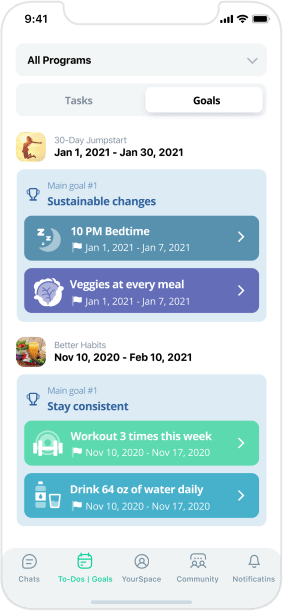 To-dos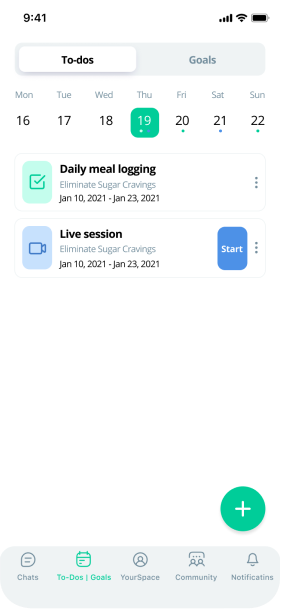 Finances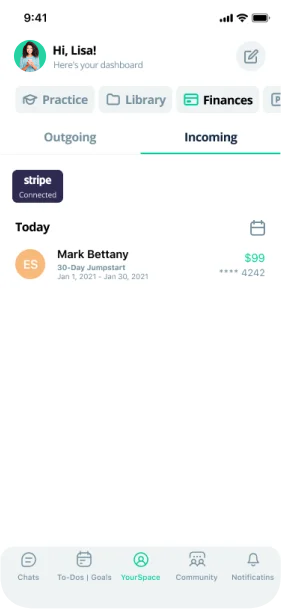 Chat
Level-up skills, New client opportunities & more
By working with your clients through the YourCoach platform, you'll be qualified to be matched with prospective new clients, get unique long-term opportunities as well as boost awareness of your programs by being featured in our social media, newsletters and blog posts.
Perks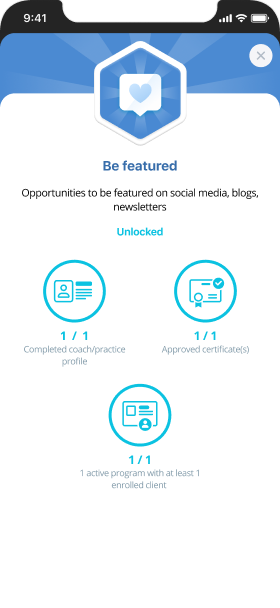 Perks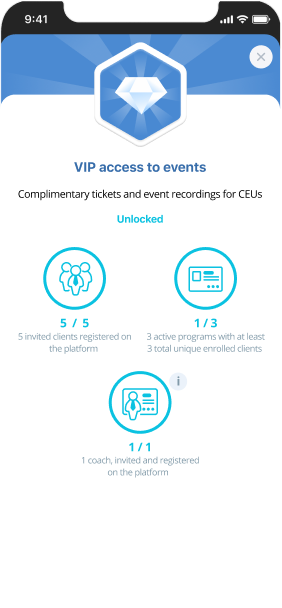 Perks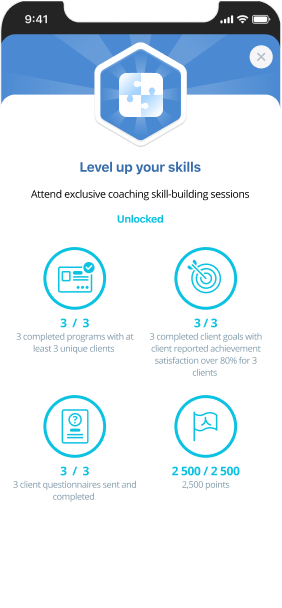 Perks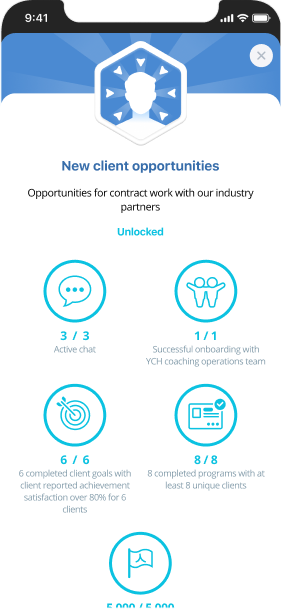 Help your clients stay accountable
Set up one-time or recurring tasks for your clients as well as create long and short-term goals, interactive forms and questionnaires and schedule tele-coaching sessions and webinars. Accountability tools are key in helping your clients reach their goals and succeed in long-term behavior changes.
To-dos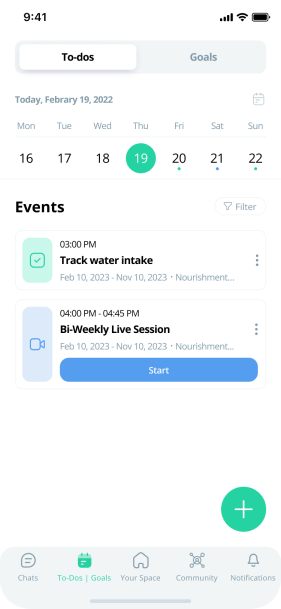 Live sessions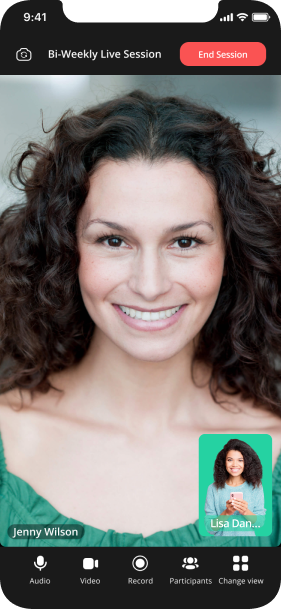 Task (Coach view)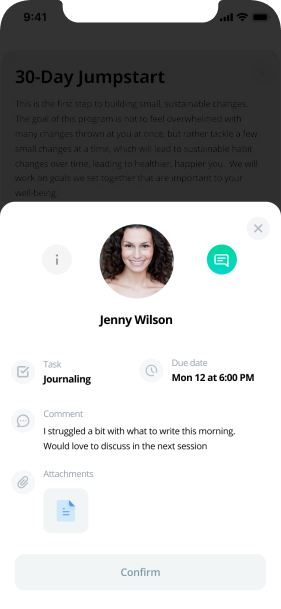 Task (Client view)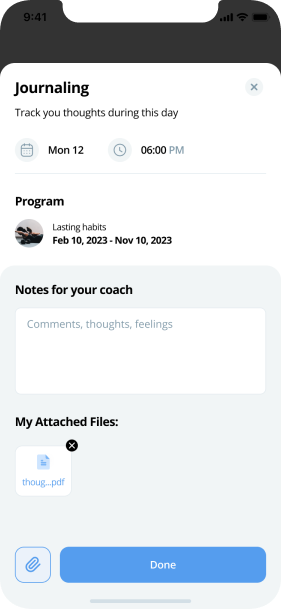 Add Meal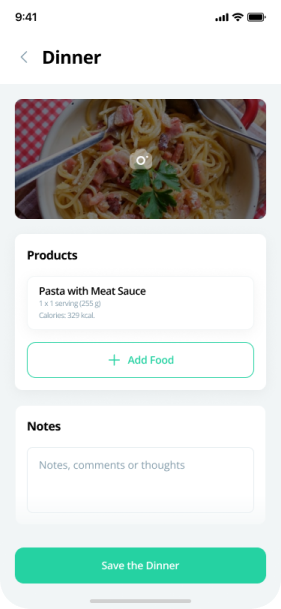 Chat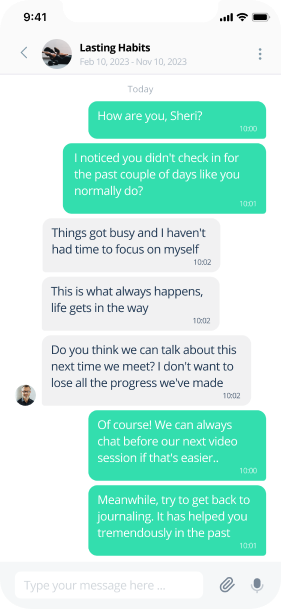 Apprenticeship
We did not forget about you new coaches, just starting out!! With our exclusive Apprenticeship program, you are able to coach clients we match you with, with the guidance of a Mentor who can support you and answer any questions you may have along the way. It's an opportunity not offered anywhere else, designed to nurture and foster coaches coming into the profession.
Сoming soon!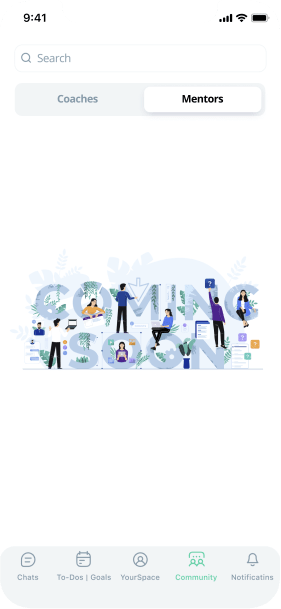 Co-coaching
Your offering doesn't need to stop when you are outside your comfort zone or scope of practice. Connect with other coaches who compliment your niche specialty and help those Happy Humans! It's all about what your client needs at any particular time in their health and wellness journey. This is a feature exclusive to YourCoach and not seen on any other platform.
Community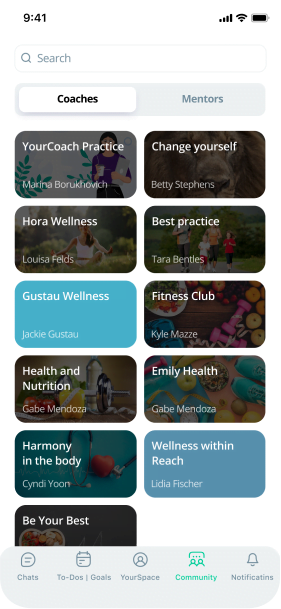 Add co-coaching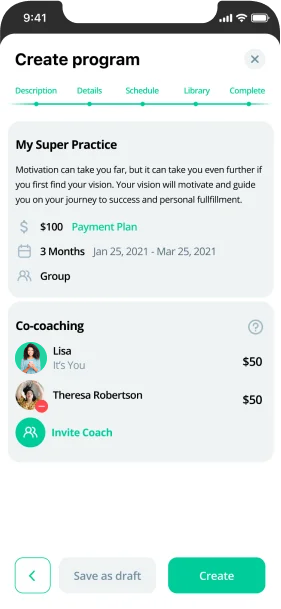 Content Library
Get started by creating folders and adding your documents, videos, photos, links and files to your Library. You choose the days of your program when you want your materials to be shared with your clients. Reduce the administrative noise and spend more time doing what you love - coaching!
Library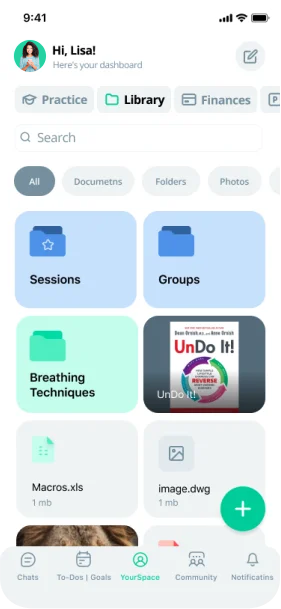 Program library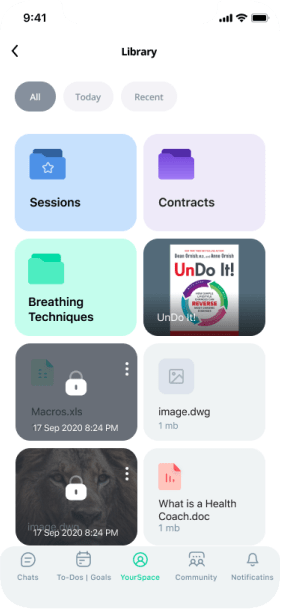 YourSpace
Your virtual home dashboard with all the accountability tools you need for your practice. Upload content to your library, handle your finances, create forms and questionnaires, add session notes for your clients and find a Toolbox brimming with Digital Therapeutics all in one place!
YourSpace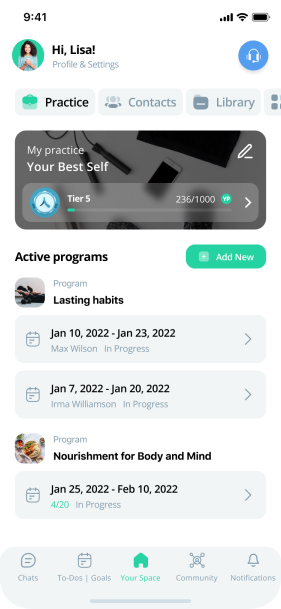 Library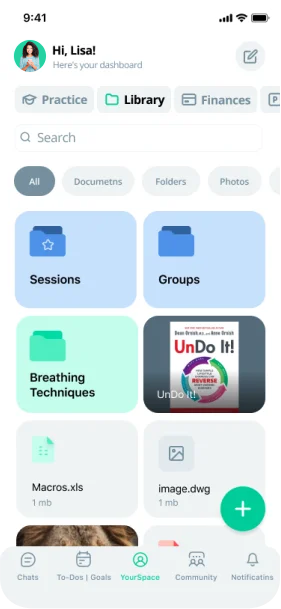 Finances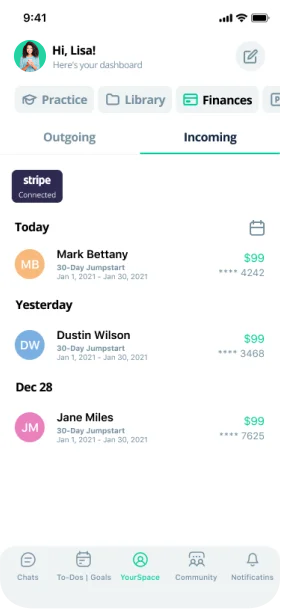 Toolbox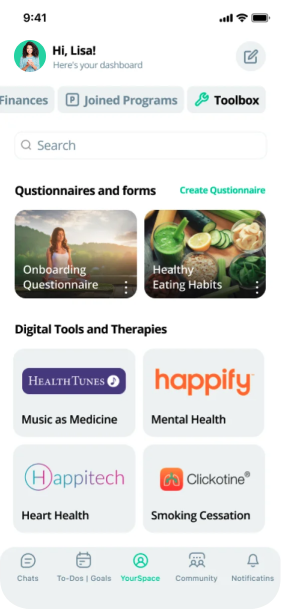 Tasks & To-Dos
Leverage our To-Dos function to schedule one-time or recurring tasks and Live Sessions for your clients to keep everyone on track for success!
To-dos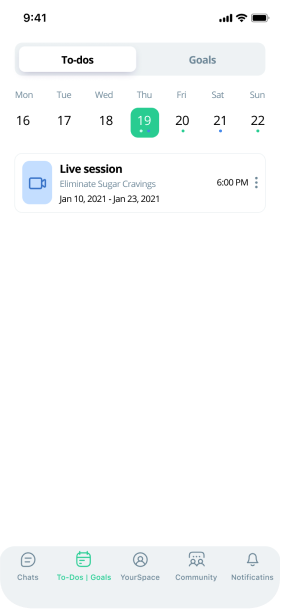 Task (Coach view)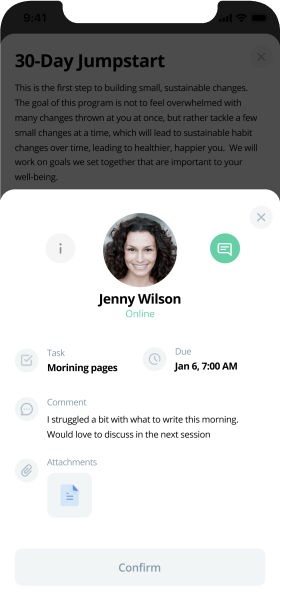 Event (Coach view)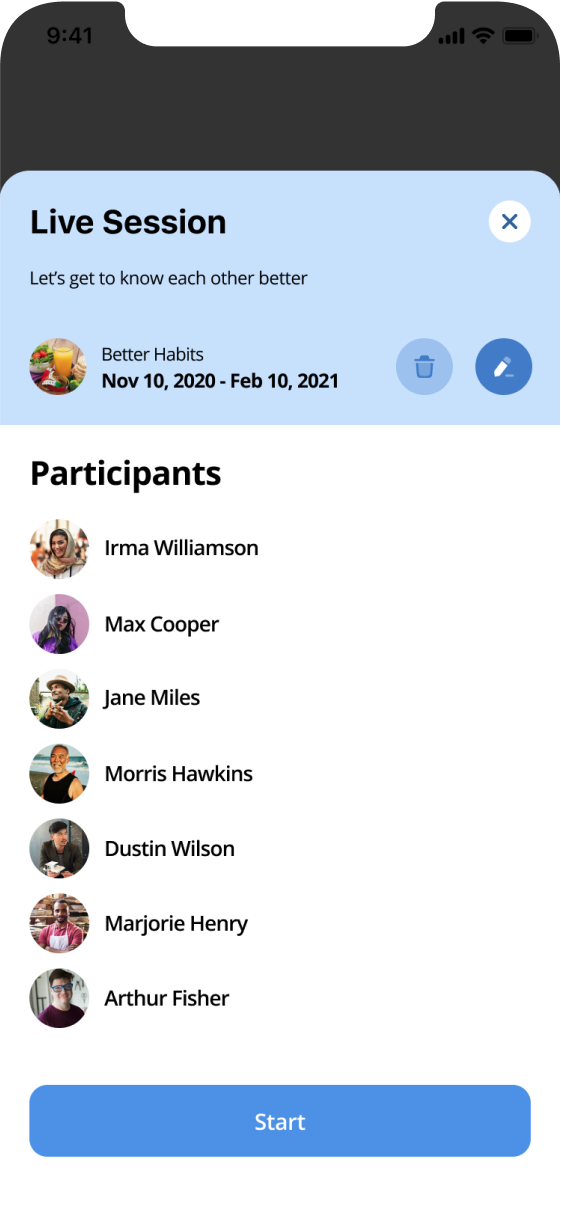 Goals
Set and track long and short term goals with your clients to assist them in creating and sustaining lasting behavior changes.
Goals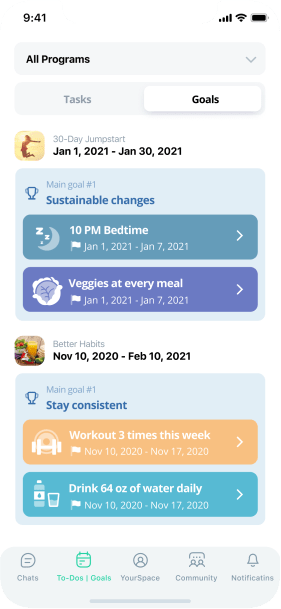 Short-term goals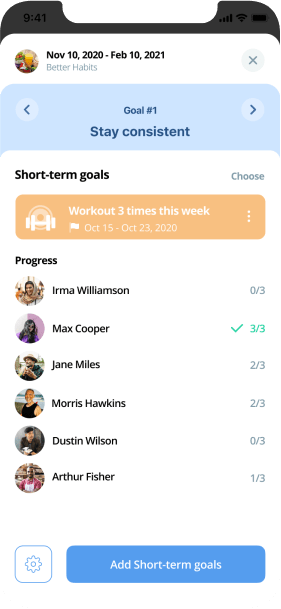 Long-term-goals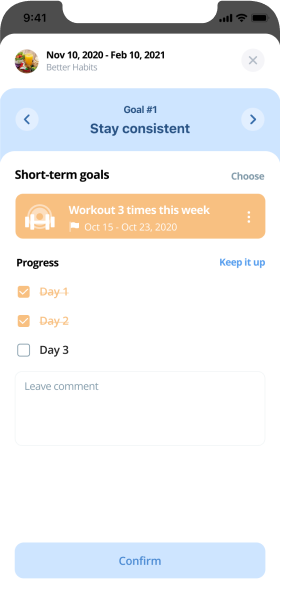 Forms & Questionnaires
Our interactive and customizable forms and questionnaires make it easy to create something from scratch or to use already provided templates.
Create Questionnaire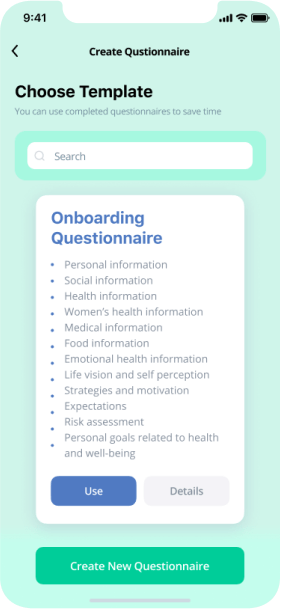 Send Questionnaire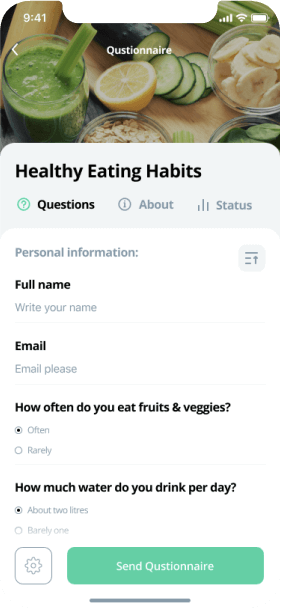 The Coach Journey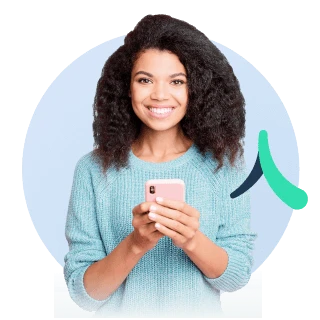 Meet Lisa
Lisa is a Holistic Gut Health Coach and she uses Your Coach as an all-in-one coaching platform.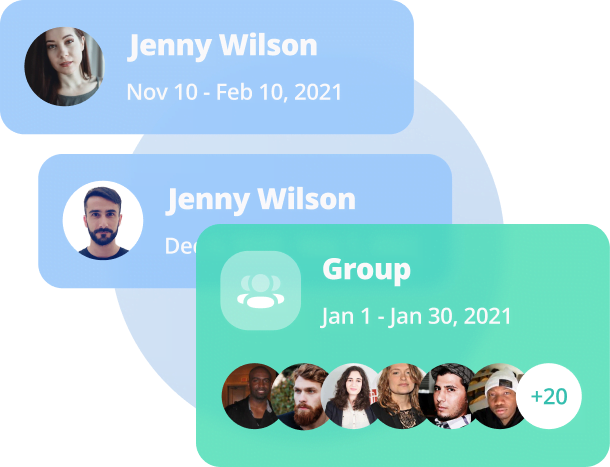 Lisa created her practice on YourCoach
Lisa created individual and group programs on the platform and invited her clients.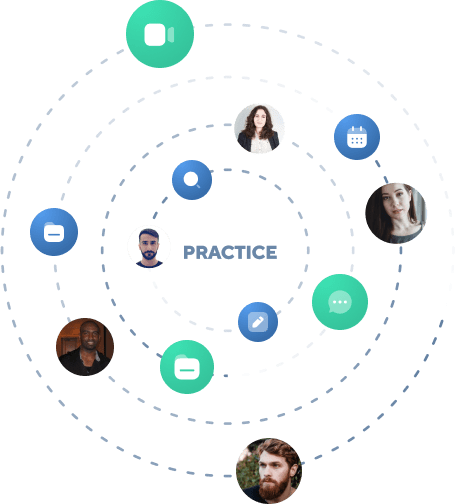 Coaching is her passion
Lisa has uploaded content to the library, collected e-signatures on contracts, processed payments, created various forms, has used goals, to-dos, session notes and is still finding new ways to simplify her practice!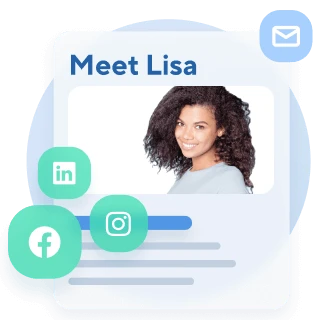 Lisa is earning perks!
Lisa is an active member of the YCH community, has been featured in the YCH newsletter, social media and blog posts which have helped boost awareness of her programs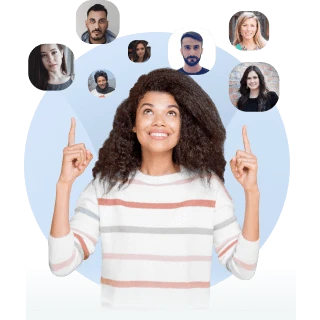 Here come new clients!
Since Lisa has been actively using the platform with her own clients, she is now eligible to be matched with potential new clients right in the App!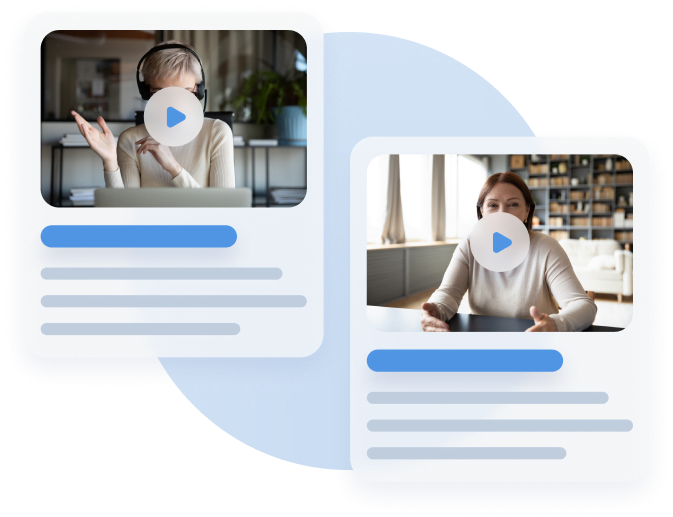 Lisa and her practice are thriving
Lisa is interested in leveling up her practice and coaching skills, so she is regularly attending YCH webinars with top-tier specialists across the industry.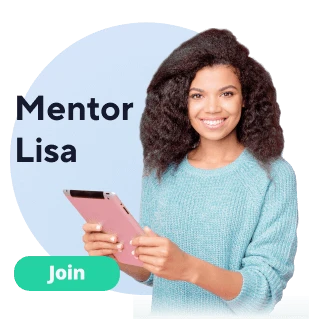 Mentor? Yes, please!
Lisa is an experienced coach and has decided to become a Mentor on the YCH platform in order to share her knowledge with the up and coming coaches looking to thrive as well
Pricing
Revolutionary Pricing Model
Here at YourCoach, we believe in growing the coaches on our platform by providing them with opportunities to succeed.
Practice more
- pay less!
Our pricing model is built on this principle, gamified to decrease your subscription price with every new client you coach on the platform. In this way, we're motivating coaches to continue spreading the power of health coaching worldwide and encouraging them to acquire more meaningful client experiences by expanding their practice on our platform.
Start
Free
1 group program
2 individual programs
Tier 1
Subscription price
$40
/month
Tier 7
Subscription price
$10
/month
Show Roadmap
Tier 1
Subscription price
$ 40
Perks & Opportunities
We have many perks (including new client opportunities) for coaches practicing on the YourCoach platform

Be featured
Opportunities to be featured on social media, blogs, newsletters

VIP access to events
Complimentary tickets and event recordings for CEUs

Level up your skills
Attend exclusive coaching skill-building sessions

New client opportunities
Eligibility for contract work through YCH with our industry partners
FAQ
Questions & Answers
Answers to frequently asked questions.
What is Practice Management?
A practice management platform lets you manage your practice all in one place! It's a space to create your programs/offerings and onboard your clients with e-signature digitized contracts. You can accept and manage payments right in the platform. Once you create your programs and onboard your existing clients, the platform is your personalized space to interact with them. Our goals and tasks features help keep your clients accountable in a group or individual setting. Our video capabilities mean that you don't need to use any other platforms for your virtual meetings. YourCoach is your virtual home for all your coaching practice needs!

I see other coaches on the platform. Can my clients see them as well?
Only coaches on the platform, not clients, can see other coaches. Here, you can search and see if there is anyone who complements your niche specialty that you would like to network or co-coach with. Your clients who you invite onto the platform will only see your practice and your offerings (programs/packages).
Can other coaches see my programs?
Other coaches are only able to see the name, duration, price and description of your program. The actual program contents will only be available and visible to clients who join your program.

You can, however, set your programs to 'hidden' in settings, which will allow only the clients you invite into your program to see it. In this instance, it will be hidden from other coaches.
What's the difference between programs and packages?
Tomato/Tomahto! Virtually, the same thing, it just depends what you call your offerings.
How do I invite a client to join my program?
You can invite clients to join your program or your squad within that program. When inviting clients to a program, you can click the invite button and invite them via name (if they are an existing client or by email. You can also invite clients to join a particular squad within your program.
What is co-coaching and how does it work?
Co-coaching is a concept introduced by YourCoach. It's the ability to provide coaching services with another coach (or 2 or 3) who complement your niche specialty. You design the program together, decide on the price (and the breakdown of $ for each coach), length and content of the program, invite your clients and voila - you are co-coaching! You no longer need to refer out your clients - you can stay involved on their health journey. Co-coaching allows you to focus on your niche specialty and lets other experts contribute what they know and are good at.
Do I have to accept payments through the YourCoach platform?
No! You can choose the 'Paid elsewhere' option when setting up a paid program and can use another payment method like another payment processor, cash or barter :)
I heard about the interactive Questionnaire feature on the platform – where can I find it?
The interactive questionnaire is just one of the amazing tools we have available for you in your Toolbox. It helps you to get to know your clients more holistically so you can craft individualized and personalized programs. The Toolbox can be found under the 'YourSpace' tab in the app.
I would love a video tutorial.. Where can I find it?
Tutorials are available through our desktop version on the left-hand side bar. You can access this link with or without being logged in.  If you would like to see any additional features for the tutorials, please do not hesitate to reach out to us at team@yourcoach.health
Are you HIPAA compliant?
Yes! We take great care to protect your privacy and data.
Get started with
YourCoach today!
Health Journey. Simplified. What are you waiting for?