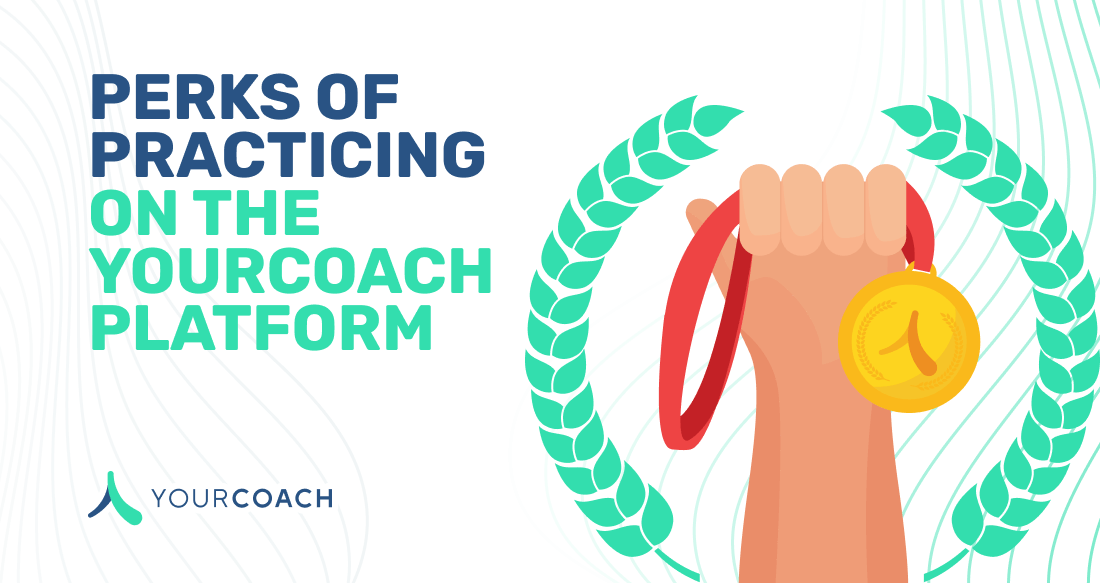 As a platform built specifically for health and wellness coaches, by a health coach, you'll notice we've embedded many of the science-backed health coaching methodologies into the core of YourCoach. For example, we understand that motivation is a powerful tool that shapes our successes, and is highly dependent on internal and external stimuli. 
We created our gamified pricing model and perks system to help every coach stay motivated on their journeys to becoming successful Health Coach-Preneurs, leveraging the YourCoach platform to level-up their skills and increase their client base. 
Today, we're happy to share that we recently updated these perks to better align with the goals of many health coaches practicing on our platform. All of this information, including your progress towards each perk, is available in real time right within our platform (and you can check out one of our recent tutorials for a step-by-step guide on where to find this info and how to interpret it). Read on to learn more about each one of these unique perks and how you can unlock them the more you practice on the YourCoach platform!
Features on YourCoach blogs, social media and newsletters
We're always proud to feature health coaches practicing on the YourCoach platform within our content to help showcase and celebrate their work. We understand the power and value of social media when building your health coaching practice and introduced this perk as a way to bolster those efforts. 
In order to be eligible for this perk, you must have completed your coach/practice profile, have at least one approved certificate uploaded to your profile, and have one active program with at least one enrolled client. Most coaches on the YourCoach platform have already completed these steps, so achieving this goal might be right on the horizon for you! 
Complementary and exclusive access to YourCoach events and event recordings
We're happy to offer several events per year to help health coaches refine their skillset, connect, exchange ideas, and stay inspired. What's more, most of these events are eligible for NBHWC CEUs, which are keystone to maintaining the NBHWC certification year over year. Events like our Global Health & Wellbeing Coaching Symposium, for example, have seen attendance from thousands of wellness professionals and key opinion leaders across the globe and have helped health coaches network and build their skills. 
This perk is twofold—not only do we provide complimentary and early access to tickets for CEU-eligible events that would otherwise be for-cost, but also we offer exclusive access to many YourCoach event recordings so you can rewatch the content whenever you'd like. 
In order to be eligible for this perk, you must have three active programs with at least three unique, enrolled clients, five invited clients registered on the platform, and you must have invited one coach who's then registered on the platform as well.
Exclusive coaching skill-building sessions
For those of you who've been part of our Health Coaching Community for a while, you'll notice this perk is new. We're excited to offer these one-of-a-kind sessions that will offer hands-on support for building or refining core health coaching skills. You'll meet with YourCoach health coaching experts to focus on one key skill, receiving tools, tips, resources and feedback to help you grow and improve.
In order to unlock this perk, you must have completed three programs with at least three unique clients, have completed client goals with client reported achievement satisfaction of over 80% for three unique clients, have three client questionnaires completed, and have earned 2,500 points. You'll notice that starting with this perk, a points threshold is required, however coaches can earn points for nearly everything associated with your practice within the platform—from tracking client goals to uploading a photo—so these points goals were designed to be easily attainable and a no-brainer! 
New client opportunities
This perk is something we pride ourselves on here at YourCoach—it's what makes us the ONLY operating system for behavior change, powered by health and wellness coaches. Thanks to our growing roster of Industry Partners (learn more about them in last week's blog) we're able to offer select practicing health coaches on our platform an opportunity to become contracted with us, giving them the potential to work with new clients through our Partners.
We take our partnerships very seriously, and it's important we empower our clients with active, dedicated, motivated and skilled health coaching professionals. In order to unlock this perk you must be active through the chat feature of the platform, have at least eight completed programs with eight unique clients, have six completed client goals with client-reported achievement satisfaction over 80%, have completed a successful onboarding with the YourCoach Coaching Operations team and have earned at least 5,000 points. 
We've already been so impressed by coaches who've made their way to this perk and are thrilled to cheer many more on in the year ahead! It's thanks to you all that we've established the largest army of validated health coaches, to pioneer HIPAA-compliant, secure and safe health coaching service integration via our technology for many organizations across industries!