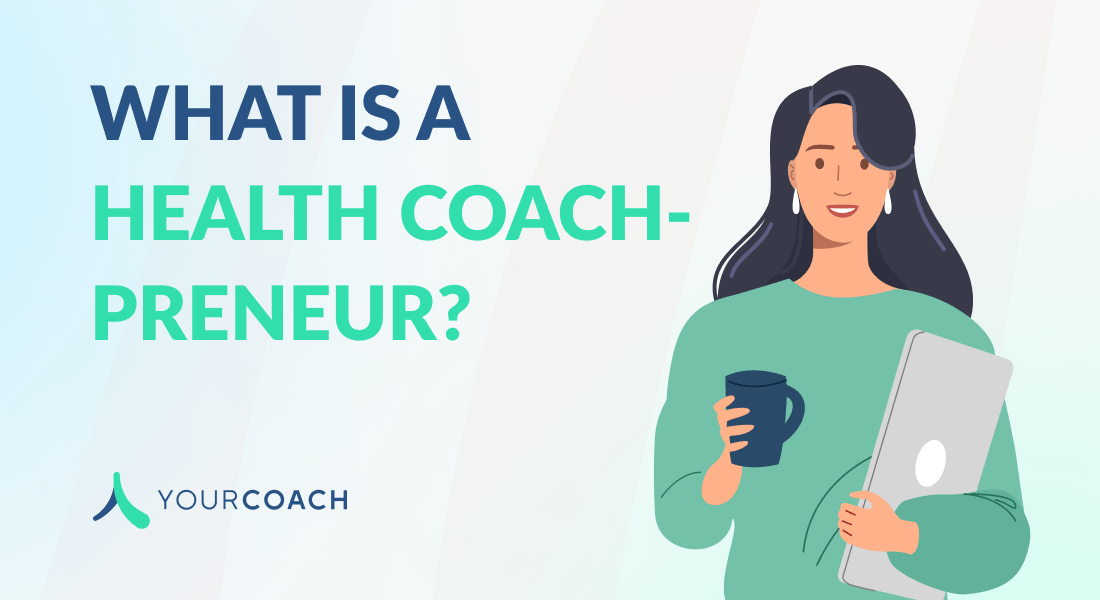 Here at YourCoach, we're big on authenticity. We don't just talk the talk—we've worked hard to empower health coaches with new client opportunities, scholarship opportunities, webinars and more through our end-to-end, HIPAA-compliant practice management platform.
As we do like to innovate, we've created a new nomenclature for the incredible health coaches who are running their own businesses and pioneering real health change with their clients. You, the Health Coach-Preneurs are the real drivers of change in the health and wellness industry. Read on to learn more about what makes a Health Coach-Preneur, why you should become one and how YourCoach can help you succeed.
What is a Health Coach-Preneur?
We coined the term "Health Coach-Preneur" to represent any health and wellness coach who's building their own business to address client needs, leveraging their unique skillset, specialty and experiences. Every Health Coach-Preneuer has something unique to bring to the table and each one is a critical member of the Health Coaching Revolution—a global endeavor to deliver the power of health coaching to the global population!
As independent business professionals, Health Coach-Preneurs can make their own schedules, with the flexibility to work part- or full-time, depending on your client load and capacity. You may practice with clients you've sourced independently, or, if you're a practicing coach on the YourCoach platform, you can become eligible for new client opportunities with our industry partners. 
Why become a Health Coach-Preneur?
Simply put, Health Coach-Preneurship affords flexibility, opportunity, and independence. These health coaches decide how many clients to take on, can make their own schedules, and can have the freedom to ramp up their client caseload and scale it back as they need or desire.. This adaptability is important and makes caring for yourself and others more possible, especially when priorities may shift. 
We've always been inspired to support Health Coach-Preneurs, but especially now that there are layoffs affecting the Coaching Community. Health Coach-Preneurship ensures you have a buffer so that you can diversify your streams of income based on the number of clients you take on and practicing coaches on the YourCoach platform have more opportunities than anywhere else to work with new clients through our industry partners (more on that below!). 
What opportunities does YourCoach have to empower Health Coach-Preneurship?
Our team works hard to empower every practicing health coach on our platform to do more of what they do best—run their practice! We offer opportunities to support your business from the very early stages—for example, our Rita and Gene Presman Memorial Scholarship Program awards 15 ambitious coaches with funds and exam prep for the NBC-HWC exam each year. We also produce regular webinars that are eligible for CEU credits once you are an NBC-HWC.
While you run your practice, we offer superior tools on our HIPAA-compliant end-to-end practice management platform, like full video and chat capabilities, goal-setting features, a library full of your content, direct access to digital therapeutics tools integrated into the platform, and so much more. We also provide practicing coaches on our platform opportunities to be eligible to take on new clients through our industry partnerships. For example, we just announced a partnership with Twill to power up Duet, its live coaching component, with certified and credentialed coaches practicing on our YourCoach platform. This is one of many partnerships to be announced, creating more opportunities for Health Coach-Preneurs to grow their client base on the only operating system for behavior change, powered by health coaches!
Health Coach-Preneurship is the future of health coaching. If you're left wondering what makes a successful Health Coach-Preneur, stay tuned for more on this soon. In the meantime, happy health coaching! We're proud of all the Health Coach-Preneurs on our platform and beyond and look forward to spearheading the health coaching revolution together!