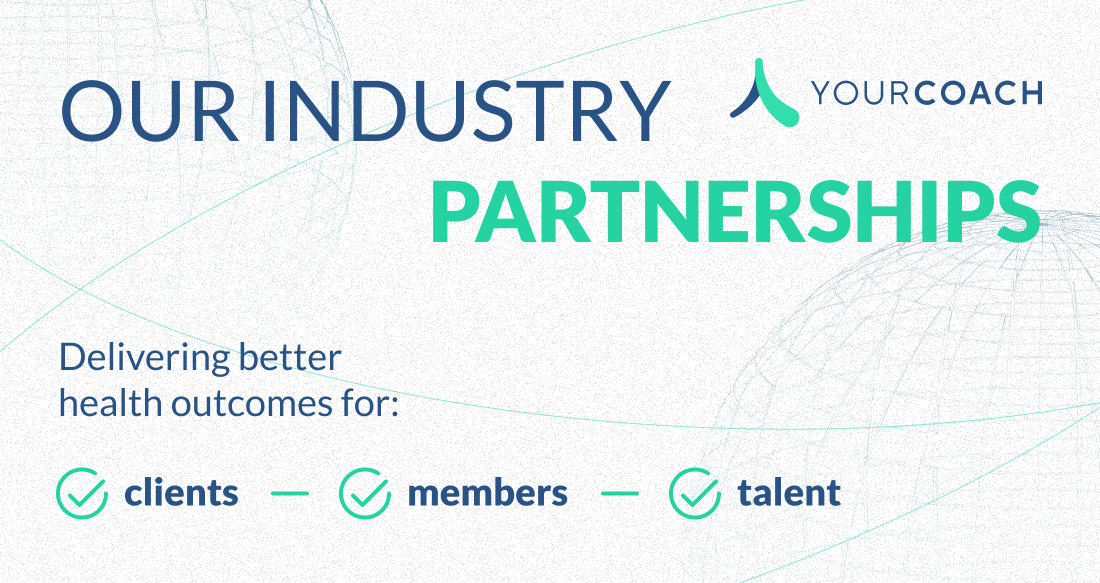 We're just in the thick of the Health Coaching Revolution, which means we're seeing coaching crop up in industries that had no idea it existed just a year prior. We're proud to be ushering in much of this change through our increasingly diversified roster of Industry Partners. 
For coaches who've been with us since our early days, and companies who may have just happened upon our organization, the term "Industry Partners" might need clarifying. In today's blog, we're excited to share more about what it means to be a YourCoach Industry Partner; how we collaborate with these organizations to scale health coaching operations; and why every organization needs to consider partnering with YourCoach and utilizing health coaching services.  
What does it mean to be a YourCoach Industry Partner? 
YourCoach Industry Partners understand that healthcare is becoming personal. More and more people are demanding individualized care with clinical and non-clinical professionals, guiding them on their health journeys. It's no longer enough to offer a great health product or service if it has no human component. 
Health coaches offer this "human eye," as we call it, they're diligent champions of optimal health and serve as critical complements to any existing product or service. Health coaches use scientifically-backed methodologies and check in regularly with clients and members to ensure they feel supported; improve accountability; and help acclimate them to a given product or service so they stick to their health goals in the long-term. After all, we all need someone to lean on!
The demand for health coaching is already indubitable. Research suggests that 60% of Americans want access to health coaching, but 80% have never had it offered to them. The industry is growing by the day and is expected to reach a valuation of $8.87 billion by 2025 (check out our Health Coaching Report for more insights). 
Finding the right coaches at scale, who are also properly validated can be challenging; but that's where we come in! 
What do these partnerships look like? 
Although every single one of our partnerships has the same goal—to provide access to live health coaching through validated and credentialed coaches using our embedded technology—no two partnerships look alike. This is because we work hand-in-hand with our partners to understand their overarching goals and values and collaborate on how health coaches can authentically and seamlessly fit into their existing model. 
From there, we turn to our community of 3,000+ practicing coaches on our platform to identify the best cohort for each of our Industry Partners. We diligently validate their expertise to ensure success and get coaches ready on client protocols so that they can best support each Partner based on their goals and values. We seamlessly integrate health coaches into our Partners' product or service, co-creating the start-to-finish process of when and how their clients or members are introduced to a coach and how that relationship continues to flourish. 
We check in regularly with our Partners to make sure we're meeting their goals and help them scale health coaching within their organizations over time. Together, we measure success, adapt as needed, and celebrate all the health wins along the way. 
Why should every organization consider partnering with YourCoach?
First and foremost, we're at the very precipice of a paradigm shift within health, wellness and healthcare. If you're not offering a product or service that is both individualized and humanized you're simply not evolving for success. Health coaching is an adaptable, science-backed tool that transforms any offering into one that feels more personal. YourCoach ensures your offering is scalable, it's flexible and it significantly improves the likelihood of meeting any health goal. 
What's more, the breadth of different health coaches in the global market is massive. Here at YourCoach, we have the largest supply of validated health coaches plus APIs and widgets for seamless, HIPAA-compliant, secure and safe health coaching service integration. We offer our Industry Partners the best-in-class health coaching service at scale. Period. 
If your organization is interested in learning more about becoming a YourCoach Industry Partner, reach out to us – we are always happy to chat!