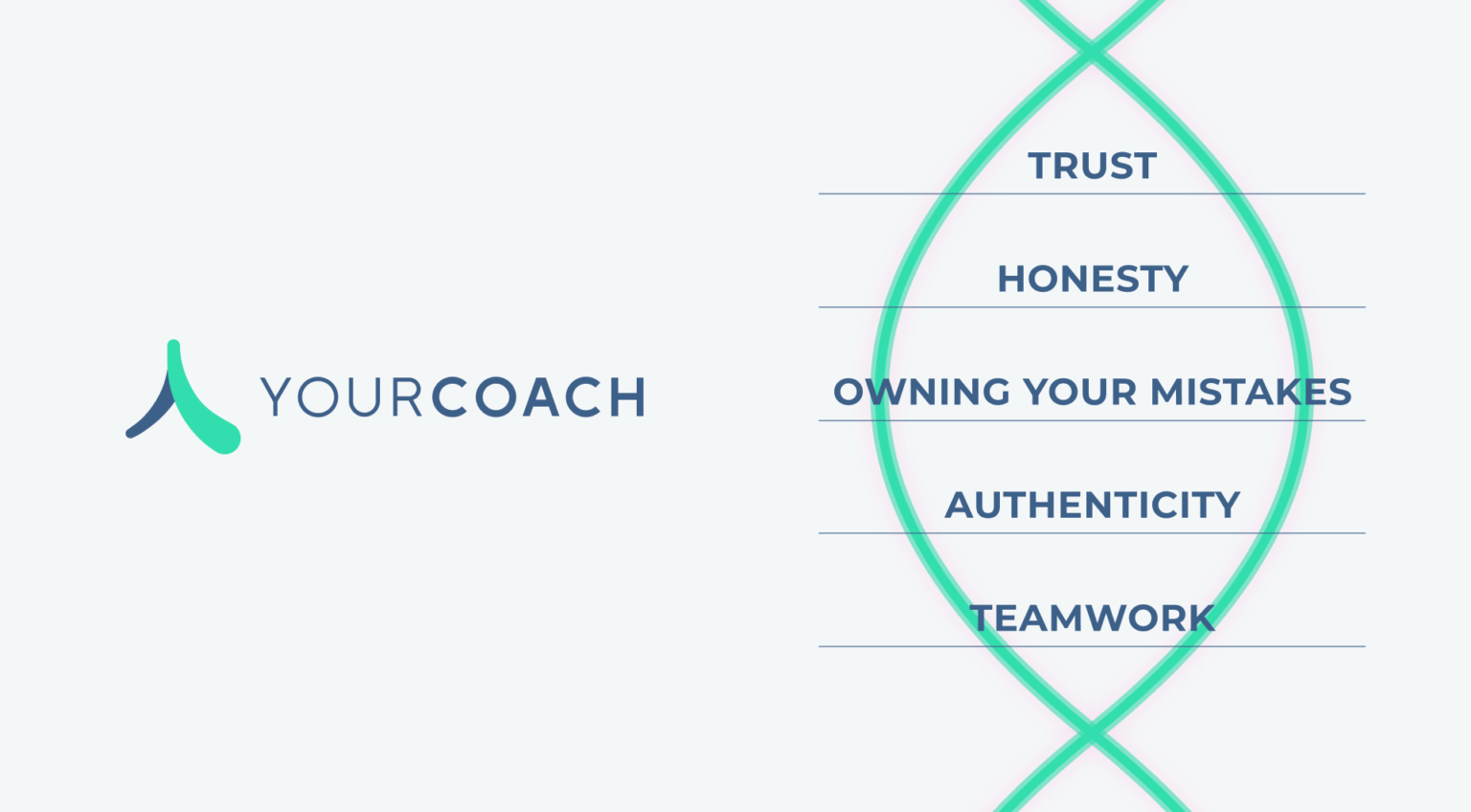 Part of being a startup, especially in the health space, means listening and adapting to customers while preserving the authenticity of your organization. Staying genuine has always been important to us as we've evolved from solely a practice management platform to that plus more as the industry's only operating system for behavioral change, powered by health coaches. 
We've stayed grounded by rooting ourselves in five key strands of our company DNA defined and embodied by our CEO, Marina. These five core values are woven in everything we do and drive us forward in our purpose: to impact the projected global population of 8.5 billion people through health coaching by 2030. Today, we're sharing these with our community and more info on why they're so important. 
Honesty
This one is often hard to come by in business—and sadly, it's increasingly hard to come by in health and wellness. We're regularly inundated by influencers and ads on social media promoting the latest wellness trends (for example, a tea company that rhymes with Rat Rummy Flea, if you catch our drift). These products and trends are often peddled without scientific backing to people who are desperately looking for a solution—this is never okay. 
At YourCoach, we fully believe in health coaching and its efficacy and would never misrepresent this emerging field. We take steps to stay informed, pursuing ongoing training in the health coaching world and tapping members of our Coaching Community to stay in the know of the latest trends. Further, we live and breathe transparency from our blog on HIPAA compliance to our monthly town halls. We're an open book and plan to keep it that way.
Authenticity
This is a big one for us and something that we've been striving for since our inception (it's tip #1 in Marina's recent interview with Thrive Global!). This very value has driven us to become pioneers in the health coaching space, aiming to provide a full-service practice management platform with opportunities for health coaches to make more out of their careers and deliver the power of health coaching to more clients. It's inspired us to go beyond our competitors, providing more than just referral codes. 
Our mission to provide health coaching to the global population by 2030 hasn't changed since we started our company. We're excited to roll out new programs and announcements this year to share how we plan to get there. It's this very integrity that keeps us mission-driven and inspires us to push forward the Health Coaching Revolution.
Teamwork
Though some of our team is forward-facing (huge shoutout to Rebeka for managing our community events, our Coaching Community platform group, and running regular onboarding sessions!), there are many more teammates who make YourCoach happen behind the screens. Everything we do-–from our annual Symposium to building our platform content—is done collaboratively. We're encouraged from the top-down to share our perspective no matter what our role is (that means engineers share marketing thoughts, social media managers offer UX insights), to chip in where you can, and to encourage one another, and health coaches on our platform, to succeed. 
This culture is prevalent in our team and also in our Coaching Community group within the YourCoach platform! We're inspired by many of you who answer each other's questions, share study guides, and offer guidance to one another. It's incredible to see our internal culture of support and collaboration permeate our wonderful community. 
Trust
Just as it's important for us to work as a team, it's equally important to feel that we can trust and rely on one another. Again, this is something we also promise to the coaches who practice on our platform and the employers, partners, and members paired with our coaches. It's our number one goal to make sure everyone that uses the YourCoach platform can have full faith in the reliability of our services, the quality of our coaches, the privacy and data protection policies we have in place and so much more.  
Owning Your Mistakes
Health coaching hinges on the idea that we're all works in process. This is true for our team as individuals and for our platform! Though we work hard to adapt our platform to serve the continued needs of health coaches and those who benefit from their services, we don't always get it right the first time. We promise, to one another as a team and to the coaches and individuals we serve, that we'll always own up to our mistakes and take appropriate steps to correct them. 
We've worked hard to create open channels of communication (like our regular onboardings, town halls, and Coaching Community group) so that those who use our platform feel empowered to share their perspectives and keep us honest. We promise to always hear you out and own up to our shortcomings. 
Honorable Mention: Gratitude
For those who've been with us from the start, we always echo how grateful we are for our incredible health coaches and the industry partners, employers, and members who firmly believe in the power of health coaching (case in point: our end of year letter in 2020). The Health Coaching Revolution wouldn't be possible without you—through our values and your great work, we'll share the impact of health coaching with more individuals in the years ahead.