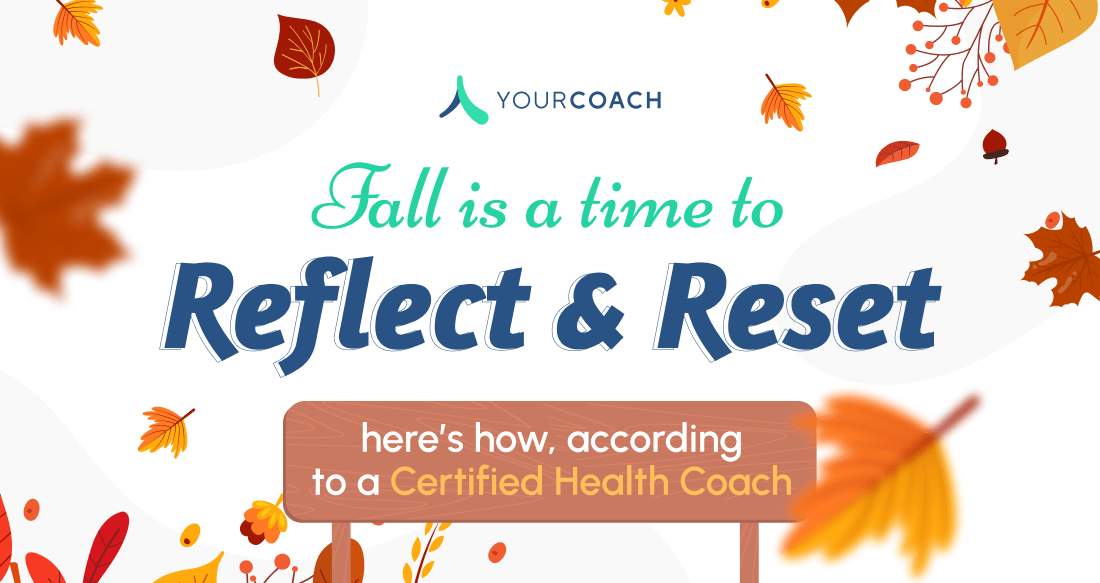 The new year isn't the only time to reevaluate your health and set meaningful goals. In fact, some research suggests that September might be the best time to capitalize on motivation and set some fresh health goals. Especially as we settle back into our daily routines after busy and sometimes unpredictable summers, now is the best time to reconfigure our day-to-day habits to ensure they align with better health outcomes. 
So, where—and how—do we get started? Everyone, from students to employees across industries, could benefit from working with a health coach. In short, health coaches make habits happen. "The power of health coaches lies in their ability to turn intentions into tangible results," shares YourCoach Director of Health Coaching Operations and NBC-HWC, Ashlee Honeycutt. "They meet you where you are, collaborating on meaningful, achievable goals, and keep you focused on your wellness goals." 
And according to the latest data, health coaches make it statistically more possible for individuals to achieve their health goals, whether they're related to weight loss, nutrition, mental health and so much more (you can check out compilations of all of the latest data in our Deep Dive library). Today, we're outlining just a few of the ways health coaches partner with clients to reflect on and reset their health goals, optimizing success with insights from our Director of Health Coaching Operations & NBC-HWC, Ashlee Honeycutt. 
Reflect on your motivations for positive change.
September has sometimes been referred to as "the new January" because with the back-to-school season comes a renewed commitment to self-betterment. But motivation is only effective if it's directed and this is precisely where health coaches can be pivotal. 
Health coaches use evidence-based techniques such as motivational interviewing to empathically guide clients to identifying motivators for change and verbally committing to making this change a reality. Not only does this help clients identify the tools they need in order to achieve their intended goals, but it also sets a strong foundation for lasting change, while creating a trusting relationship with their health coach. This technique, alone, has proven strongly effective in helping clients achieve their health and wellbeing goals.  
Health coaches are trained in other behavioral change techniques and tools that might inform how they help clients reflect and reset. For example, the transtheoretical model of behavioral change might be used to guide clients through pre-contemplation to contemplation, from not addressing an issue to identifying it as an area that's in need of change, and then help prepare them to action. These are important first steps towards maintaining healthy habits well beyond a week, a month, or even a year. 
"Behavior change isn't straightforward or instant," adds Ashlee, "It requires patience and consistent effort. Health coaches are your partners in this journey, aiding you in identifying and overcoming obstacles and developing strategies to uphold your momentum as you progress through the stages from pre-contemplation to action, forming the basis for lasting health and wellness."
Co-create a healthy habit plan that works.
Once a health coach has helped the client identify their goals and motivators, they work closely with them to co-create healthy habit plans that have the highest chances of success based on their existing lifestyle and preferences. The most important part of this process is that these goals are co-created—health coaches do more than just assign plans to clients based on desired outcomes. 
"Healthy habits need to fit you and your lifestyle," says Ashlee. "Health coaches collaborate with you to create personalized goals and strategies that align with your lifestyle, making success more achievable."  This means they work closely with clients to understand where there might be opportunities to habit stack, or associate a new habit to an existing one, or otherwise slot in habits that are reasonably achievable based on an individual's day-to-day life. 
For example, if clients are looking to bring more movement and mindfulness into their lives, health coaches might work with them to understand which sorts of activities would be most enjoyable and reasonable to sustain (for example, high intensity interval training and journaling aren't for everyone; but walking for 30 minutes a day and listening to a meditation podcast might be a solution). 
Stick to your goals and stay accountable.
Setting new goals isn't quite enough, but it is the first step! What's more, setting those goals in September gives us a four-month head-start than had we waited until January. That said, establishing accountability and ensuring these goals last is the single most important factor to whether they have an impact on our long-term health and wellbeing. 
Again, this is where health coaches can be incredibly helpful. Health coaches set up regular touchpoints with clients, leveraging tools like food diaries, journaling, and voice notes (many of which are available on our platform!) to help catalog, analyze and celebrate regular progress. Clients have consistently reported that health coaching improves their accountability and bolsters goal setting outcomes. "Setting goals is just the beginning," Ashlee reiterates. "Real behavior change requires accountability and establishing new habits. Health coaches create a structure for success, with regular check-ins, behavior modification techniques to meet you where you are, and working with you to adjust your habits to fit your life."
Here at YourCoach, we're already seeing a steady uptick in individuals looking to refocus on their health goals through our varying Industry Partnerships. Through our technology-augmented force of live health coaches, we've been helping diverse organizations set-up, grow or scale their health coaching offerings so that more and more individuals can make their health goals a reality. If you're interested in kickstarting talks around how to bring health coaching to your organization or population, drop us a line at team@yourcoach.health .