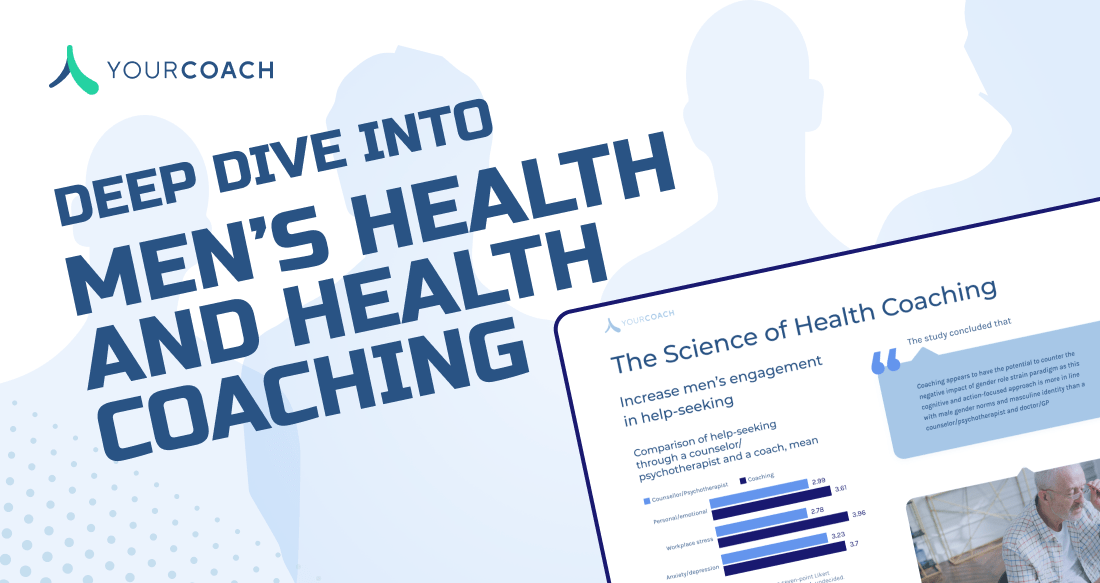 Did you know that June is Men's Health Awareness Month? It's very possible you didn't, and that's why this week's Deep Dive is important! While we're working to bridge the gender gap in many spaces (where men often occupy the greater share-of-voice), when it comes to engaging with critical health and care services, men are statistically lagging behind. 
Studies have shown several physical, mental and behavioral health issues are rising to the surface among males, including higher rates of chronic diseases, lower life expectancy, and limited engagement with healthcare services due to financial barriers, stereotypes, and social stigma. What's more, studies have shown U.S. men have the highest rate of preventable deaths compared to other high-income countries.
In this week's Deep Dive, we unpack some of the key threats within men's health and share marked ways health coaches are helping encourage healthy lifestyles and better overall outcomes. Below is a sneak preview of what you can expect from the full Deep Dive, which you can check out here.
Why is it important to spotlight men's health?
The single most alarming statistic we bring to light in our Deep Dive is the statistical difference between men and women when it comes to seeking out healthcare. A 2022 Cleveland Clinic study showed 63% of men of color and 53% of white men don't get regular health screenings, and the majority of men don't know their complete family history as it relates to cancer and urological issues. Harvard Health captured this issue best: "Although women see doctors more often than men, men cost our society much more for medical care beyond age 65."
Not only are men not seeking out health and care when they need to, but they also really need to. Life expectancy data shows a pronounced difference between men and women, with women living 5.9 years longer, on average. Every 1 in 4 deaths in men is due to heart disease, made more threatening by the fact that it can often come about with no symptoms compared to women. This is just the tip of the iceberg. Certain cancers and substance abuse issues are more pronounced in men, and stigmas around mental health care result in a higher proportion of men not receiving the treatment they need. 
We unpack all of these issues within our Deep Dive, spreading awareness of these important disparities while serving as a reminder to every male (and everyone who has one in their life whom they love) to seek out regular health check ups and care. 
What are health coaches doing to help? 
Health coaches can be hugely impactful, especially when it comes to encouraging men to seek out regular care when they need it. In fact, men have identified health coaching as the most likely form of formal help-seeking they'd pursue when it comes to their health according to recent studies. This can be a massive game-changer in driving down health risks among men. Though health coaches cannot treat ongoing health issues, they can work as part of the health and care team and  help patients implement long-lasting behavior change routines as well as  adhere to the care plan prescribed by their medical professionals. Coaches can also provide helpful education and encouragement, decreasing the stigma around receiving necessary care and reminding men why it's so important to check in with their healthcare team regularly. 
Health coaches can continuously provide resources in order to educate men on the risk factors of heart disease, diabetes, hypertension, obesity and more and encourage healthier lifestyles that may help prevent or mitigate ongoing health concerns. According to a recent study, men between 45-75 showed a 2% decrease in BMI, 3% in android fat, and 4% in gynoid fat when working with a health coach compared to those who only received educational materials. 
What are we doing at YourCoach to help?
It's our mission at YourCoach to make health coaching accessible to the global population by the year 2030. A massive part of this mission is education, namely spreading the word about how effective and necessary health coaches are to health and care. When it comes to men's health, health coaching is key to reducing risks and encouraging the right care. This Deep Dive is an important move to start conversations on this topic, how health coaches can make a huge difference. What's more, we'll also be hosting a CEU-eligible live session led by our Director of Health Coaching Operations, Ashlee Honeycutt, to further explore men's health and provide a place to ask/answer questions. 
Looking ahead, our Industry Partnerships provide a practical way for us to address health disparities head on. We work with our partners closely to power up their clients, members, and talent with verified and credentialed coaches, validated by our platform and coaching operations team, supported by science-backed methodologies. We're proud to be expanding into different industries (stay tuned for an exciting announcement in this vein next week) which means we're continuously introducing health coaching into new spaces. Together, we're improving health outcomes across demographics and are excited to have already begun observing this impact, firsthand. More to come!