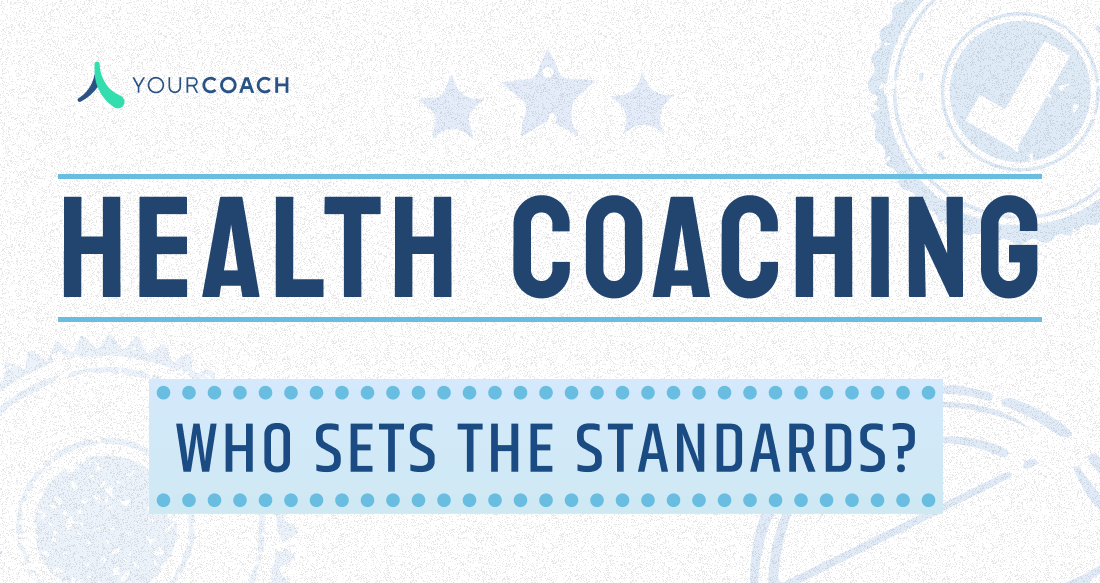 There's been much chatter lately around the field of health coaching and regulations (or lack thereof) surrounding it. Health coaching does face quite a lot of pundits, like multi-level marketing weight loss companies or nudging tools who call their representatives and sales people "health coaches." We've addressed this before and it's frustrating to have the term co-opted in a way that tarnishes the whole field and makes it hard for people to seek out credible, experienced, validated health coaches. 
What we want to address today in response to health coaching critics is twofold. On the one hand, the health coaching community is adopting standardization when it comes to education and experience in the near term and moving towards a more formal process to establish credibility in the future. The second is that until that process is in place, it's exceptionally important to lean on the experts. At YourCoach, we verify and validate every coach before we contract with them and bring them in to work with our Industry Partners. We take the guesswork out of identifying experienced health coaches so that every client, patient and member can experience the benefits of health coaching in its entirety. 
What is the state of health coaching regulations in the field as of now?
Unlike physicians, nurses, physical therapists and other health and care professionals, there are more ways than one to become a practicing health coach. In some ways, this makes the field more accessible to a diverse population of motivated individuals. In others, it opens up the title to plenty of misuse. In these cases, certifications, education and years of experience should be a guiding light in the same way they are for many other fields. In the future, we might be looking at more stringent requirements, as health coaching begins to adopt CPT codes, which will further help standardize this process. 
For now, the National Board of Health and Wellness Coaching (NBHWC) serves as a certifying body, requiring coaches to fulfill fifty health & wellness coaching sessions, hold an associates degree or higher (or otherwise complete 4,000 working hours as a health coach), and complete an accredited coaching program before sitting for and passing their exam (and receiving an NBC-HWC certification). What is the NBHWC looking for with their exam? They are looking to assess competencies that make coaches successful, which ranges from how well coaches structure their sessions to coaching competencies, health and wellness knowledge, and ethics and legal considerations. Separate from the NBHWC, over 110 accredited institutions, like Maryland University of Integrative Health, Duke University and others offer robust training programs that help coaches build skills and understand the science-backed principles behind health coaching.
But again, as with any other field, it's not just the certifications or the degree that makes one a great coach—it's the dedication, the practice, and most importantly, the experience. Within the field of health coaching, experience is no less important than education, because there's so much that comes up throughout the course of coaching sessions that education, alone, could never adequately prepare one for. Subsequently this is also why AI will never fully replace health coaches, because the value of hands-on, experience-driven coaching—a skill where coaches can draw on previous sessions to quickly pivot, learn from past successes and tap into shared experiences and emotions—is absolutely unmatched. This sort of skill obviously comes with time, and we get it, it's not always clear who has the secret sauce. So how can you tell the pundits from the okay health coaches to the really great health coaches? That's what we're here for!
How does YourCoach verify and validate health coaches before powering up its Industry Partnerships?
Health coaching is undoubtedly the next frontier in health and wellness. Every digital health organization, progressive employer, and healthcare organization has health coaching on their radars if they want to stay ahead of the curve. In these cases, it's important to lean on experts in the field of health coaching to identify highly skilled coaches with the right experience, background and education. 
We, at YourCoach, are at the forefront of the health coaching revolution. Our Industry Partners lean on our Health Coaching Operations team and our proprietary APIs to bring them best-in-class health coaching services powered by the best and brightest health coaches who are practicing on the YourCoach platform. We verify and validate their skills and experience to make sure they're adequately equipped to deliver better health outcomes to our Partners and their clients, patients, members and talent. And we do deliver those outcomes.
So what are we looking for to validate these real-world coaches? As mentioned we value experience and real coaching successes. For us, you can have hundreds of certifications, but if you haven't dedicated your time to real coaching hours, then you've lost an opportunity to truly refine skills necessary to coaching. These science-backed skills—behavior change techniques like successful motivational interviewing, positive psychology, social cognitive theories and more—are what truly lead to optimal outcomes.
We understand it seems that the health coaching industry is in its infancy, but the industry has been around for 20+ years and as a whole has already made massive progress towards better educating the health and care community on what it means to be and to leverage a health coach. The industry is already on its way to receiving CPT codes and it's now possible for health coaching sessions to be covered by HSAs and FSAs (more on that to come in the coming weeks!). Especially as the field is growing and changing rapidly, it's never been more important than now to have YourCoach on your side any time your organization is looking to grow, build or scale its health coaching operations or bring it directly to your populations.