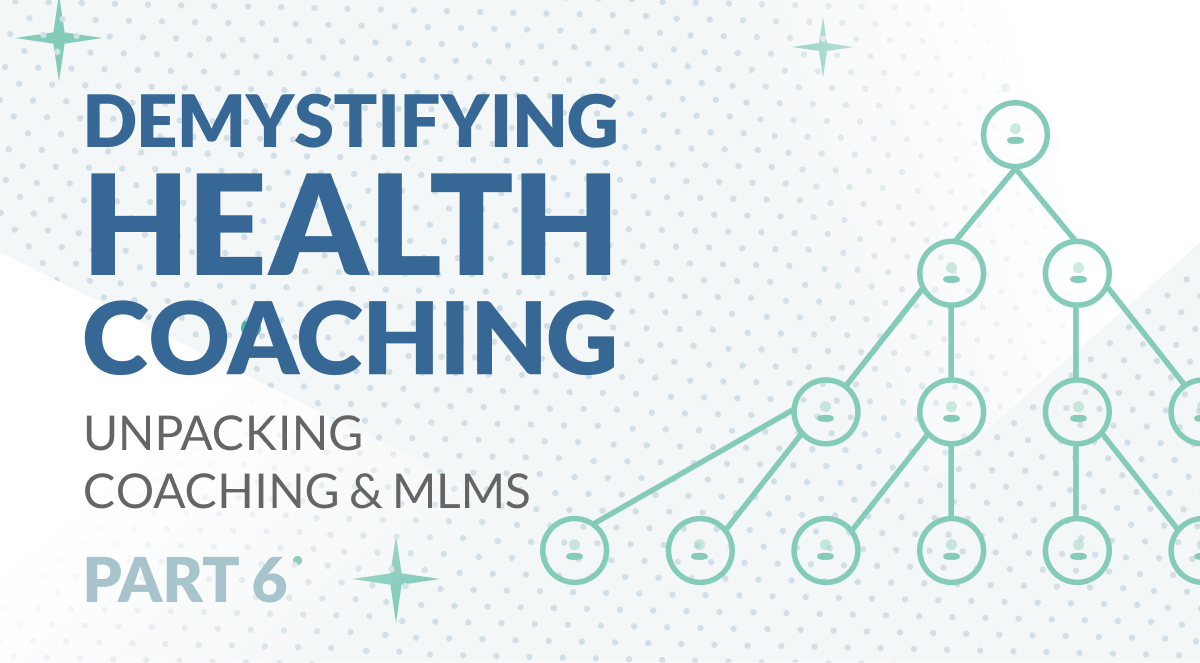 In this series on Demystifying Health Coaching, we're excited to offer clarity on some common misconceptions we often encounter in the health and wellness worlds. These articles are meant to generate important dialogues about the past, present and future of health coaching – and without conversation there is no dialogue! We look forward to thoughts from our community on these articles and suggestions for future topics. 
We face a lot of challenges as health coaches. One of the most critical hurdles is educating clients on what it truly means to be a health coach (and, more importantly, what it doesn't mean). That's why we embarked on this series months ago to help dispel some of these misconceptions and we've made it our 2022 goal to continue spreading these truths. 
One of the major muddlers and meddlers in the health and wellness worlds, more specifically in the health coaching world, are MLMs or Multi-Level Marketing companies. Today's article isn't about evaluating their effectiveness or their ethics. Today, we're breaking down what constitutes an MLM, call out some misappropriations of the term "health coach" and some key watch outs.
What is an MLM?
MLMs are legitimate organizations that all share one thing in common: their overarching sales and marketing strategies. The FTC defines these strategies as selling products to family and friends and recruiting other people to do the same. That's it. If an organization sells products mostly to family and friends (yes, this means your friends on social media, too), while trying to recruit them to make sales for the same company, this is considered an MLM. Some well-known health and wellness MLMs are Optavia, Herbalife and Arbonne, to name a few. These organizations rely on networking to sell goods and services, often referred to as "network marketing" or "direct marketing." 
Again, while we're not commenting on the efficacy of the products or services these organizations provide,  we urge you to do your own research into these companies, as you would with any other company, before making a purchase or engaging as a salesperson. Are their products researched-backed? Does the company maintain practices that are aligned to your ethical standards (ex. the way they treat employees, their packaging and labor, etc.). 
What do health coaches and their clients need to be aware of?
As health coaches, we have a duty to protect and preserve that title, which means holding MLMs accountable for any misleading coaching offerings and ensuring that our health coaching services are unbridled by any personal or professional agenda. 
Lately, we've seen many health and wellness organizations begin to train and hire "coaches" to offer their services, like MLMs Optavia and Beach Body. While these individuals are never explicitly called "health coaches," we've noticed significant chatter on our platform and on social media confusing the two terms. This is particularly problematic because the standards, values, and goals that these MLM coaches are trained with are not always aligned to those of a health coach. It also devalues the extensive and expansive curricula leading coaching schools, as well as the National Board for Health and Wellness Coaching, have worked so hard to deliver. 
What can we do to combat much of this confusion? Sharing this article with clients, and pointing them to resources about what makes someone a health coach can help. The best way to prevent the spread of any misinformation is to educate potential clients and current clients with reliable resources. 
If you are a health coach that's also involved in one of these MLMs, we urge you to maintain health coaching services that are independent from your pursuits with that company. We recognize that this is incredibly tricky, and implore you to consider this before engaging in an MLM as a health coach. 
As health coaches, we promise to deliver holistic health programs based on individualized client needs. It's important to keep their health goals at the center of your relationship, which means putting our own sales agenda on the backburner. This is an important consideration both when operating your programs and while running your social media, so that clients feel prioritized and not pressured to make any purchases outside of your programs. 
If you have any questions, concerns, or thoughts, please send us a note at social@yourcoach.health .