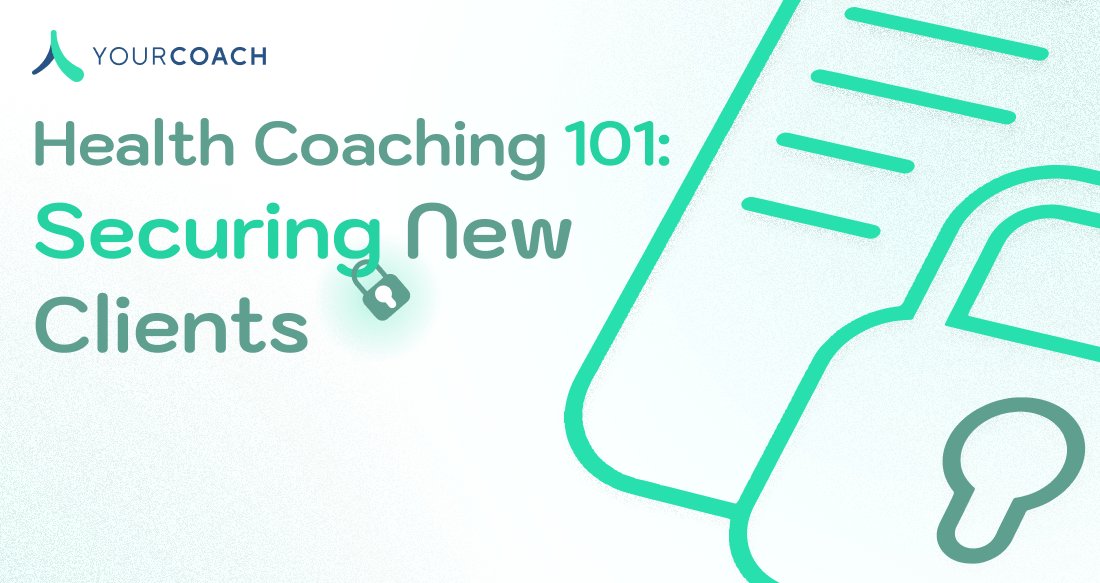 There's certainly no shortage of people who could use a health coach. But it doesn't always feel that way. For many coaches across the country, one of the biggest business challenges they face is connecting with new clients. 
It can be challenging to start your practice from scratch and build rapport with potential new clients, all while educating them on the benefits of health coaching and why it's so necessary. In today's blog, we outline tips and best practices to make this process less daunting and more effective. We've seen these tips work well for countless Health Coach-Preneurs and are happy to pass on their successes to YOU!
Generate Experience, Education and Define Your Niche
Before you can consider taking on any clients, you need to cultivate the intel and instincts to better show up for their needs. Identify a health coaching education program that's right for you, that will give you the baseline understanding of the profession and background on scientific methodologies you can use to help clients achieve their health goals. We would recommend any accredited institution for this; there are currently 110 that are approved by the National Board of Health and Wellness Coaches, like Duke, FMCA and Dr. Sears Wellness among many others. We'll be including a full list of these accredited institutions within the second version of our Health Coaching Report—so sign up HERE to receive it once it's released.  
Some of these health coaching programs will help connect you with new clients throughout the course of your training, giving you initial exposure to client work and, importantly, helping you carve out your niche. Adopting a health coaching specialty can be hugely important. Not only will it set you apart from the growing pool of coaches, but it also ensures you're working in an area you're passionate about—something we know leads to better results. 
Once you've received your training, consider additional certifications. The NBHWC certification is widely recognized as the gold standard in health coaching and may be something your clients (or future employers, if you decide to work within healthcare or digital health) may be looking for. We're proud to offer the Rita & Gene Presman Memorial Scholarship Program to sponsor five coaches for each exam sitting, based on need, plus provide exam prep.
Even once you've racked up accreditations and certifications, never stop learning! Continue to stay up to date on the latest news (you can follow along with YourCoach's socials or sign up to our newsletter for soundbites). There's always new research being released about health and wellness more broadly, so it's important to stay sharp and current.  
Develop Your Professional Profile 
Cultivating the right educational background, accreditations and certifications is hugely important. The next best step is creating a digital persona where your background, experience and bio can live. Social tools like LinkedIn and Instagram can be a great place to build this professional persona while reaching new faces who may specifically be looking for a health coach. Be sure to keep an updated bio for each, defining who you are, your title and certifications and what you can offer potential new clients. 
For those who aren't as comfortable or savvy with social media tools, pull together a one-pager for clients (similar to a resume) that defines who you are and why clients should consider health coaching, provides a brief bio, and outlines your accreditations, certifications and experience. This can be easily shareable with clients via text or email and helps you build buy-ins for your services. 
Here at YourCoach, we make this process incredibly easy for coaches who practice with their clients on our platform. Once you download the platform, we will take you through easy steps to upload a photo (this can be any photo that best represents YOU!), tell your clients a bit more about you, and give you the chance to upload all of your certifications and accreditations. What's more, the YourCoach platform is created so that the more you practice on our platform, which includes steps like creating a program, inviting your clients and conducting live sessions, the more you earn points towards tiers which reduce the cost of the platform and special perks. It's a win/win/win! 
Build Connections in the Health Coaching World
The power of your network is immense within health and wellness. Health coaches are incredibly good at supporting one another and we've seen referrals from other coaches helping kickstart their colleagues' practices. Especially since many coaches have unique niches, it can be necessary to refer a client out to another coach if they specialize in whatever that client is looking for.
Health coaching training programs can be a great place to meet other coaches, but it's certainly not the only way to build your network! Facebook groups like Practicing Health and Wellness Coaches can offer a strong place to exchange ideas and build relationships with more experienced coaches. 
Attending events, like our annual Symposium, Town Halls, or Book Club can also be a smart way to forge lasting connections with fellow health coaches. We've seen many friendships and professional relationships blossom from our events and we're proud to be able to connect coaches in this way! 
Though still in the works, we're excited to roll out a new program in 2023 to better support coaches in networking and developing critical new skills alongside more seasoned coaches. Stay tuned!
Practice on YourCoach Health to Become Eligible for New Client Opportunities
Once you've gotten the experience and accreditations, set up your profile on the YourCoach platform, and have begun practicing with several of your clients, YourCoach can serve as a springboard to bring even more new client opportunities to YOU! 
We partner with digital health companies, like Twill and Feel Therapeutics, to complement their existing products and services with live health coaching. This means we tap practicing, validated coaches on our platform to make this happen, creating even more new client opportunities for these coaches than any other platform or tool. We believe in Health Coach-Preneurs, so we've taken our platform one step beyond an end-to-end practice management solution to actually provide them with opportunities to grow. 
We're confident these steps are the blueprint for successful Health Coach-Preneurs, and we're here to support you at each and every step of the way!