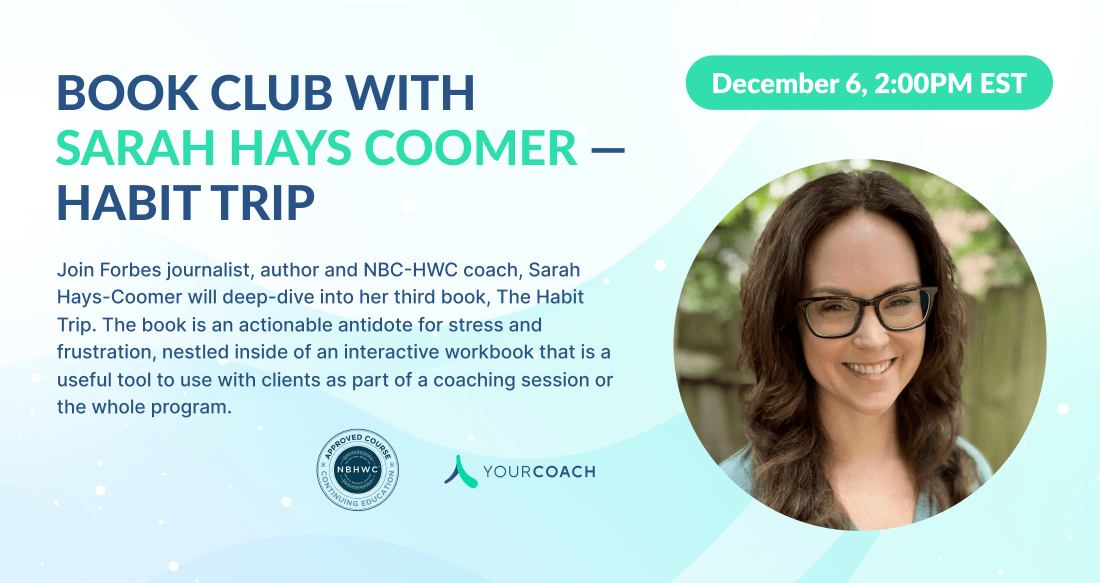 Event Description
Our Book Club with Forbes journalist, author and NBC-HWC coach, Sarah Hays-Coomer will deep-dive into her third book, The Habit Trip. The Habit Trip is an actionable antidote for stress and frustration, nestled inside of an interactive workbook that is a useful tool to use with clients as part of a coaching session or the whole program. The book is divided into three sections and explores the following areas – the Situation (on evaluating life in ten areas to identify what is working), the Solution (how to help clients with finding strengths to achieve better health), the Payoff (on how to amplify the power, peace, and presence that comes with knowing what matters most). Join Sarah and the YourCoach team for a 60-minute exploration of the book, followed by a live Q&A.
This session is approved for 1 CEU credit by the NBHWC – please attend the event live to obtain the quiz in order to receive the CEUs.
Preparation for Book Club
Please feel free to read through the book without pressure to answer questions – if you are unable to read the book, or have limited time, please read the Introduction and/ or Chapters 1, 3, 8, and 11.
Dec 6, 2022 02:00 PM in
Eastern Time (US and Canada)
About YourCoach Health
We're the premier Virtual Home for health and wellness coaching, an ecosystem built to empower health coaches to deliver their services to even more individuals across the globe. Join us on the Health Coaching Revolution as we strive to deliver the power of health coaching to the 8.5 billion global population by 2030. Download the platform here.
This session will be recorded and it will be available for coaches practicing on the YourCoach platform and part of our community after the events. Other registered attendees will get the recording at a later date.