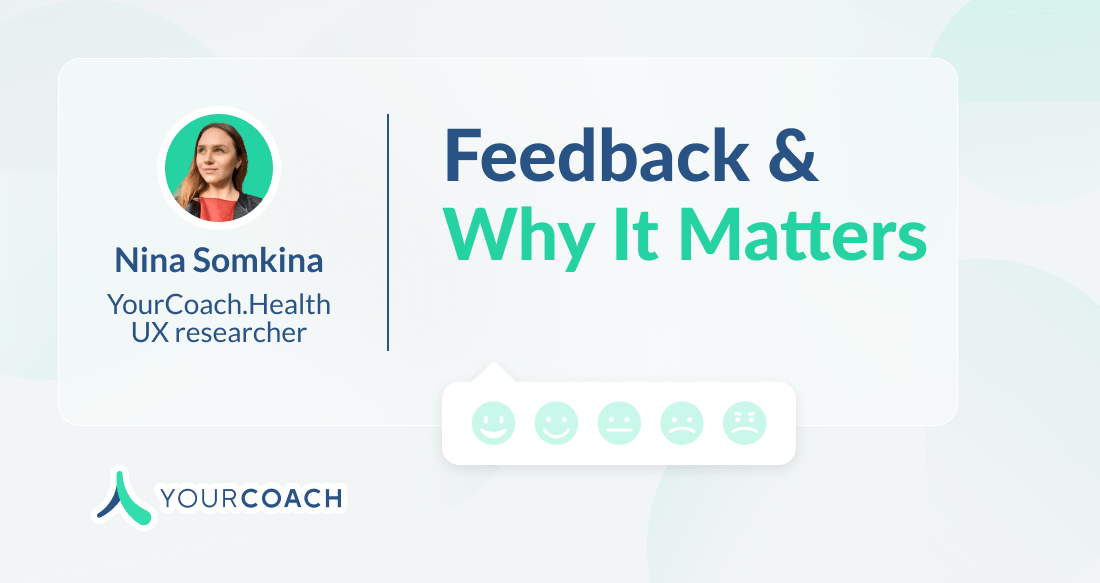 Feedback is paramount as we strive to keep health coaches at the heart of everything we do. We're grateful to have over 3,000 health coaches choose and practice on our platform, the largest cohort of validated coaches that practice independently or become integrated into our growing roster of industry partnerships as contract coaches.
We regularly ask coaches for feedback and collect ideas that suggest, shape and prioritize future platform improvements and innovations. So, what does this process look like and how do we translate feedback into actionable insights? 
Earlier this month, our Head of Product, Anastasiia Varivoda took us through the evolution of a new platform feature. Today, I'm excited to share more about how we collect and implement feedback from practicing health coaches to create a more seamless experience for coaches, clients, our industry partners and their members.
FOCUS GROUPS FOR HEALTH COACHES
As YourCoach continues to grow, we're eager to update features more regularly and design new ones that serve our users best. As Anastasiia discussed earlier this month, there's an ever-growing list of features we'd like to develop for or refine on the platform. 
Focus groups help us figure out which features we should prioritize and how they should take shape. We select health coach participants from right within our platform and convene together to host virtual, guided discussions on a potential feature. A member of the YourCoach team helps facilitate these dynamic discussions,  which serve as an open forum for health coaches to share their thoughts about potential new features (we may even provide sneak peeks at new feature designs for participants to react to in real time). 
Focus groups have proven critical to creating features that work well for health coaches and clients alike. Our recently released Food Diary is a fantastic proof point of their efficacy, as are our many blogs that highlight focus group takeaways. We will soon be expanding focus groups to include members from our digital health partnerships, so we can better understand how to shape features for the client experience as well (much more to come on that soon!). 
INTERVIEWS WITH HEALTH COACHES
In the past year, we've also engaged coaches in one-on-one interviews for more detailed assessments of the platform and opportunities for the future. These interviews give coaches more space to speak, share their experiences and provide detailed feedback about the current user flow. We take this as an opportunity to get to know our coaches better, understanding their backgrounds and needs. 
Not only do these one-on-one conversations provide us with helpful insights to inform future features and our platform's structure, but also it's a great chance to get to know coaches on a deeper level. This personalized touch helps us better understand health coaches, leading to richer relationships and better outcomes for all. 
USABILITY TESTS
Participating in usability testing gives coaches the opportunity not only to describe but to show firsthand what they'd like updated/altered and why. We use this method when we want to upgrade our existing features, creating a platform that better suits the needs of practicing coaches. During this process, we engage coaches on a one-on-one basis, asking them to share their screen as they guide us through how they utilize the platform. Throughout this process, we host an open discussion on what they're experiencing; what could be made easier or more intuitive; or perhaps, what can be changed. 
SURVEYS
We recognize that not all coaches have the time to engage in lengthier interviews, but still want to give them the opportunity to share their feedback! We often conduct short surveys that help us gather information about coaches' preferences or suggestions. We ask everything from in-depth questions, like which features they find most useful, to lighter questions like which health coaching podcasts they're listening to. 
Surveys also help us get data and insights for our Health Coaching Industry Reports and Deep Dives. We just released our latest version that you can download HERE.
WHY WE THINK IT'S IMPORTANT  
We truly believe that feedback is essential and we're grateful for all the feedback shared with us! Especially as we strive to seamlessly integrate health coaching within new spaces, feedback is the single most helpful tool in ensuring we remain data-driven and cutting-edge. 
We're so grateful to all the coaches who continue to contribute valuable insights and we hope to engage even more platform users in the year ahead. 
Note: All information shared with us is treated with care and kept confidential. We also make it a top priority to create a safe and honest space during our meetings with coaches and make sure that everything said is taken without judgment.