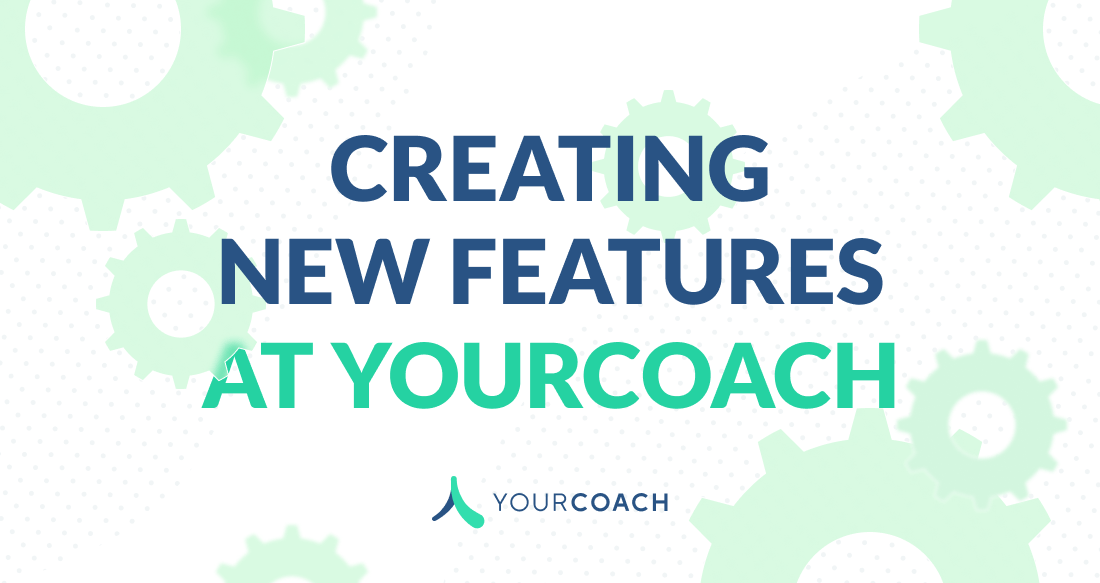 Here at YourCoach we believe in the Health Coaching Revolution, part of which means empowering health coaches to deliver feedback that informs our ongoing platform developments, features and improvements. 
For those who have been with us from the beginning, you've seen this firsthand as we continuously shaped features like our Group Programs thanks to lively discussions during our ongoing focus groups. For those who are new (including our many industry partners), we hope you've already experienced our love-of-feedback and witnessed the many ways we leverage this feedback to create a tool that best supports your clients and members. 
What many might not realize, however, is the multi-step process required to take an idea all the way to implementation; from the minds of many forward-thinking health coaches (including those on our team), digital health leaders, or clients all the way to the App Store and beyond! 
The best way to paint this picture is by taking you through our journey to create the much-anticipated Food Diary feature that we proudly released last week. In today's blog, I'm excited to share more about the hard work our team put in to bring this concept to life, while sharing how you can contribute your ideas for the future.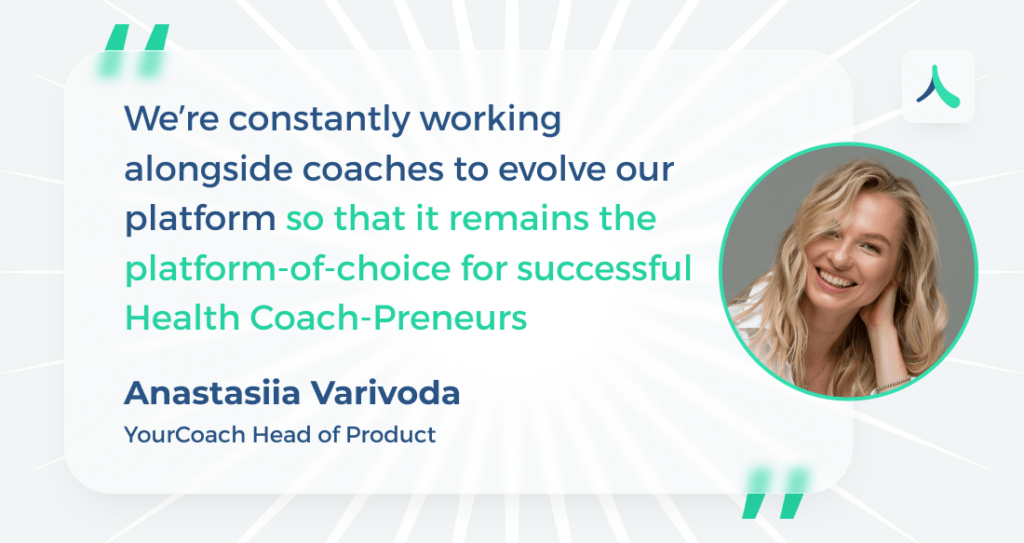 From idea to the product backlog
The first question on your mind might be, "How do we choose which ideas to focus on?" This can be especially difficult when our community shares so many impactful suggestions through our Coaching Community group; during live events; and within our support chat. 
This is precisely our first step in the process. We ask ourselves, "Based on the ideas we have, what are our immediate priorities? What should we focus on first?" We leverage a more formal, multifactor analysis to help guide this process, weighing things like user needs to better understand where to center our focus and create what's called a Product Backlog.
This backlog becomes like our to-do list for where to focus our efforts at any given time for our Product team, and makes sure we're prioritizing the most important features based on what health coaches need in order to use the YourCoach platform most effectively. 
Focus groups can be critical tools to help hear firsthand from YCH coaches or members about what their needs are now and in the future. One of our recent focus groups actually led us to focus on the Food Diary feature, while providing us with intel on how to best structure this tool to serve the ongoing needs of various health coaches.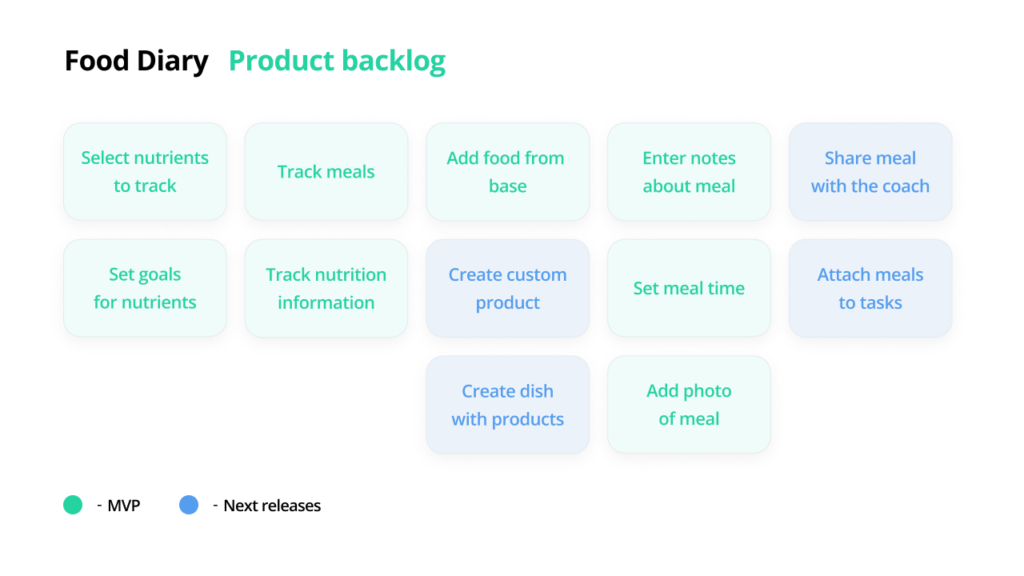 From backlog to real-time progress
As soon as we align on which feature to focus on from our backlog, we work closely with our design team to begin bringing it to life. Together, we start to align on functionality–what the feature will actually start to look and feel like. 
For the food diary, we had to determine which critical elements were worth including—for example, an insightful suggestion from a health coach within our focus group pointed out that photos can be an effective way to log food for those who aren't as interested in tracking macros. Thanks to this feedback, we were able to craft the tool with this in mind, ensuring we were creating a flexible option for those who may find tracking food data triggering, but may instead be interested in tracking food intake more generally. 
Though this stage of the process sits largely with the product and design teams, it's always a full team effort here at YourCoach. From our marketing team to technical specialists, we all have a seat at the table to weigh in on the idea. It's thanks to these inputs that we're able to generate a collaborative feature mockup and from there, create the final design.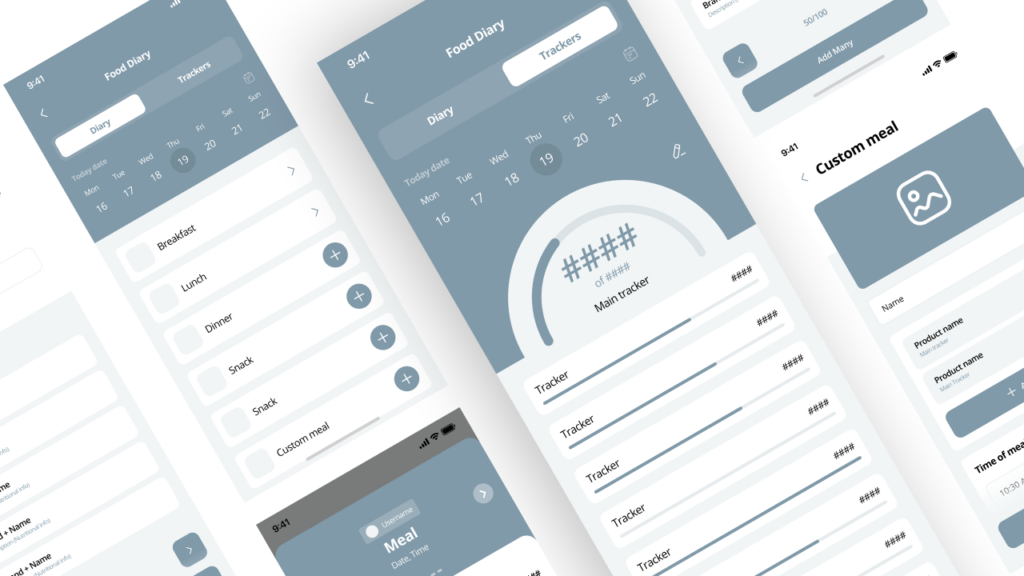 Product decomposition and engineering 
This next stage of the process is by far the most technical. At this point, we engage our engineering team to explore the technical limitations and possibilities. They help us figure out how possible our mock-up ideas might be given our existing technology and where we may want to make adjustments to accommodate.  
This preliminary version of the feature is called the "most viable product" or MVP, it's our baseline (our basic food diary in this example) and from there we collaborate on what sub-functions we can add to make the feature really work for our health coaches–in this case, we add the option to attach photos, we might even add some interactivity. At this stage, our final feature is really starting to come to life!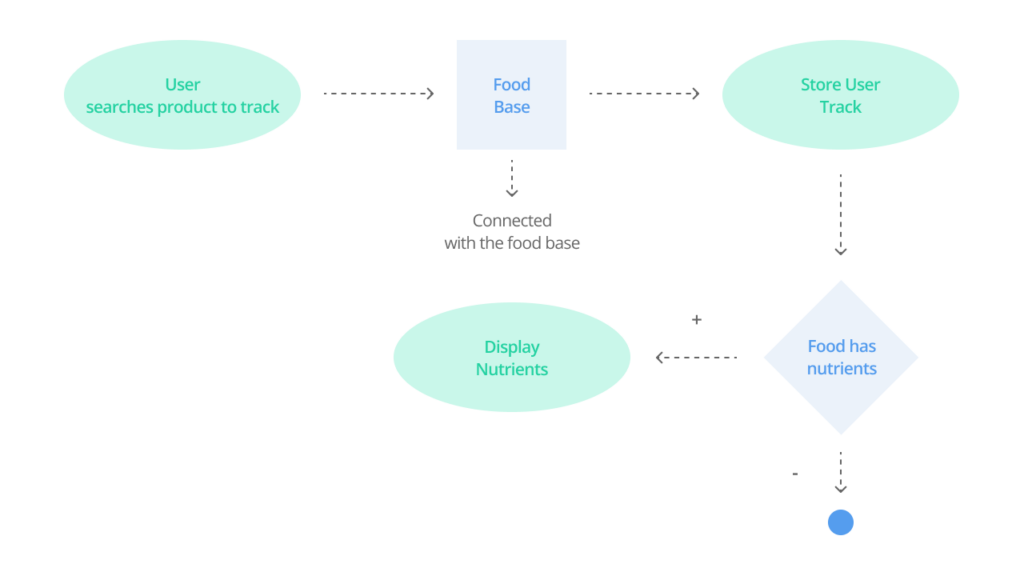 Development stage
At this point in the process, we take the scaffolding that we created alongside our engineering team and work closely with our development team to build out the user interface, or the ways in which health coaches will actually interact with this new feature. This is one of the most lengthy parts of the process, but is most critical to ensure that a feature feels intuitive, easy to use, and may function efficiently for the coaches.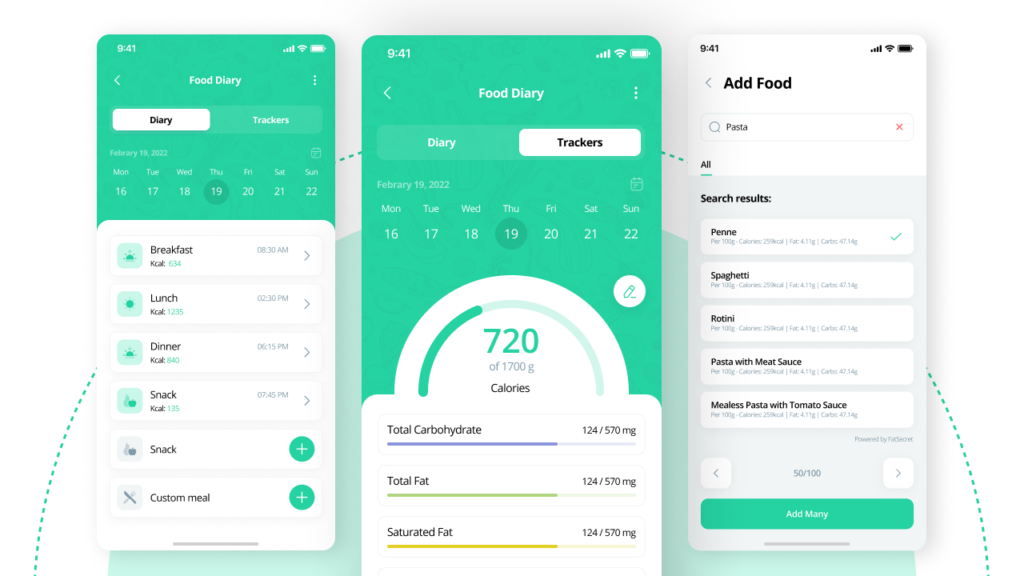 Testing
We always, always, always test our features diligently before sending them out to market to YourCoach coaches. Especially since integrity is such a core value for us here at YourCoach, we never want to put out a new feature that doesn't feel well thought-out and well constructed. Our testing team has a huge hand in this final process, playing out different scenarios within the feature to make sure it functions as intended. For our latest feature, this might look like logging different types of food, using different volumes and measurements, uploading photos of various quality, etc. This step is hugely important and helps us get ahead of many (though not all, as you'll see) questions from coaches. 
Time to go live!
This is hands-down the most exciting moment for our team–we're finally able to bring a new feature to life! Words can't describe how proud we feel at YourCoach when we're able to deliver a new feature that addresses health coach feedback and delivers them an even more effective platform. In the case of our recent Food Diary, which was months in the making, we were pleased to help make the nutrition process more automated for coaches and their clients, improving accountability (and hopefully also success rates!). This is also an integral feature for our industry partners, for those of whom nutrition is a core element of their product or offering. Be sure to check out this new feature on our platform if you haven't yet. 
Support and Feedback
Circling back to the beginning of this blog, feedback is always critical to our success as a platform. At this point in the process, we stay very close with health coaches and our digital health partners to gauge their reactions and source their feedback. 
We take all feedback as a further opportunity to shape ourselves into the number one platform used by coaches and the ONLY operating system for behavior health powered by health coaches, serving our industry partners. We're so grateful for all those who've joined us on this journey and can't wait to continue delivering high-quality features in the future.