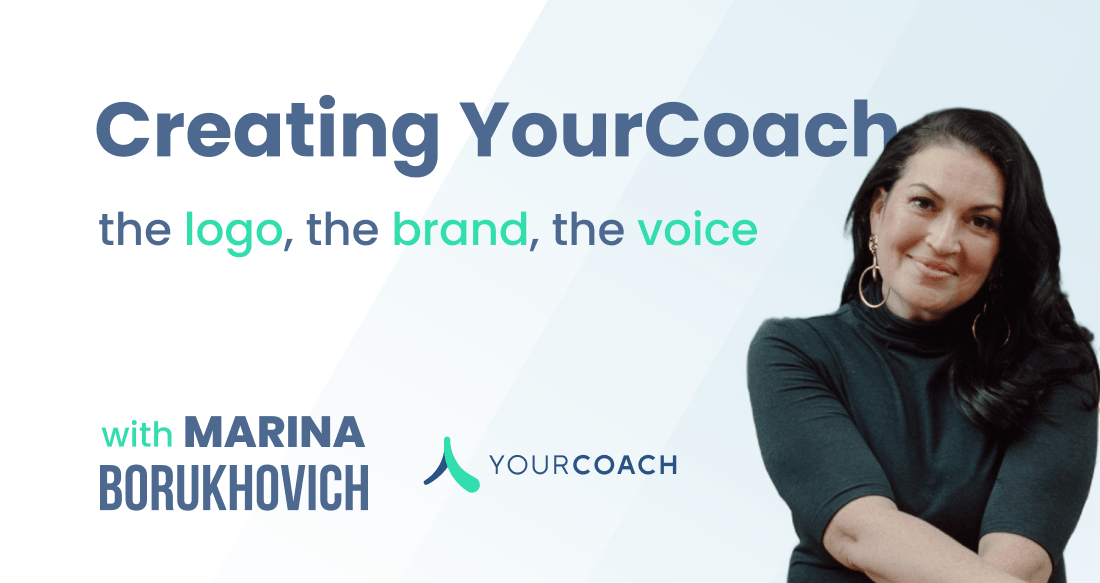 YourCoach was built to be mission-driven, and we've threaded that through everything we do. From our longstanding logo to our brand voice, we've made intentional decisions that mirror our core values of trust, honesty, authenticity, teamwork, and owning your mistakes (you can check out our full blog about our 'YourCoach DNA' here). Building a brand is an evolving process and we're constantly listening to feedback while staying true to our core values.
In today's blog, we're excited to share more about these decisions and how they reflect on our brand values holistically. Our CEO & Founder Marina Borukhovich guides us through the meaning behind the YourCoach brand and how it directly mirrors our organization's overarching purpose. 
Identifying the 'Why'
Defining our 'why' has never been a challenge, but it was an important first step before we landed on our logo, branding and messaging. Here at YourCoach we ask ourselves what our 'why' is on a regular basis to ensure every feature we create, event we host, partnership we forge, ladders up directly to our purpose and mission. It keeps us collaborative and in sync while propelling us to provide an even better experience for those to whom we provide services.
So what is this 'why?' Our primary focus is and always has been supporting health coaches and the people they help.
"Many focus on one facet of the human condition," shares Marina Borukhovich, CEO & Founder of YourCoach.Health. "This approach will never catalyze impactful change, because beyond just medical comorbidities, most people have intersectional health and wellness needs and goals. They have social, emotional and financial priorities that all intersect with their ongoing health habits and conditions. Our purpose has always been to empower health coaches to support clients holistically and we've achieved major milestones as a result."
Moreover, this unifying purpose has made the YourCoach team feel more like family. "There's been a lot of B.S. out there about how you can't run a company like a family," shared Marina. "I wholeheartedly disagree. Families might have differing opinions, challenges and difficult times, but we're always tied together by our unwavering purpose. It's why so many of our teammates have been with us from the very start of this company and why they're excited to do this important work. It's felt by our validated coaches, who work through us with our Industry Partners, as well as our Partners themselves and their clients and members. It's what makes YourCoach one-of-a-kind." 
Crafting a Logo with a Message
When aligning on our logo, we wanted it to feel directly connected to our purpose and mission. It was crafted to honor the Hito, Japanese Kanji for human being, people, person, etc. We wanted this symbol to showcase our commitment to providing every person with someone to lean on and our overarching mission to create more Happy & Healthy Humans through health coaching. 
"If we could do it all ourselves, everyone would go through life without issues or challenges, happy and healthy" shares Marina. "That's unfortunately not reality, and we believe health coaches are critical in helping us move through life's challenges with a strong support-system and better resources. We're adamant about providing every human access to a health coach by 2030, and have made major strides in improving access through our Industry Partnerships. Our logo is a reminder for coaches, our Industry Partners and their clients and members of that ever-important mission and that we are here for them."
Developing a Voice that Resonates
When developing the voice of YourCoach, it remains important for it to feel accessible, friendly and informative. Essentially, we wanted it to feel like that of a health coach! It echoes the same tone coaches use with their clients—one that instills trust because it's consistently delivering valuable and reliable information. 
More importantly, we made sure to cultivate resources to back up this sense of trust – from our best-in-class coaching services we provide to our Industry Partners, the Scholarship Program for coaches wanting to become NBC-HWCs, to our gamified pricing model for coaches practicing on the platform and of course our evolving Changemaker Council. We deliver regular, validated Deep Dives, compiling the latest health coaching data across a variety of health concerns and conditions in addition to hosting regular webinars and symposiums with industry experts. It's through these initiatives that we've solidified our position as category creators—and we respect the responsibility that entails. It's not about being the loudest voice in the room, it's about having something important to say.
"Our brand voice speaks for our full team. As a health coach myself, it's important for me that this voice celebrates everything that makes health coaches so special. I'm proud of what we've captured and excited to continue to see our voice and the brand evolve, to meet the ever-changing needs of health coaches, our Industry Partners and their clients, members and talent."