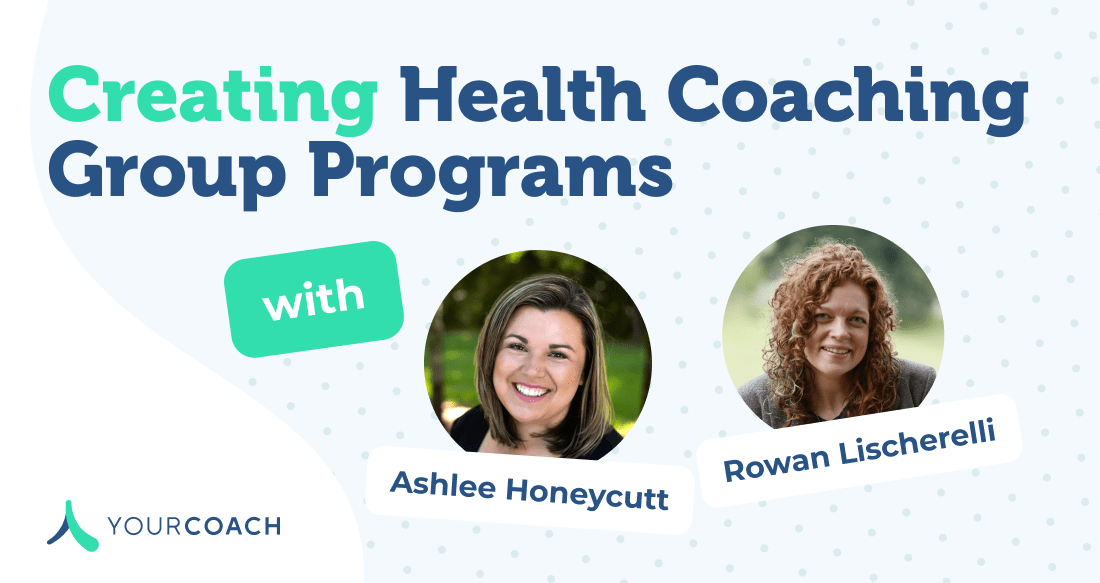 With the new year upon us, many health and wellness coaches are contemplating how to upgrade or improve their programs and considering launching new offerings. At YourCoach, we strive to support our coaches in leveling-up their practice. When the conversation arose in our community group around group programming, with a specific ask to brainstorm together, we knew it would be a wonderful opportunity to convene our Coaching Community and host a YourCoach Community Roundtable discussion! 
We brought the YourCoach Community Roundtable to life to address this need and were met with huge success! Today, we'd like to share some of those key insights with those who were unable to attend. 
The discussion was moderated by YourCoach's Director of Health Coaching Operations, Ashlee Honeycutt, and Health Coach Coordinator, Rowan Lischerelli, who helped coaches dive deep into group coaching program creation, implementation, and potential challenges. So much insight and inspiration was shared, and many left the roundtable inspired to either experiment with group programs for the first time in the new year or to modify their programming to try something new.  
As you contemplate whether a group program might be a good fit for your practice, here are a few powerful takeaways from our collaborative discussion and important points to consider: 
Intention:

When you consider all the reasons why you're excited to get started with group coaching, what is your 'why?'  Starting with 'why' can help you to create the most effective and evolutionary experience for you and your clients. Some groups serve as a funnel where clients can get a taste of your coaching style, with the intention to lead those clients to work with you one-on-one. Other groups are set up to create a community for people who have a shared common thread, like a similar diagnosis or a goal, and are perhaps an additional service to your one-on-one coaching programs. Alternatively, some groups may facilitate a wellness journey for an organization or specific community, which serves to access a new market or partnership.
Once you have a solid understanding of your 'why,' consider how you want to build your program to meet the intention of the group. Since this is a program designed to meet the unique needs of your clients and program intention, only you know the answers to what your group program will look like.
There are some foundational questions that can help you gain clarity such as:
What program model works best for your intention? Options include:
Cohort Model:

A group model where all participants sign up in advance, start on the same date, flow through the program together at the same pace, and end together. 

Program-Specific Model:

A group model with a defined length, but no specified start or end date, and clients can sign up at any time (even perhaps within a specified window), and they progress through the program in a designated flow in relation to their own individual start date. 

Evergreen Model:

A group model where clients can enroll at any time and continue for any amount of time. Clients experience the same content at the same time, like the cohort model, but clients can sign up at any time, like the program model. 
(Hint: you can run a variety of these programs on the YourCoach platform!)
What topic will you discuss? 
Have a clear outline of what will be covered in your group program. It's hard to market and sell something that does not exist! You can even drip content within the YourCoach platform by uploading your content (pdfs, links, or photos) directly into the platform and choosing the day of the program it will become available to your clients, automating the content experience! 
What group size will be effective? 
Think about your intention–what number adds value to the group and creates an environment conducive to your goal for the group? This could be as little as 2 people or as many as 100+! 
How long will your sessions be? 
Most coaches agree that a meaningful group call won't be less than 30 minutes, but ideally is closer to an hour. Automate the scheduling of these sessions by setting them up on specific days of the program at the beginning when doing your program design in the platform, or book them individually later. 
Will the group remain constant with the same participants or will it be open to new enrollments once started? 
When you have a closed group of people that get to know each other over a period of time, it builds trust. However, you may have a program design that is better suited to an evergreen program. There is much to consider, but let your 'why' be your compass as you navigate! 
Who is paying for your program and what will you set as your price for the program?
Consider your time to market the program, enroll clients, run the sessions, facilitate ongoing conversation, and administrative work. Lean back on your why to see if your price point supports your intention and leverage digital tools, like YourCoach, to automate processes and minimize administrative tasks! 
Finally, as you consider the logistics of running your program there are several questions to contemplate before launch.
What will your "house rules" be and how will you be sure everyone participating is on board?
How will you keep people engaged? Will you offer incentives? New topics? 
How will you create safe spaces for connection and trust to develop?
How will you work with difficult conversations that arise?
How will you address high risk clients or situations that go beyond the coach's scope? 
Most importantly, you might ask yourself, "Where should I host my group program?"  The benefits of hosting your group program on the YourCoach platform versus on any other platform or using services such as Facebook, Whatsapp and others are endless. First and foremost, our platform was created for health coaches by a health coach so we've ensured that the process for creating and running your group programs on the platform is intuitive and seamless. All communication and helpful documents can be exchanged within the program, plus you can store notes; check in on your clients' food diary; schedule live sessions; communicate with your group and so much more without all the extra noise! If ever you have any questions on the process, we host regular onboarding sessions to walk coaches through the platform.  
We recognize that above all, setting up the foundation of the group may be key to securing client success. When the boundaries are clear, the expectations are known, and you've thought through how you'll handle certain situations with professionalism and grace, you'll be able to confidently create, facilitate, and celebrate your group coaching experiences! 
We are thankful for the many coaches who attended and contributed to our roundtable discussion, which was a testament to how exceptional our YourCoach Coaching Community truly is. Not only do we have countless inspirational health coaches, who are tirelessly supporting their clients in achieving real health outcomes, but also these coaches make the time to be a collaborative part of the community. It's thanks to them that our virtual home is able to consistently evolve to meet the needs of Health Coach-Preneurs around the world, delivering superior health coaching services to clients.