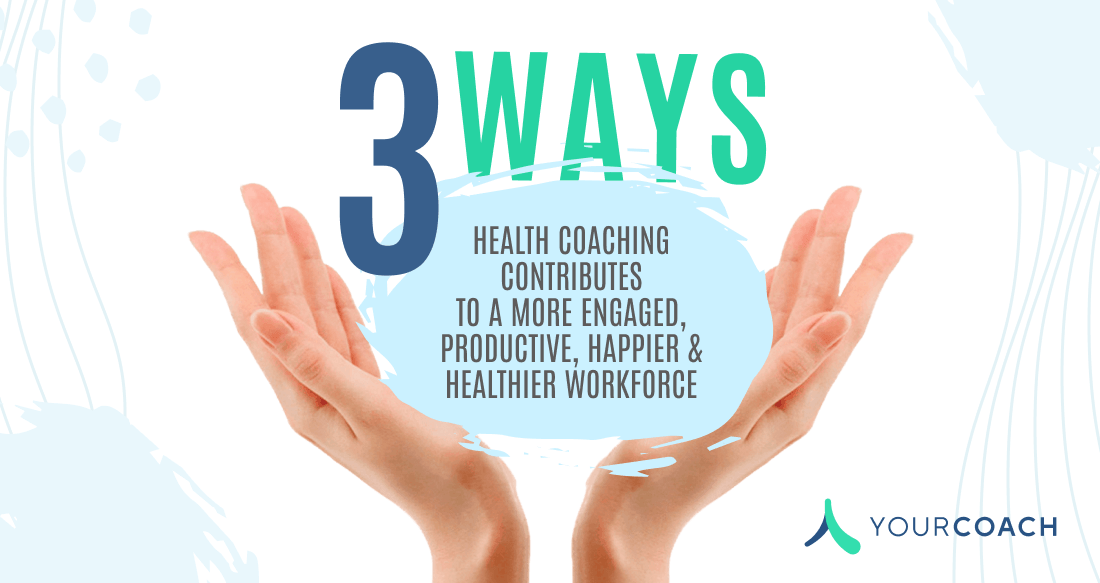 Open enrollment is just months away and we're receiving more inbounds about health coaching and employee health offerings than ever before. This is no coincidence. Several months ago we shared our Deep Dive on employee health and health coaching highlighting transformative statistics on the important impact health coaching can have on employee productivity, engagement, health and happiness.
The stats don't lie—every employer needs to incorporate real, impactful health coaching into their employee health offerings in order to maintain a motivated and effective workforce. We've compiled three of the most compelling ways health coaches can lead to better employee health outcomes and the current data to support them. It's our mission to ensure every employee has access to a health coach, and the below are just a few reasons why we're pushing for that to be possible.
Identify and manage stress and burnout.
It seems as though since the pandemic, stress and burnout are continually on the rise—with no signs of slowing down any time soon. In fact, recent research suggests up to 77% of employees experience burnout, with 71% admitting that they feel stressed during the workday. Not only is burnout and continued stress at work severely detrimental to employee health, but it can also increase an employee's desire to quit. Recent survey data reinforces that more than half of employees are ready to quit their jobs due to work related stress.
Health coaches can help take stock of how employees are feeling to identify compounding sources of stress and burnout. From there, they can work with employees to incorporate techniques that help manage these risks before they get out of control. Let's face it, stress is often unavoidable at work, so developing coping tools to help handle stress as it arises can be crucial. Health coaches have already shown they can seriously help mitigate burnout among employees. An April 2022 study showed a 21% decrease in burnout with participants when working with a health coach. 
Improve overall health and prevent absenteeism.
Here at YourCoach, we're in the business of creating happier, healthier humans. We work closely with companies to help them understand that if their employees are prioritizing physical, mental and emotional health and wellbeing, they'll also show up better in their roles (and in fact, will simply just show up more!). Studies have continuously showcased the undeniably positive impact health coaches can have on health outcomes—whether that's helping employees improve sleep, reduce stress, increase movement or achieve necessary weight loss. 
What's more, the correlation between working with a health coach and reductions in absenteeism has also been demonstrated in the latest research. In fact, work absenteeism hours were reduced by 88% among employees participating in an online health coaching program. Especially since absenteeism can seriously impact company bottom-lines (more on this later), this statistic might be one of the most impressive of the available data thus far.
Encourage productivity and decrease related costs. 
Healthier employees are happier employees and statistically, they're also more present and productive employees. Productivity losses attributed to chronic diseases have been estimated to cost employers $1,685 per employee per year, with total costs estimated to be as high as $225.8 billion annually. This is no small amount and it's something health coaches can help roll back. Studies have shown health coaching can increase productivity levels among employees by 32%, helping to drive down some of the productivity-associated costs companies might see across the board. 
What's more, WebMD estimates that health coaching can save on healthcare costs by around $507 per person, per year. Not only does this serve to reinforce how impactful health coaching can be on reducing long-term health concerns, but also it drives home the idea that health coaching can have far-reaching effects, including on a company's bottom line.
Here at YourCoach, we've been fielding questions about how companies can incorporate health coaching into their corporate wellness plans since releasing our Deep Dive several months ago. What's more, we've been helping to make this happen firsthand. Thanks to our growing roster of Industry Partnerships, we've been helping diverse organizations build, grow or scale their health coaching offerings through our technology-augmented force of live health coaches. 
If you're interested in kickstarting talks around how to bring health coaching to your organization, now's the time! Drop us a line at team@yourcoach.health.