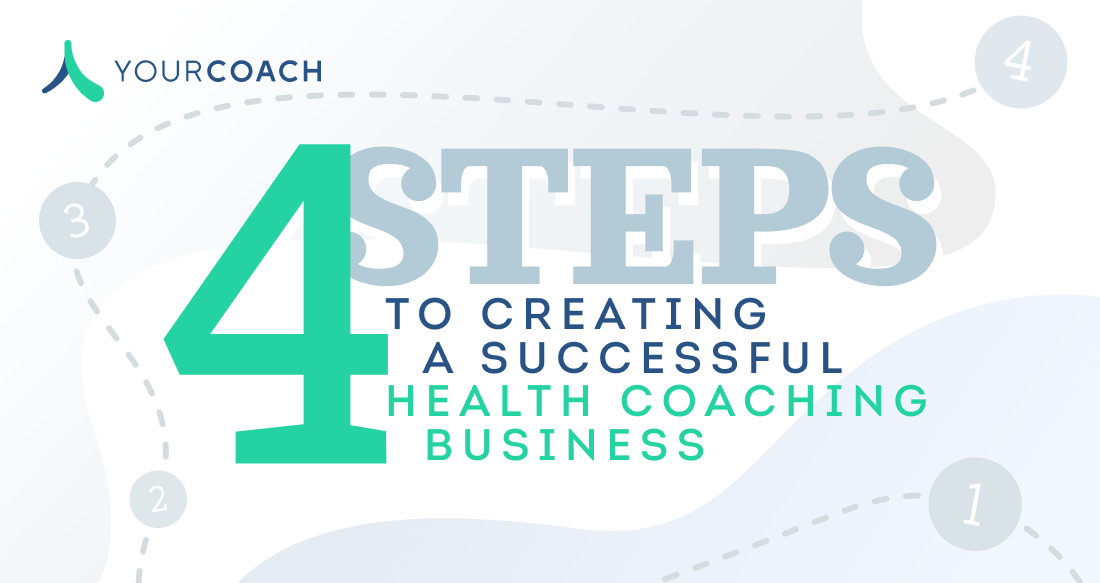 This past fall, the National Board for Health and Wellness Coaching welcomed 670 new NBC-HWCs. Many more are planning to sit for the exam in the summer (and don't miss the chance to sign up for our study group if you haven't yet—the deadline is Monday!). 
It's no secret this certification opens doors for health coaches, both as Health Coach-Preneurs practicing solo, within digital health or in healthcare settings. So once the door is open, where to next? When opportunities are on the horizon, the next best thing you can do for yourself is to prepare for what's to come. 
In today's blog, we're sharing our four favorite tips for setting up your health coaching business for success. Whether you're a newly-certified health coach or you've been practicing with your clients for years, these tips can be pivotal to building businesses that thrive. 
Set yourself up on the YourCoach Platform
This one might seem obvious—especially coming from us—but the single most important thing you can do for your current and future clients is create a seamless experience from the second they start working with you. The YourCoach platform can be a gamechanger, housing all the tools you could ever need to support clients before, during and after sessions.
From questionnaires (including templated ones to get you started) to our chat and video capabilities, to our food diary and notes tools, we make it easier than ever for your clients to interact with you, ask questions and feel more supported than if all your tools existed in different places. If you're curious about the client experience, we've even pulled together client tutorials within our platform to show you how much more seamless the process is for clients.
Though we're not a directory, which means new clients can't "find" you by searching on the platform (only fellow coaches  can see each other's profiles), setting up your profile is a critical first step to ensure current and future clients can learn more about you before their first session. Your profile is a great place to upload certifications (like your new NBC-HWC certification, for example!), share your specialty, and present a bio that includes more about you. This bio should be in the first person, for example, "My name is Darcy and I'm passionate about coaching clients through their cancer journey." You can then share your profile with clients over text or email so that any time you meet someone new who might be interested in your health coaching services, you can easily share more about yourself in a way that feels professional and organized.
Consider consulting with a legal and finance expert.
Many coaches don't consider the legal and financial implications of health coaching until they encounter an issue and it's too late. Here at YourCoach, we do all we can to make sure the legal and business aspects of health coaching remain at the forefront for all practicing health coaches on our platform. 
We've hosted regular sessions with health and wellness legal experts (you can check out some of these recorded sessions on our YouTube!) to give you a sense of where to start and have a space in our Library where all your signed client contracts are automatically uploaded. What's more, we're also proud to offer liability insurance specifically designed for health and wellness coaches through CPH Insurance. Just navigate to the Services section of the  YourCoach Platform to get started. Beyond these services and resources, the platform is fully HIPAA-compliant in order to protect your and your clients' data. You can read more about what we're doing to keep this information safe HERE and we encourage you to share this information with clients before you get started to assuage any concerns. 
When it comes to processing payments, we've created a seamless workflow so both you and your clients can feel safe. We've made it easy for you to connect your Stripe account (or create a new one) through the Finances section of our platform, making it easier to track, receive and request regular payments for your programs and sessions.
Network for new opportunities
The power of networking and social media can be monumental for new and veteran health coaches. The coaching community is hugely supportive, but it's up to you to make sure you're in the right spaces so that you have access to this community. The NBHWC has Facebook groups that are often alight with Qs and As. 
Of course, joining our YourCoach platform gives you access to our very happening Coaching Community Group where coaches often share best practices for using our platform and coaching in general, share tidbits, offer kudos and so much more. We've seen burgeoning friendships emerge from this group and even co-coaching or referral opportunities for coaches who've encountered clients with very niche interests. 
In addition to being present in health coaching communities, having an active social media profile can help with everything from meeting new clients to receiving support from coaches. Our YourCoach team is active on Instagram, Facebook, LinkedIn and soon to be TikTok and we're always looking to interact and support health coaches through these platforms. Be sure to follow us so we have you on our radar! 
Keep your practice up-to-date with the latest educational resources
Successful coaches evolve their practice as the science of health coaching progresses—your health coaching career doesn't end when you get certified! On the YourCoach platform, we offer monthly opportunities for coaches to earn continued education credits that are necessary for maintaining your certification (and always at NO COST to those coaches who are a part of our community!). These events also help to ensure that (a) you're staying on top of the latest info and (b) you're meeting new coaches who are in the same boat!
What's more, our team produces regular Deep Dives strategically timed to health holidays (keep an eye out for our Mental Health Deep Dive next week and check out our Women's Health Deep Dive from last!). Keeping up with these Deep Dives will give you a strong baseline understanding of the current science behind health coaching so that you can approach your sessions more informed and provide clients with these as resources. 
At YourCoach, we believe it takes a village to build a successful business. That's why it's our mission to support Health Coach-Preneurs in all they do, from our end-to-end practice management platform to our educational events to even offering coaches new client opportunities through our Industry Partnerships the more they practice on our platform. We may be biased, but we firmly believe YourCoach is the best place to build a flourishing health coaching business and we're here to prove that to you!