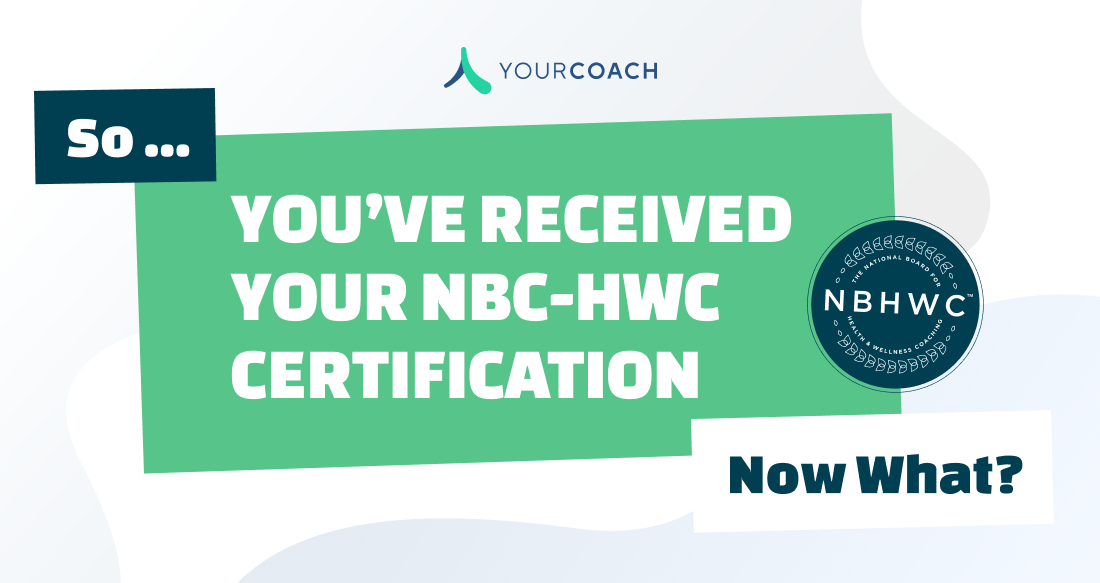 We were so excited to hear the National Board for Health & Wellness Coaching would be welcoming 670 new certified coaches as a result of the spring exam term. We were even more excited to learn that all of our Rita & Gene Presman Scholarship recipients were among those newly certified coaches—a true testament to the impact of our scholarship and the exam preparation that accompanies it (and huge kudos to our Director of Health Coaching Operations, Ashlee Honeycutt, who coordinated and led this prep). 
For those newly certified coaches, the number one question on their minds is often, "So I've received my certification, now what? What should I be focusing on next?" We're here to help! In today's blog, we outline some key considerations for new board-certified coaches so that you can be set up for a successful career in health coaching.
Keep cultivating community and building relationships within health coaching.
The health and wellness coaching community is tight-knit, collaborative and supportive. Becoming an active part of this community can be keystone to leveling up your coaching skills, finding new client opportunities, and ensuring your business is set up strategically. We're proud to be active members of the community at large and have seen its first-hand impact on new and developing coaches. 
On the YourCoach platform, for example, our Coaching Community offers a space for coaches to ask questions and have fellow coaches share their experience or offer advice. Some recent questions we've seen are: 
Are your clients struggling with looming loneliness from COVID? How are you supporting them?

How can I set up my intake questionnaires?

What's your elevator pitch to new clients?
At the same time, our YourCoach team shares regular thought starters to generate productive conversations. Recently, these have included:
What gives you purpose in your health coaching practice?

What makes you and your clients happy and healthy humans?

Despite the difficulty of the past year, have you experienced any unexpected positives?
Conversations like these can provide newly-certified coaches with real-time tips and feedback, inspiration for their craft, and a space to ask for help and support with ongoing coaching challenges. 
Incorporate the right tools–like YourCoach–to set a strong foundation for your business.
For newly-certified coaches who are kick-starting their businesses, now is the best time to develop a strong foundation. Tools like YourCoach provide a more seamless experience for clients, while keeping coaches organized and buttoned-up. From template questionnaires and forms to a space to house contracts, chat, in-platform video, goals, to-dos, and food diary features, and, of course, a place to upload your new certifications for your clients to see – the YourCoach platform has everything you need to run a successful health coaching business seamlessly, without the extra noise.
We understand many coaches are just starting out, so we've made sure cost isn't a barrier to joining our platform. New coaches with up to one group program and two individual clients practicing on the platform use YourCoach at no cost. As coaches expand their practice beyond this one group/two individual client maximum, the cost of the platform decreases the more they practice (from $40 to just $10 a month), remaining accessible while giving you a smart space to build your practice.
Practice. Practice. Practice.
Not only is real-world experience key to becoming a more skilled, empathetic health coach, but practicing on the YourCoach platform can even pave the way for new client opportunities! YourCoach is the only operating system for behavior change, powered by health coaches, that enables coaches to become eligible for new client opportunities the more they practice on the platform. For coaches looking to expand their health coaching practice, this can be an absolute gamechanger.
In order to reach this perk, we're looking for health coaches who are actively practicing with their own clients on the platform, pioneering client successes and satisfaction through their own programs. Our coaching operations team works to identify, validate and nurture these coaches to best support our Industry Partners and their clients, talent and members. 
Continued education is important—make sure you're accumulating credits for recertification.
Receiving your NBC-HWC certification is huge and it should be celebrated! In order to stay successful, continued learning is paramount. Not only that, but it's necessary to maintain your certification in the long-term. All NBC-HWCs need to earn 36 continued education credits (CEUs) every three years in order to be recertified.
On the YourCoach platform, we offer monthly opportunities for coaches to earn these CEUs (and at no cost to those coaches who are a part of our community!). Not only are these webinars timely and informative, but they're an excellent way to pursue recertification more affordably. Our next event covers mental health and health coaching (just in time for Mental Health Awareness Month!) so don't miss the chance to sign up HERE! 
We're so incredibly proud of all the new NBC-HWCs and are here to uplift you as you start this exciting next chapter in your career. This new certification has massively opened doors for new opportunities—whether you're looking to expand your client base within your personal practice, hoping to join a healthcare team or looking into employment  or contract work with digital health organizations. Here at YourCoach, we're happy to provide coaches who are practicing on the YourCoach platform with new client opportunities through our Industry Partnerships and are hoping to see many new faces on the platform soon!