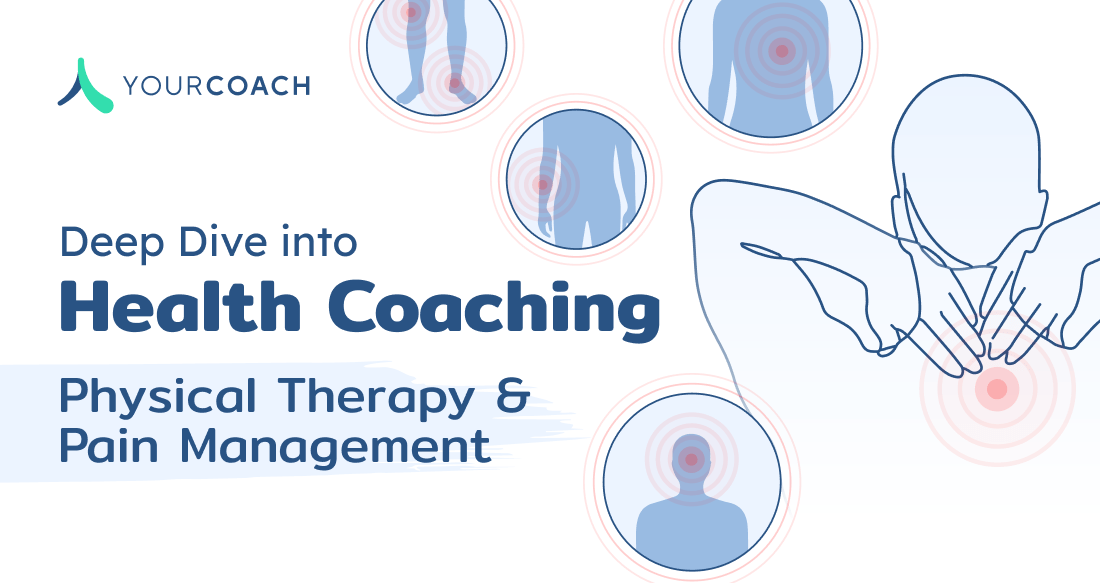 Chronic pain, defined as pain that lasts for more than three months at a time, is becoming increasingly more widespread in the U.S., with new cases surpassing that of diabetes, depression and high blood pressure according to the NIH. This pain can take many shapes and forms, ranging from migraines to lower back pain, fibromyalgia and more and affects an estimated 50 million adults across the country. 
What's more, chronic pain can be deeply disruptive. High-impact pain, defined as chronic pain that limits life or work activities on most days or every day during the past 6 months, reportedly has affected 8% of the U.S. population, or 19.6 million people at large. In addition to physical symptoms, experiencing persistent pain can have a serious and lasting impact on mental health. For example, up to 85% of people with chronic pain also experience severe depression.
When leveraged in complement to ongoing treatment plans or as a preventative measure, health coaches provide significant relief, help clients regain a sense of control, and implement science-backed and highly effective strategies for mitigating and managing chronic pain. In today's Deep Dive, we take a closer look at the state of chronic pain in the U.S., the available strategies like physical therapy to help support clients with these conditions, and how health coaches CAN and DO help. 
Why is chronic pain becoming a pervasive issue and what pain management options are available?
Scientists have pointed to a variety of factors that might influence or impact the rise in chronic pain across the country. Some researchers speculate that the rise in chronic health conditions, like high body mass index, kidney conditions, hypertension and diabetes is directly correlated to this rise in chronic pain we're seeing across the board. People worldwide are living longer and the rate of chronic pain among older adults (ages 65 and older) is exceptionally high. Other demographic factors, like poverty rates, have also been linked to chronic pain, with studies indicating a poverty rate of 50% among chronic pain patients.
Not only this, but options and access to chronic pain management, particularly the use of opioids, have come under scrutiny in the last decade. Many individuals with chronic pain rely on prescription opioids, such as oxycodone or hydrocodone, to manage their pain. These medications can be highly effective in providing relief, but they can be highly addictive. Science-supported prescribing and management practices can help provide patients with relief and reduce addiction risks (and health coaches can help with this). Depending on the severity of the condition, options such as physical therapy, cognitive behavioral therapies, interventional therapies (like injections), acupuncture and more can provide relief. 
How are health coaches assisting with pain management?
Health coaches can be game changing for those struggling with chronic pain. When part of the patient care team, and working in tandem with professionals like physical therapists, health coaches can ensure behavioral and lifestyle changes actually become sustained. At YourCoach, we say the real health change happens beyond the doctor's office and in the case of chronic pain, that's where pain management strategies become effective—when they're used daily and become routine. Not only that, but when used to support medication adherence, health coaches can keep a close eye on clients, ensuring they're following physician-prescribed regimens and encouraging patients to escalate any potential issues as they arise. 
Health coaches have already proven significantly effective in helping clients manage pain, according to recent studies. After a twelve month coaching intervention program, individuals struggling with chronic diseases including cancer and diabetes showed statistically and clinically significant reductions in pain intensity and pain-related interference. Overall Pain Outcomes Questionnaire Scores decreased by 32% compared to baseline. Similarly, a 2022 study on managing chronic non-cancer pain in older adults showed pain intensity scores decreased by 31% after health coaching interventions. We've compiled this data and more within our recent Deep Dive to showcase some of the many ways health coaches have already proven their value in managing and mitigating chronic pain.  
What is YourCoach doing to help?
Here at YourCoach, we've seen the firsthand impact health coaches have on achieving better health, reducing pain, and increasing quality of life. Through our growing roster of Industry Partnerships, we've helped companies grow, build or scale best-in-class health coaching operations, supporting their clients, patients and members with health concerns ranging from achieving more optimal mental health to managing pain. 
Our partnership with Medisafe, for example, augments their patient support programs by leveraging our cross-speciality, live health coaches to generate better medication adherence outcomes. Medication adherence can be crucial to minimizing the debilitating effects of chronic pain and health coaches have been shown to maximize medication adherence among those with chronic conditions. 
Bottom line: health coaches help clients tap into a better quality of life and are absolutely necessary for anyone struggling with chronic pain. We're proud to continuously champion change through REAL health coaching by providing best-in-class health coaching services across industries, and there is still so much more to come! If you're interested in learning more about how we partner with companies to deliver health coaching services to your population, contact us at team@yourcoach.health.