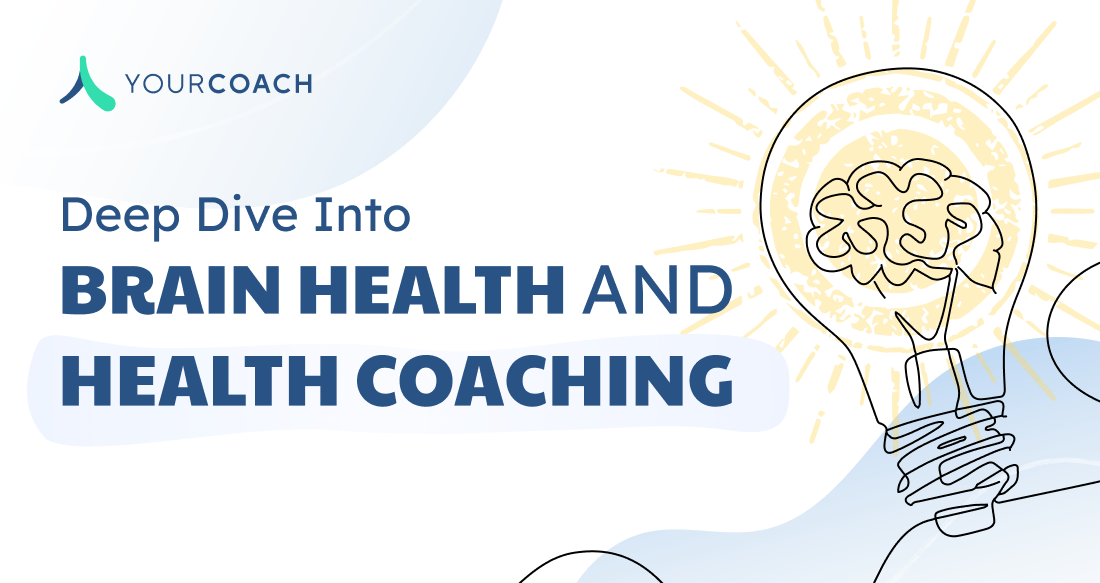 Brain health is one of the most talked about topics within and outside the health and wellness industry. From academia to the corporate sector, from sports medicine to creative fields, brain health is the key to more optimal living, better performance, innovation, happiness and so much more. Everything that we are and everything that we do as humans originates in this sometimes mysterious organ, so naturally we're constantly seeking out ways to keep it healthy. 
We hear plenty about brain games, supplements and strategies that are thought to protect and preserve this vital organ. The real (not-so-)secret to better brain health is implementing daily habits that support the way our brains function while protecting them from potential risks. Health coaches make these habits happen—we know that working with a health coach has shown marked positive health outcomes as it relates to the brain. In today's Deep Dive we take a closer look at the latest data, and the many reasons we believe health coaches are crucial to supporting brain health. 
Why is brain health so important?
The brain is the true epicenter of our thoughts, behaviors, memories, emotions, movement and more. We don't need to explain the obvious—its one of the single most important organs in our bodies and keeping it healthy both now and for the future is absolutely paramount. What many don't realize—and what we're highlighting through our Deep Dive—is the expansive prevalence of brain-related illnesses. 
Neurodegenerative diseases, like Alzheimer's and dementia, remain a significant health concern with far-reaching implications. In fact, over 6.7 million Americans aged 65 and older were affected with Alzheimer's in 2021. Especially as we approach World Alzheimer's Day on September 21, these statistics are important to highlight—and they don't include the many family members that are deeply affected by having a loved one suffering from Alzheimer's or dementia. Separately, conditions such as epilepsy, Parkinson's and multiple sclerosis are of growing concern, as are chronic migraines and severe headaches (an estimated 1 in 6 Americans have suffered from the latter in the last 3 months). 
Brain health is also deeply connected to mental health, with neurochemical and/or structural roots within the brain (to anxiety and depression, as an example). We've shared in our previous Mental Health Deep Dive how staggeringly prevalent mental health conditions are across the US, with nearly one in five adults and one in six children in the US experiencing a mental illness. Conditions like depression, anxiety, and bipolar disorder can impact cognitive function and overall brain well-being and vice versa. Especially during National Suicide Prevention Week, it is important we highlight the biological bases of mental health within our Deep Dive.
How are health coaches encouraging more optimal brain health?
Health coaches can massively support healthier brains by educating clients on the science behind brain health, helping clients implement habits that support healthier brains (like nutrition and physical activity) and can help clients identify when they need to seek out additional help from their healthcare team. 
Studies have shown that health coaches do help clients implement behaviors that support better brain health in the long-term. A 2019 pilot study demonstrated statistically significant improvements in the following, when working with a health coach: 
+40% to physical activity (IPAQ, International Physical Activity Questionnaire)
+25% in adherence to Mediterranean Diet (MedScore – Mediterranean Diet Score)
+13% to cognitive capabilities (FCAS, Florida Cognitive Activities Scale) 
+8% to quality of life (FQOL, Flanagan Quality of Life Scale)
Health coaches have also shown promise in helping prevent neurodegenerative diseases like Alzheimer's. In studies on those at risk for developing Alzheimer's or dementia, those who worked with a health coach demonstrated improved global cognition scores (whereas those who didn't work with a coach experienced no change). Health coaching has also exhibited an important impact on those struggling with mental illness, reducing symptoms of anxiety and depression in recent studies. While more work always needs to be done, the results thus far are undeniable—health coaches are necessary to healthier brains. We've compiled more of the latest within our Deep Dive. 
What is YourCoach doing to deliver better brain health outcomes through health coaching?
We firmly believe in the power of real health coaching here at YourCoach, which is why it's our mission to ensure every human has access to a health coach by 2030. We've already expanded this access to tens of thousands of consumers through our growing roster of Industry Partnerships. 
These include collaborating closely and providing health coaching services to digital health companies that improve medication adherence (which includes patients undergoing treatment for various neurological conditions) as well as organizations that specialize in mental health support. Providing health coaching services that complement our Partners' products and/or services better supports individuals' brain health in the long term. Providing health coaching services through progressive employers for their talent further cements our mission to help individuals through supplemental mental health support.
We're proud to continuously champion change through health coaching by providing best-in-class health coaching services across industries, and there is still so much more to come! If you're interested in learning more about how we partner with companies to deliver health coaching services, contact us at team@yourcoach.health .