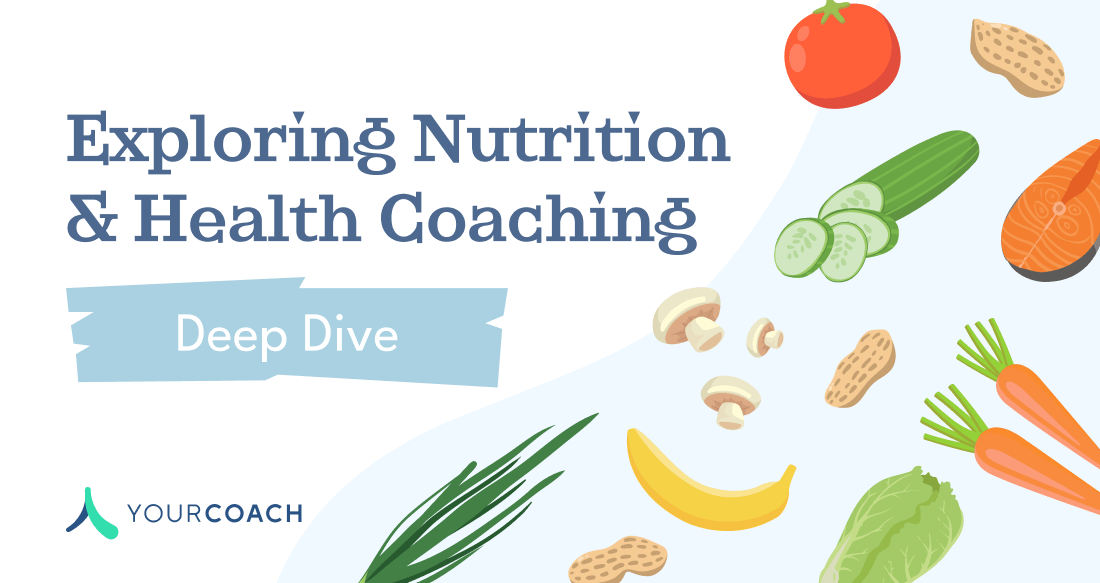 Nutrition is one of the most common health focuses clients zero in on when working with a health coach. In fact, over half (55%) of the health coaches on our platform actually specialize in nutrition support. Why is there such a concentrated focus on this particular niche? Nutrition is foundational for a healthy lifestyle and often a key part of any disease prevention, management or even treatment plan—most health coaches need to focus attention on nutrition in some capacity to support their clients. 
While health coaches aren't always nutritionists (though many have earned health coaching credentials as well as nutrition/dietician degrees), they can serve as an important support system to ensure clients are actually sticking to their ongoing nutrition plans or are achieving daily health goals like drinking more water; eating more fruits and vegetables; or minimizing processed food intake. Without health coaches, some clients struggle to implement or stick to nutrition plans from their health care team or their ongoing health goals. 
This week's Deep Dive is timely-–in honor of National Nutrition Month–and serves to highlight the importance of proper nutrition; the current state of nutrition in the U.S.; and emphasize how health coaches can be effective in helping clients achieve their nutrition goals. Read on for a preview of what to expect in our just-released report. 
Why is nutrition an important health focus when working with health coaches?
It's no surprise that a healthy, balanced diet is one of the number one predictors of good health and a longer lifespan. In fact, recent longitudinal studies have demonstrated that adopting a healthier diet can add up to 13 years to your lifespan! 
While everyone's individual health needs—and health risks-–are unique, nutritionists and dieticians can create plans that best address those concerns. From there, health coaches play an important role in ensuring these plans are implemented in ways that feel sustainable and manageable for clients. These lasting dietary changes can have a massive impact on the following health concerns/conditions (and definitely double click on our Deep Dive for more on the research behind each): 
Boost the immune system
Reduce chronic disease
Improve gut health
Maintain a healthy weight
Support mental health
Achieve better sleep
How are health coaches effective in ensuring clients stick to nutrition plans?
Health coaching can have a massive impact on nutritional health goals. According to a compendium of research in the American Journal of Lifestyle Medicine, 88% of studies suggest health coaching is effective in changing nutrition behavior and 87% of studies show a positive effect on weight reduction and/or BMI. Our Deep Dive report presents even more compelling data for why health coaching interventions improve success rates around adopting healthy diet plans. So, why are health coaches so effective in ensuring nutrition goals are implemented and sustained? First and foremost, health coaches are experts in behavior change. They're trained in evidence-based techniques that help transform a nutrition plan into action. 
Part of why health coaching interventions are so effective is because they meet clients where they are. Health coaches seek to understand how their clients' lifestyle might impact their access to healthy foods (socioeconomic status and location can have a major effect on this), cultural implications, preferences, food-related habits and so much more. 
Among their many tools and techniques, a coach may support clients with healthy eating patterns by:
Collaborating with a client to create an action plan that aligns with their preferences, goals and health needs

Providing education and resources on healthy food choices, meal planning, and portion sizes

Encouraging clients to try new foods, cooking methods, and recipes to expand their food choices

Identifying and addressing common barriers to healthy eating, such as emotional eating, lack of time, or limited access to healthy foods
Why is YourCoach so much more impactful in supporting client goals?
As mentioned earlier, over half of the coaches practicing on the YourCoach platform specialize in nutrition. Not only is this indicative of broader trends among health coaching specialities across the country, but also it's a testament to how transformative our platform can be in helping coaches support clients with their nutritional goals. 
Not only do we offer long- and short-term goals for clients to set goals that align to those set by their healthcare teams, but also daily tasks, like getting a certain amount of fiber or protein or keeping a mood journal.
Even better, we were thrilled to introduce our Food Diary last year to help clients track their meals, nutrients and more with the option to upload a photo and notes right within. Clients can fully customize their diary so they're only tracking the things that are pertinent to their goals and can avoid tracking anything that otherwise might be triggering. We crafted this diary with careful feedback from real health coaches on our platform, so we've modeled it to best fit the needs of both health coaches and clients alike.
We're thrilled to support health coaches as they work with clients across the country to improve their nutrition and overall health as well as offer coaching services to our industry partners. Check out our Nutrition Deep Dive for more research and be sure to share it broadly to celebrate the great work and impact health coaches are championing. Join us on the Health Coaching revolution!