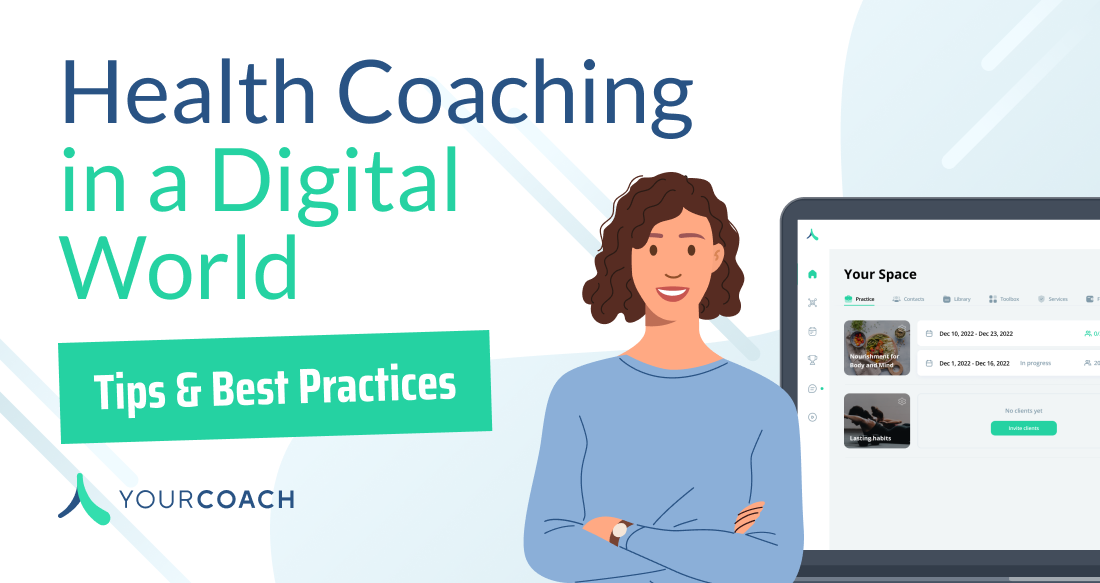 Health coaching within the digital world is the new norm—and while AI is progressing by the day, nothing replaces the deep, empathic connections real health coaches are forging in this space. These relationships take time, effort, accountability and skill, and require some element of live coaching through digital tools in order to yield effective results. There's only so much that health coaches can accomplish over chat. 
So, how can health coaches best leverage digital tools to generate positive health outcomes with clients anywhere? Earlier this year, our Director of Health Coaching, Ashlee Honeycutt, and Health Coaching Coordinator, Rowan Lischerelli, coordinated an immersive webinar demonstrating best practices for health coaching digitally. Today, we're excited to recount some of those best practices—skills we arm our verified and validated coaches with in order to best support our industry partners. 
Establishing Rapport – Preparing for Success
A good rapport can help the client feel more comfortable discussing personal and sensitive health information and can make it easier for the coach to provide effective guidance and support. If trust isn't present, your client will resist change work and they won't get the results they want. Rapport is the first essential step in a coaching relationship.
Careful preparation can help ensure that from the moment you log on for your initial client session, you instill confidence in clients so they can feel empowered for the journey ahead. In fact, research suggests that most first impressions are generated in just seven seconds! So how can you maximize these first few moments on an initial video call for success? 
Check your tech to control for internet slowdowns, potential pop-ups or impending tech issues. You'll want to plan for an undistracted session, so minimize notifications on devices wherever possible. Conducting sessions within the YourCoach platform can help control for this, but we'd also recommend putting your device on airplane mode.

Take a snapshot of your background to see what it looks like from the client perspective. Ensure your lighting is illuminating and inviting; your space is free from clutter; and most of all you're comfortable! Grab a pen and paper to take notes or, for coaches on the YourCoach platform you can take and store notes right within the platform. 

Choose an outfit that conveys professionalism and consider using headphones to remind clients that sessions are confidential. If you're practicing on the YourCoach platform, the first time you meet clients is a nice opportunity to remind them that the platform is fully HIPAA-compliant and that all data collected during sessions will be treated with the utmost confidentiality and respect. 
Engaging Clients Through Digital Tools
Once you've created a distraction-free, inviting environment on your end of the screen–it's time to create a warm, engaging connection while on the call with clients! The first few moments are a great time to introduce yourself, re-highlighting your credentials, background and experience to further inspire confidence in your new client. Even the simplest strategies, like using your client's name periodically, nodding regularly to show you're paying attention, and adding warm words to your first few sentences can dramatically increase that initial rapport. Especially in a digital environment, things like the tone of your voice and facial expressions can make a huge impact on how clients feel during your sessions. Maintain a friendly, open, and kind demeanor in all ways possible and keep eye contact as much as you can. 
You might want to consider setting the stage for future calls—running down what clients can expect moving forward, asking if you can take notes (and, if you're on the YourCoach platform, re-stating that all information stored within is treated with the utmost protections, including HIPAA), and assuring them that they're in a safe, confidential environment.  
Maintain the Connection Between Sessions
While what goes on during your sessions is critically important, the time in between sessions is where the real magic happens! It's important to make your supportive presence known even when you're not on a live video call with clients. 
Check in regularly (but not excessively) via chat to see how clients are doing with meeting their day-to-day goals—this can also be done right within the YourCoach platform! You can even set expectations with your clients for how frequently they'd like you to check in and for how you both can plan to track their progress in between sessions. Be sure that all communications are free from grammatical and spelling errors wherever possible, and maintain a level of professionalism in your communication while still staying friendly and fun (don't be afraid of using fun emojis, where appropriate!). 
When it comes to tracking progress between sessions, YourCoach platform can make a huge impact on the ease with which clients (and you!) can stay on top of their goals, with trackable tools like tasks & to-dos for smaller components of goals like daily journaling and short- and long-term goals which can help them track progress towards bigger health goals over time. These accountability tools are part of why health coaching is so successful and its these ongoing successes that truly reinforce client rapport!
We're proud to support so many coaches in delivering better and real health coaching services within digital spaces. We work closely with our verified and validated coaches on the YourCoach platform to continuously level them up on how to provide an exceptional (and effective!) client experience to our industry partners and are happy to pass on this wisdom to our broader community. 
If you missed the live session, make sure to follow us on social media so you never miss another opportunity to grow your skills! Most events are CEU-eligible, led by our NBHWC-certified operations team or even our CEO, and are free of charge for those practicing on the YourCoach platform. Sign up for our next event on re-engaging clients HERE!