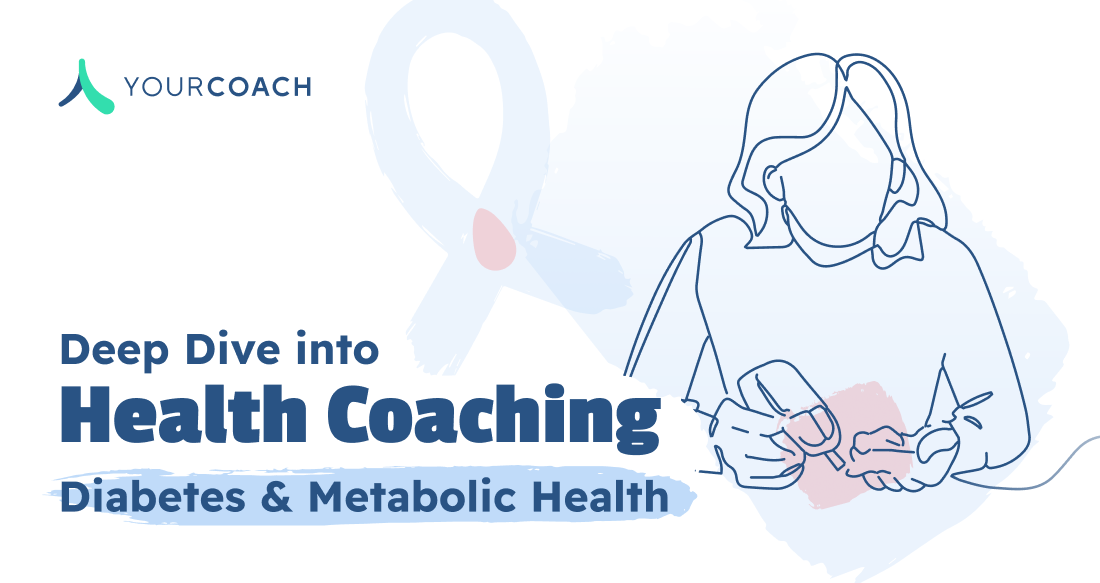 Just about 12% of adult Americans are considered metabolically healthy—signifying there's a major opportunity here for us to improve the way we approach metabolic health on a national scale. Especially as we honor National Diabetes Awareness Month this November, we thought it was exceptionally important to dive deeper into metabolic health exploring what it is, where we are, and how health coaches are already making an important difference. 
In today's Deep Dive we compile all of the latest data to answer these questions and then some. What we've uncovered is this: Health coaches hold the key to better metabolic health outcomes for clients everywhere. We've seen this firsthand through our Industry Partnerships with companies like Medisafe and we're seeing it shine through the latest available data on health coaching interventions. Below are some of the highlights you can expect from the latest report.
What is metabolic health and why is it important?
Most people can describe some of what metabolic health is, but in truth it's much more complex than people realize. That's because metabolic health encompasses more than just healthy blood sugar levels—it's also a measure of triglycerides, high-density lipoprotein (HDL) cholesterol, blood pressure, and waist circumference. When one of these factors falls out of whack, this could precipitate a longer-term chronic health condition like diabetes, heart disease and obesity. 
According to the latest data, a shocking 1 in 8 Americans has what's considered to be optimal metabolic health—that's only around 12% of Americans who are considered to be metabolically healthy. What's more, related health conditions are also highly prevalent among the population. Around 42% of U.S. adults are living with obesity and 11.3% of the U.S. population is currently diagnosed with diabetes. This data suggests a major opportunity to improve the root cause of chronic health conditions by addressing metabolic health directly—either through education, lifestyle modifications, or medical interventions. Health coaches can play a major role in all three of these things.
How do health coaches support more optimal metabolic health?
Health coaches are already playing an active role in improving metabolic health for clients and have demonstrated their impact through real-world data. Not only can health coaches provide critical education around metabolic health components and what influences them, but also they can implement lifestyle changes to regulate these factors while ensuring clients adhere to medications prescribed by their health and care team. These interventions are science-backed and have already shown their value in recent studies.
For example, according to a compendium of health & wellness literature, 78% of studies show health coaching has a positive effect on A1C. Similar studies have shown health coaching can help catalyze a decrease in A1C of around 0.62%. When it comes to managing weight and associated metabolic indicators like waist circumference, the latest research is similarly encouraging. An analysis of recent literature showcased health coaching had an impact on weight reduction in 87% of studies. A further 88% of studies showed health coaching had a positive impact on nutritional behavior, a key component to all factors associated with metabolic health. We've compiled the latest data in our Deep Dive, highlighting the many ways health coaches have already proven their value for clients living with metabolic health issues.
What is YourCoach doing to help?
A vast majority of Americans are suffering from metabolic health concerns or conditions and we firmly believe (with data to back it up) that health coaches are the key to improving those concerning metrics. We've cultivated a dynamic list of Industry Partners with whom we work to bring health coaching services to clients, patients, members and talent with health concerns very often related to metabolic health and associated chronic conditions. 
We're seeing the positive results health coaches have on improving metabolic health for clients firsthand. Our partnership with Medisafe, for example, augments their patient support programs by leveraging our cross-speciality, live health coaches to generate better medication adherence outcomes. Together, we're able to champion better outcomes for patients, many of whom are looking to improve their metabolic health and grappling with related conditions. 
We're looking forward to continuing to champion positive change through our Industry Partnerships. If you're interested in learning more about how we partner with companies to deliver health coaching services to your population, contact us at team@yourcoach.health.