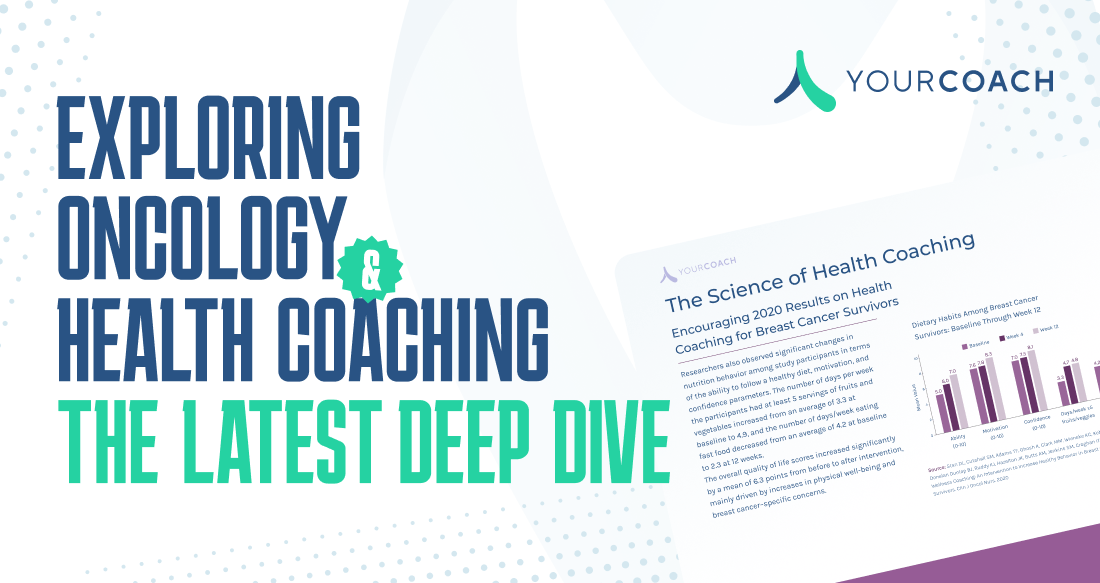 We all know someone affected with cancer—whether that's a parent, a neighbor, a teacher or a friend. In some cases, we might have encountered a cancer scare ourselves, are undergoing treatment or have just entered remission. This year, alone, an estimated 2 million people are expected to be diagnosed with cancer, according to the National Cancer Institute. 
We've made significant strides in recent decades, with the U.S. cancer death rate declining, and cancer survival rates improving, mostly due to advances in treatment, early detection, and drops in smoking. Of course, there's still so much work to be done. Even with better treatment and better outcomes, the cancer journey can be a long and difficult road. 
Not only can health coaches help implement strategies to cope better with cancer treatment, but they can also help individuals adopt healthier habits to prevent cancer or stay in remission. Health coaches are essential in the global fight against cancer—and the research doesn't lie! In today's Deep Dive, we've pulled together recent data to support the impact of health coaches on cancer outcomes as well as an overview of cancer prevalence and some important watch-outs. Read on for a preview of what to expect and check out the full Deep Dive here. 
Why is this Oncology Deep Dive so near and dear to us?
It goes without saying that cancer research and education is of utmost importance to the medical community—and rightfully so! Up until recently, health coaches and their impact had steadily been left out of these important conversations. Now, the research is undeniable and a growing compendium of research has undoubtedly proven the effectiveness of health coaching in improving health outcomes related to cancer prevention and management. More and more we're seeing cancer coaching become integrated within health and care and we expect this trend to steadily increase. Our Deep Dive is meant to amplify the "why" as we push to make health coaching accessible to the global population (especially those looking to incorporate habits that stave off, help manage or foster recovery from an illness).
Beyond that, cancer coaching is so important to us at YourCoach because it's what sparked our "why" and it's why we've evolved into who we are today. Our CEO & Founder, Marina, discovered health coaching and was inspired to found YourCoach through her own cancer journey.
"I know what it's like to be a patient," shares Marina. "My cancer journey was a winding one, which included my fight with breast cancer, chemotherapy, a mastectomy, and many, many doctor appointments and treatments. What I really needed wasn't another doctor or medication or treatment, what I really needed was to feel like myself again. Health coaching helped me re-envision what life would look like moving forward and it's really what inspired me moving forward. Every individual—especially those coping with cancer—deserves to have access to a health coach."
Here at YourCoach, we all share in Marina's mission and we're proud of the work we've done thus far to spark progress.
What are health coaches doing to support clients in cancer prevention strategies as well as coping with treatment? 
Health coaches have already demonstrated their effectiveness in helping individuals with prevention strategies to stave off cancer or stay in remission and in helping individuals who are actively going through cancer treatment. They even work closely with friends and family who are struggling with how to support their loved ones while they're going through cancer or looking to manage the grief that is so often associated with this difficult disease. At the heart of health coaching is a holistic approach, meaning they can help individuals address physical, mental and emotional concerns (which are all often present in a complex mix when dealing with cancer). 
The available research only supports the impact of cancer coaching. Studies show that health coaching is an effective approach to helping clients with treatment adherence, ensuring they follow prescribed medications, appointments, and self-care routines. Moreover, a research analysis of 12 scientific studies showed a significant decrease in fatigue and pain (75%); an increase in quality of life and acceptance (67%); an increase in physical activity (67%); and improvements in social relationships (33%). While more research is necessary (as is always the case) the importance of health coaching within oncology is undoubtedly important.
What is YourCoach doing to enable more cancer coaching opportunities?
We deeply believe in the power of health coaching and have seen and heard its first-hand impact on individuals with cancer or at risk of developing cancer and are supporting cancer coaching through a two-pronged approach. On the one hand, we're empowering health coaches on our platform to grow their practice so that cancer coaching becomes more available. In addition, our Rita & Gene Presman Memorial Scholarship Program has seen hundreds of applicants with a passion for cancer coaching or a touching personal story with cancer that's inspired them to become a health coach. 
On the other hand, in our mission to bring the power of health coaching to the global population, we're the premier organization delivering health coaching to companies looking to build or scale their health coaching operations through our tech-augmented, validated coaches and seamlessly embeddable APIs. We've cultivated an exciting cohort of Industry Partners who are at the forefront of improving health and care and have an announcement coming soon that will expand coaching, including cancer, in a very unique way. We feel grateful to be expanding the impact of health coaching within spaces where it's needed most and we have so many more exciting announcements to come!