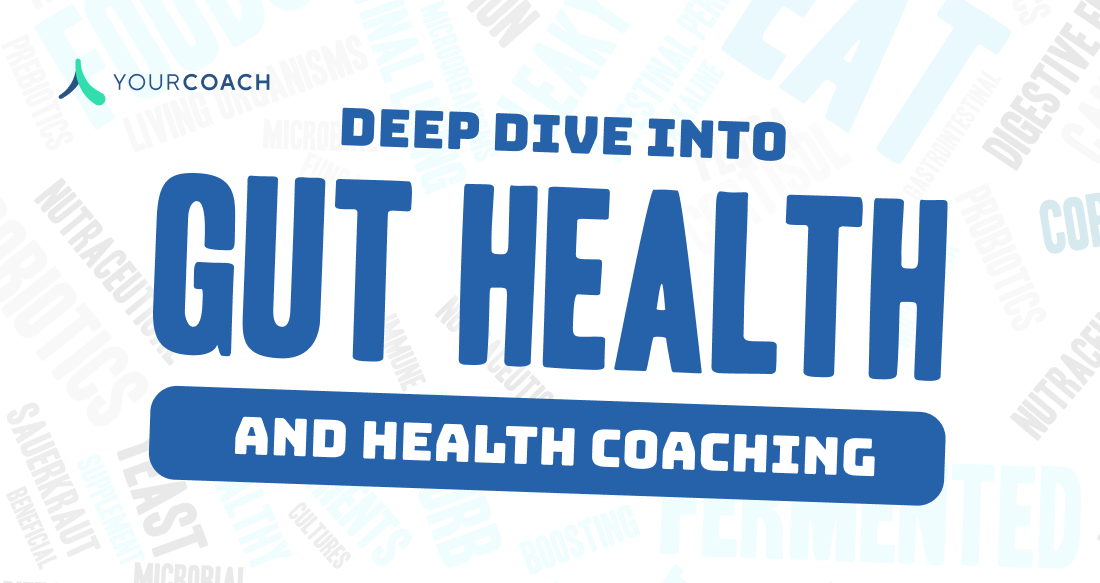 From digital interventions to various nutritional regimens and more, gut health is one of the hottest health topics we hear about in and outside of health coaching. And it's well-deserving of the spotlight. Gut health has significant impacts beyond, well, the gut, with evidence suggesting it can impact our mental health, brain health, contribute to various chronic diseases and so much more. 
It makes sense that many of our current and prospective Industry Partners, their clients, patients, and members, as well as practicing health coaches on our platform have expressed a particular interest in understanding gut health more deeply and where health coaches can support. In addition to hosting a webinar on gut health and health coaching, our team took a Deep Dive into the importance of gut health, specifically exploring where health coaches have made an impact for those suffering with gastrointestinal issues. 
Why is gut health a trending topic? 
It's often said that the gut is the second brain and this old adage is indeed science-backed. The gut and brain are connected through what's often called the gut-brain axis, complex communications networks between the two organ systems. The gut microbiota produces neurotransmitters, like serotonin, which influence mood, behavior, and brain function. Imbalances in the gut microbiota have been linked to mental health issues, and even neurological disorders like Alzheimer's and Parkinson's.
Not only does the gut have a significant impact on mental health, but also physical health and wellbeing. For example, a healthy gut helps regulate immune responses and protect against pathogens. An imbalance in the gut microbiota (the composition of bacteria in the gut) can weaken immune function and increase risk of chronic inflammatory conditions and autoimmune diseases. Gut health has also been associated with increased risks for developing estrogen-related diseases like polycystic ovary syndrome (PCOS), endometriosis, and even breast cancer. This is just the tip of the iceberg.
The NIH estimates that up to 70 million Americans (that's over 20% of the population) are suffering from gastrointestinal diseases, and many are unaware of the importance and implications of gut health. Especially since gastrointestinal issues can trigger other health concerns, gut health is an integral part of achieving holistic health.
How do health coaches support? 
It's no surprise—especially given the prevalence of gut health issues and their role in overall, optimal health—that so many of our Industry Partners and those they support are interested in health coaching for a healthier gut. Many health coaches, including those on our platform, specialize in behavior change for a better gastrointestinal health. The demand is there, and that's largely because health coaches have been scientifically shown to support clients in achieving better gut health outcomes.
According to a compendium of research in the American Journal of Lifestyle Medicine, 88% of studies report health coaching is effective in changing nutrition behavior and 87% of studies show a positive effect on weight reduction and/or BMI. When considering mental health and gut health, a 2021 pilot study evaluating the impact of a digital coaching app for patients with functional gastrointestinal disorders (FGIDs) and anxiety and/or depressive symptoms reported clinically and statistically significant mood symptom reductions. 
Our Nutrition Deep Dive, in addition to our Gut Health Deep Dive, together compile compelling research on the latest data. The overwhelming consensus is that health coaches can have massively impactful results on gastrointestinal issues and foster better nutritional behaviors necessary for optimal health.
What is YourCoach doing to increase accessibility to gut health coaching?
As we mentioned, gut health is deeply interconnected to so many health and wellbeing concerns. It's therefore nearly always a topic of discussion and an identified concern for clients, patients and members we're supporting through our Industry Partnerships. Our verified and validated coaches work closely with these individuals to help them identify and address ongoing issues, enacting behavior change to pave the way for better, healthier habits and ultimately, better health. 
We're proud to continuously champion change through health coaching by providing best-in-class health coaching services across industries. Through our growing roster of Industry Partnerships, we're able to make health coaching more accessible, helping clients navigate concerns ranging from gut health, to sleep, chronic illness and more. If you're interested in learning more about these partnerships, send us an email at team@yourcoach.health .