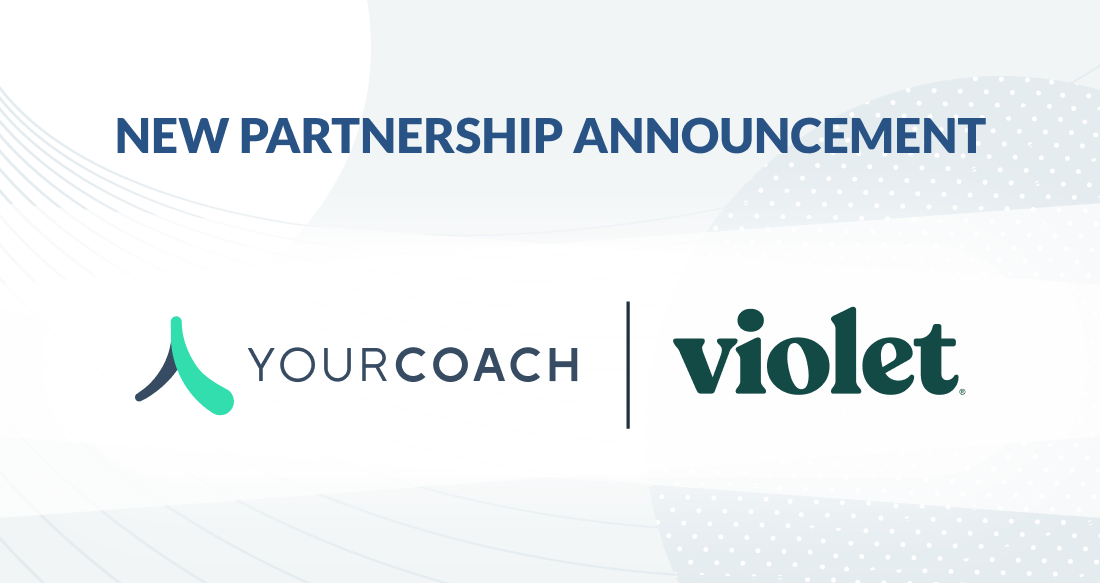 NEW YORK, Dec. 15, 2022 – YourCoach.Health, the industry's only operating system for behavior change, powered by health coaches, today announced a new partnership with Violet, the first-ever health equity platform. Through this partnership, YourCoach will work with Violet to offer services in order to benchmark and upskill intercultural competencies for its nearly 3,000 health coaches on the platform.
"Diversity, equity and inclusion are core to our mission," shared Marina Borukhovich, CEO & Founder of YourCoach.Health. "As we work to make health coaching more accessible to the global population by 2030, we're working to create inclusive spaces for everyone so they can achieve health successes more effectively. We've consistently worked to provide educational opportunities for coaches on our platform surrounding DE&I. This partnership with Violet will further empower them to approach clients with more intercultural competency and help us show up better for our industry partners."
Violet will benchmark cultural competencies of YourCoach participating coaches for BIPOC, LGBQ, and TGNC communities using its proprietary framework. Its training platform will provide personalized educational pathways to help health coaches upskill their knowledge of inclusive health care and improve their intercultural competency.
"Health coaches have become integral to patient care teams, and we're seeing more individuals seek out professionals who can meet their identity needs—whether it's race, ethnicity, gender, sexuality, or a combination of these identities," shared Gaurang Choksi, Founder and CEO of Violet. "It's been exciting to see our partnership with YourCoach grow, from participating in its Global Health & Wellbeing Coaching Symposium, to delivering Violet's services to its growing coaching community." 
Violet's services will be offered through YourCoach's Toolbox, giving practicing health coaches on the platform the option to opt-in to the offering whether they are working with their own clients or have become eligible for work with YourCoach's industry partners. 
"As we continue to deliver health coaching services through our growing roster of industry partnerships, Violet will help us ensure that all participating coaches are well-equipped to support diverse communities," shared Eugene Borukhovich, COO of YourCoach.Health. 
Violet will become accessible to health coaches on the YourCoach platform in early 2023. For more information, visit yourcoach.health.  
About YourCoach.Health
YourCoach.Health is the only operating system for behavior change, powered by health coaches. Our industry partners entrust us to stand up or augment their health coaching operations utilizing our APIs, widgets and tech-augmented army of validated and credentialed health coaches to surround their existing product or service. We're the premier virtual home for health and wellness coaching, an ecosystem built to empower health coaches while expanding access to their services through our industry partnerships. Join us on the Health Coaching Revolution as we strive to deliver the power of health coaching to the 8.5 billion global population by 2030.
About Violet
Violet is the first cultural competence credentialing and upskilling platform for clinicians. Research shows that inclusive care is proven to generate better health outcomes and Violet's credentialing platform is the first step to building health equity for all. For more information on Violet, please visit: www.joinviolet.com/welcome