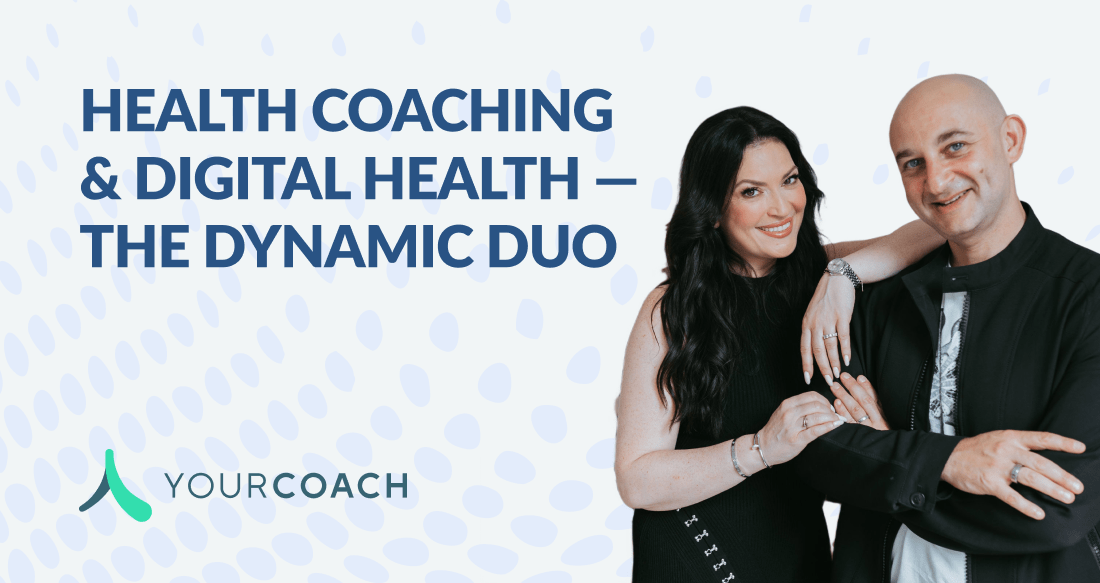 Here at YourCoach, we're category creators in many ways—as the first and only Operating System for Behavior Change powered by Health Coaches AND as one of the only companies in our space led by a dynamic husband and wife duo. 
We often get questions about this dynamism, and today, our CEO, Marina, and COO, Eugene share perspectives on why their partnership sets YourCoach ahead of the competition. 
How did you decide to go into business together?
– Marina: I founded YourCoach with a mission to help 8.5 billion worldwide population to have access to verified and validated health coaches. The industry was and is right at the precipice of the Health Coaching Revolution, and YourCoach is my solution to igniting the movement. At the time, Eugene was working full time, leading a digital health team at a large pharmaceutical company, working with many startups. To join me in building YourCoach, was not a decision either of us took lightly and entailed many pros/cons lists! 
– Eugene: Working with hundreds of startups around the world and not being able to spend much time on the one I truly believe in, was the catalyst. As I watched Marina go through her cancer diagnosis, journey and recovery and seeing the strength with which she navigated her illness and subsequently this business, made the decision that much more impactful. I believe in YourCoach, in our mission, in Marina and in our team (many of which have been with us from the start!). I've never once looked back. 
What are the benefits of being a husband and wife duo and co-leading a company?
– Marina: We've spent years establishing trust together—from raising two children to growing in our careers—this trust is absolutely paramount in any partnership, and in our 25 years together the trust that we've built is one-of-a-kind and a keystone in our personal and professional partnerships.
– Eugene: We've cultivated a deep understanding of one another, to the point where we can quite literally build on each other's ideas and finish each other's sentences. This sort of connectivity, is critical to a strong partnership. We know when to rely on each other's strengths and where to complement each other in life and in business. 
Where do you complement each other in terms of skills, experience, personality? 
– Eugene: Marina is more of an introvert and I'm definitely an extrovert. This ends up working well for speaking engagements, meetings and conferences because we amplify each other's voices and ideas to be heard. Marina has had the big picture very clear since the beginning and leads the team in execution with attention to detail. I enjoy ensuring the perfect fit of what we've built into the health and care industry. See? Perfect pairing!
– Marina: Our backgrounds are the perfect combination for this industry. I know what it's like to be an entrepreneur and come from a health coaching background, with an intuitive understanding of what coaches need to succeed. Eugene knows the digital health industry very well. Together, we're ensuring health coaching serves as a critical bridge between wellness and healthcare. 
– Eugene: So well said! Even before YourCoach, I would always consult Marina for her perspective when building my teams. Her intuitiveness and strategic insights when it comes to building adept teams is admirable and unique. YourCoach isn't the first time we're collaborating together, it's just the first time we're doing it officially. 
Are there any downsides to being a husband and wife duo? 
– Eugene: YourCoach is our 24/7 third child, but more importantly,  — it's our mission!. We're working hard to place boundaries around work and life, which can be challenging, because we're so passionate about what we are building. Sometimes our best ideas come to us during our morning runs together, so we'll have to make an exception and voice record our thoughts mid-run. We're very cognizant of this with our team as well, so we often pre-schedule Slack messages to send during working hours, if we do happen to have a riveting conversation on the weekend or evenings.
– Marina: Absolutely. When we recently dropped our daughter off for her first year at university she said to us, "I'm going to miss you, but I'm not going to miss talking about YourCoach ALL the time." We try hard to make sure dinner doesn't feel like a board meeting, but sometimes we get so excited we can't help but talk about the wins of the day. 
When we made the decision to be bi-continental, splitting our time between the US and Spain, we knew it'd be important to forge boundaries especially given the time differences of our global team and clients. The added benefit of having already done this means we're set up for success when expanding into European markets in the future.