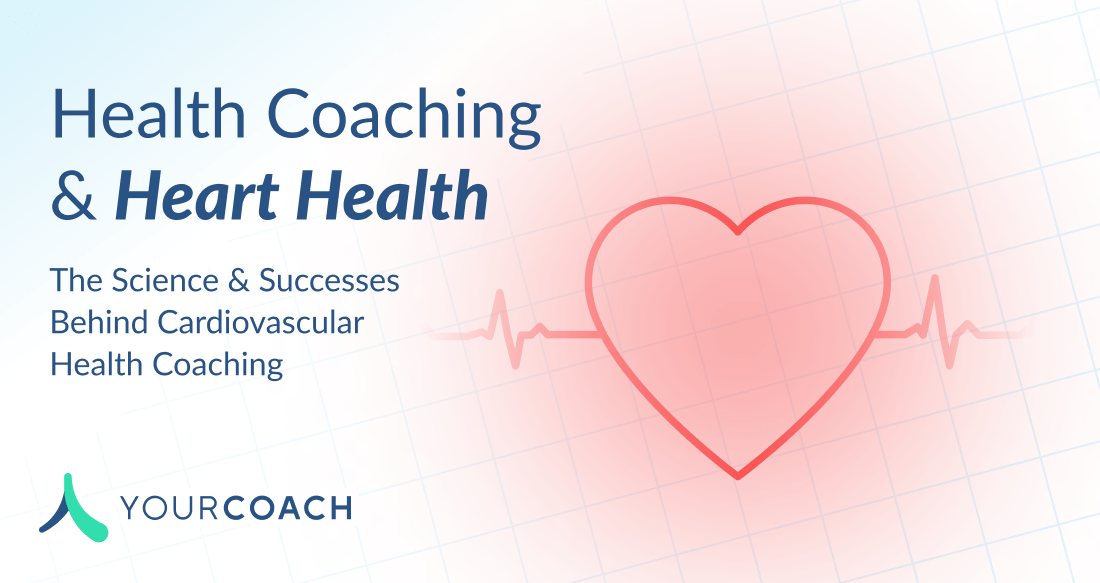 We were thrilled to hear encouraging feedback from health coaches, digital health executives and healthcare leaders alike about our very first YourCoach Deep Dive earlier this month. These regular reports are an important part of our company's mission and are keystone to the Health Coaching Revolution (a large part of which includes education around the science of health coaching). 
Each report highlights a growing health concern, spotlighting available research on the impact of health coaching, and makes a strong case for why health coaches are a necessary part of patient care teams when preventing, improving or managing ongoing health concerns.
As February comes to a close, it's critical we highlight one of the most pervasive health conditions in the US today—heart disease. In honor of American Heart Month, we're shedding light on key statistics surrounding heart health and heart disease, plus the effectiveness of health coaching interventions. The data speaks for itself. We're happy to compile and disseminate this information with the intent that health coaches become recognized as a core part of public health solutions.
Why is heart health an important focus for health coaching? 
Heart disease has remained the leading cause of death in the US year over year, accounting for one in four deaths across the population. Moreover, nearly half (48%) of all US adults suffer from some type of cardiovascular disease. These numbers have indicated a persistent issue across the population for years, despite increased education around heart-healthy behaviors and more widespread access to medication. 
These stats are alarming in and of themselves—but what's more is that heart disease can be hugely impacted by lifestyle choices, including diet, physical activity, smoking, alcohol use, stress and more. The good news? Health coaching can be hugely impactful in catalyzing major lifestyle shifts, meaning it can be massively helpful in preventing, managing or improving heart-related conditions. 
How can health coaches help? 
Health coaches maintain a holistic approach when working with clients, which means they can often impact heart health by inspiring several new, healthy lifestyle habits—this might include incorporating more movement each day (starting with just 5k steps and increasing goals from there) or could mean helping them sustainably adopt dietary interventions provided by their doctor, dietitian or nutritionist. 
Below are just a few ways health coaches can help:
Helping individuals set and achieve goals related to diet, exercise, medication management and adherence, and other aspects of their care

Offering guidance on healthy lifestyle behaviors, such as stress management, sleep habits, and tobacco cessation

Supporting individuals in making long-term lifestyle changes and providing ongoing encouragement and accountability

Providing education and support to help individuals better understand their condition 

Identifying and addressing barriers to care, such as transportation, access to healthy food, or financial concerns.
Is health coaching effective at preventing, managing or improving heart-related conditions?
The answer (as you can probably guess) is a resounding YES! According to a compendium of health & wellness coaching studies, 91% of studies on health coaching for heart disease prevention and management reveal significant improvements after interventions. 
If this data isn't encouraging enough, our deep dive highlights multiple case studies—from how health coaching may impact risk factors like high blood pressure to the direct impact of health coaching on reductions to mortality and heart health-related financial costs.
We're proud to showcase this impactful research in the hopes that it: 
Validates the science-backed efficacy of health coaching interventions

Increases the integration of health coaches on patient care teams and within digital health

Encourages anyone battling an ongoing heart health issue to work with a health coach

Inspires more research on the effectiveness of health coaching in patients with heart-related conditions (and beyond!)
We encourage everyone to take a few minutes to read through our Heart Health Deep Dive, share it with others, and continue to champion the Health Coaching Revolution alongside our team through data and education. Here at YourCoach, we stand up, scale and operate best-in-class health coaching services for the health and care industry via our easily and seamlessly embedded technology powered by the largest army of validated health and wellness coaches. If you are a health and care company looking to integrate or scale health coaching around your product or service, we are here for you!