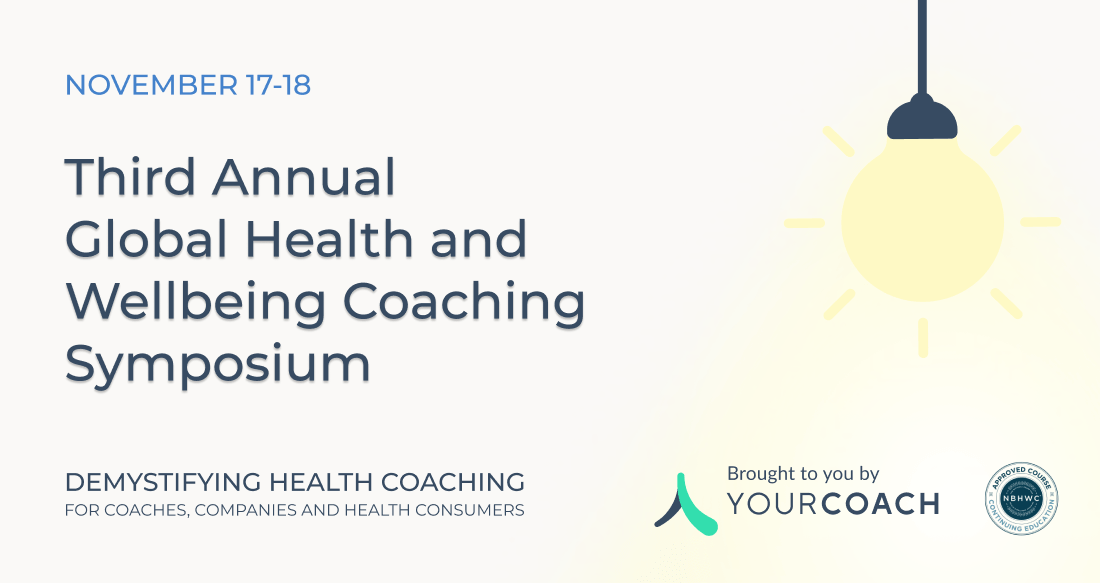 The third Global Health and Wellbeing Coaching Symposium by YourCoach Health will be held between November 17-18. In this dynamic, two-day virtual event, we're demystifying health & wellness coaching, bringing you exciting sessions with the industry's best and brightest thought leaders plus masterclasses to learn more about health coaching and level-up coaching skills. In 2020 and 2021, our Symposium brought together thousands of individuals across digital health and health & wellness coaching spheres in over 40 innovative sessions to discuss current events, future trends, and the world of health & wellness.
You can access the FULL program here.
As a mission-driven company, it is our long-standing goal to give back to the community. All ticket sales (yes, everything, not just profits) will go towards our efforts to provide scholarships for those who want to become NBC-HWCs but don't have the resources to do so through the Rita and Gene Presman Memorial Scholarship.
If you are unable to purchase tickets at this time, please send us an email and we will do our best to accommodate. If you are running or teaching at a health coaching school or program, please get in touch, as we offer bundle tickets for students and educators.
Tickets
Non-CEU Ticket – $0
Early Bird Tickets (until November 5) – $79 USD
Tickets after November 5 – $99 USD
As a mission-driven company, it is our long-standing goal to give back to the community. No-cost CEU tickets are available to coaches active on the YourCoach platform. You can message Rebeka (or email events@yourcoach.health) for your ticket.
Please note that you must meet the following criteria:
Have a completed profile and practice on the YourCoach platform

Have your certificate(s) uploaded
AND
Have at least one active program with one active client
OR
You must be an active member of the YCH Coaching Community group
The Symposium is eligible for 12 CEUs by the NBHWC. To obtain the credits you must attend both days of the event live and answer a short series of questions after.
With any questions, please email events@yourcoach.health

Watch recording