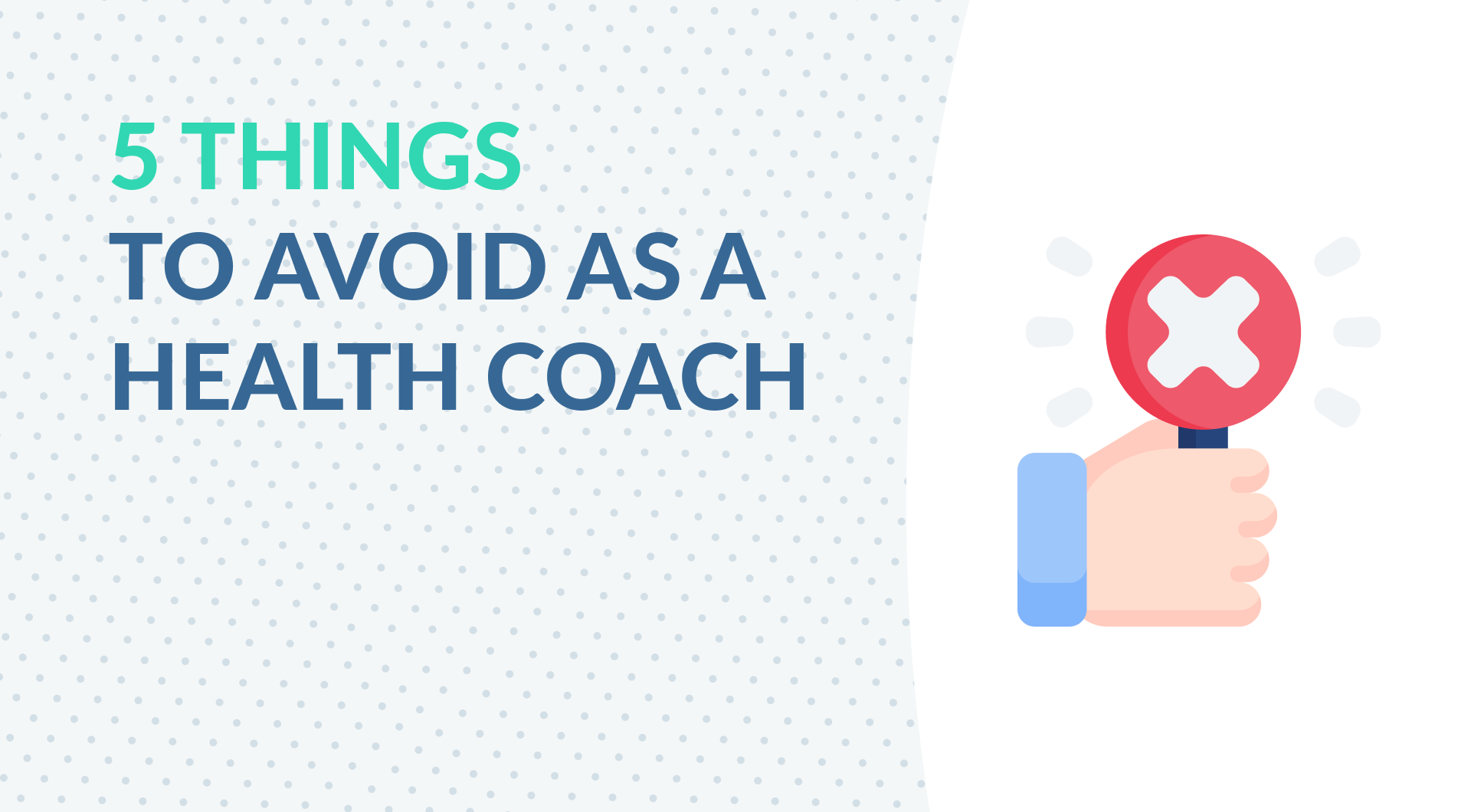 We often stress the DOs of health coaching, sharing key tips and skills to make you a more effective coach. It's just as important to acknowledge the DON'Ts so that you can avoid falling into some common missteps we've seen among early-career health coaches. 
Based on conversations with thriving, practicing health coaches from our community, we've compiled a list of our top five DON'Ts to help set you up for success in your health coaching journey.

DON'T shift the focus to yourself
It can be very tempting, especially in early conversations with client hopefuls, to fill up time during your sessions talking about your experience and credentials. This isn't a good use of time (instead, send through follow-up or pre-session materials, right within our app to cover off on this info!). 
In order to truly host successful sessions, you need to give your clients the main stage. This means providing them with the emotional and psychological space to share their thoughts, feelings, and progress in every session. Come prepared to every session with a series of check-in questions that encourages them to share helpful insights to inform their progress. From their very first call with you, your clients should understand that health coaching is all about their unique journey. Especially if you've been through a similar experience, it's always tempting to bring the conversation to yourself and to share your insights, here is the perfect opportunity to employ your listening skills and let your client lead.
DON'T just talk the talk
This adage is true for most things, but especially when serving as an effective health coach. Certifications, credentials and client testimonials are important—don't get us wrong! They're a critical component of your health coaching practice.
Once you secure your clients, however, it's important that you truly show up for them beyond your title and professional profile. What's going to keep them committed, session after session (and not to mention, recommending your services to others), is how you conduct your health coaching sessions. Are you empathetic and adaptable? Are you solution-oriented and inventive when it comes to offering practical lifestyle habits? Are you an active listener who takes diligent notes? These are all qualities that clients will look for and that, at the end of the day, mean more than certificates and titles! 
DON'T practice in isolation
The health coaching community is a force! You'd be doing a serious disservice to yourself and your clients if you don't leverage this powerful community! Whether it's subscribing to our newsletter to stay up-to-date with the latest must-reads from the health and wellness world; or consulting with a fellow coach right within our platform regarding mentorship or co-coaching opportunities; at YourCoach, we provide more chances than any other platform to connect with fellow coaches and exchange ideas. Together, we help each other truly level-up for ourselves and our clients. 
DON'T spend more time talking than listening
In many of our previous articles, we've stressed the importance of active listening. This one skill is what truly separates the good coaches from the great ones. Active listening isn't just acknowledging your clients with nods and affirmative language while waiting to respond. Active listening means that you've truly heard what your client had to say and are acknowledging that in your response. It means sharing actionable reflections based on their thoughts and feelings and it's one of the primary tools health coaches use to carve out achievable health goals. 
DON'T stop asking questions/pursuing greatness
The health coaching field is always evolving and 2022 is the year of the Health Coaching Revolution! This means that health coaches are being recognized as having an increasingly critical role in patient care teams. In order to continue pioneering change in the fields of health and wellness, it's important to keep asking the "why(s)?" Stay on top of the latest literature to educate yourself and your clients on effective strategies for change. 
At the micro-level, don't stop asking your clients questions—keep exploring habits, motivations, inclinations and more to come up with health solutions that will truly stick. Health coaches are incredible, unstoppable, superhero change agents! We believe in you, so please don't ever stop pursuing greatness!