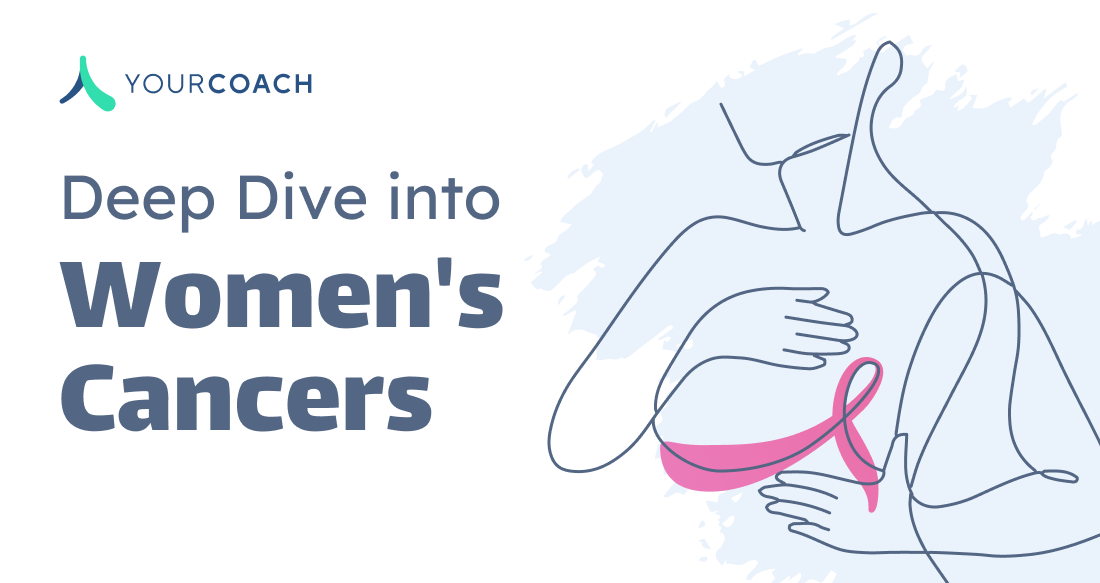 Nearly 40% of women will be diagnosed with cancer in their lifetime and an estimated 30% of all new cancer diagnoses among women are breast cancer. In honor of Breast Cancer Awareness Month, our team took a closer look at cancers that disproportionately affect females, from the top five most common cancers among women—colorectal, breast, lung, uterine and skin cancers—to cancers that are only known to affect those with female reproductive organs, like ovarian, endometrial and cervical cancers. 
This month, especially, it's so important for us to shine a light on the critical role health coaches play in health & care teams. In our latest Deep Dive, we compile educational resources explaining the risks and symptoms of some of the most common cancers among women, and, notably, we share more on how health coaches support women looking to reduce their cancer risks, better manage their treatment and rediscover their sense of self in survivorship. We provide real data to showcase the many ways health coaching interventions improve overall health outcomes and have also seen this firsthand through our Industry Partnerships.
Why is health coaching so important for women going through cancer?
Whether an individual is looking to reduce their risk for developing cancers through lifestyle changes, like minimizing alcohol intake or increasing physical activity, or manage the symptoms of chemotherapy by redesigning their habits and hobbies around fluctuating energy levels, or re-commit to their health goals through remission, health coaches help make all of this happen and more. 
Health coaches provide educational resources and encourage preventive measures like regular screenings which can have a serious effect on survivorship. Regular screenings lead to better detection and, in the case of breast cancer, when it's detected early and in the localized stage, the 5-year relative survival rate is 99%. Health coaches work closely with women going through treatment to set goals that are meaningful and manageable. Especially when going through cancer, having the support of a health coach to make health goals more attainable can both improve overall health and increase self efficacy. Health coaches also play a necessary role in medication adherence, emotional support and stress reduction, which are all massively important throughout the cancer journey, even after treatment is completed.
How are health coaches improving outcomes among women with cancer?
Health coaching has already proven its value among women going through their cancer journeys and beyond. Among breast cancer survivors, for example, health & wellness coaching increased physical activity, quality of life and inspired better nutritional habits among the study group. What's more, an analysis of 12 scientific studies on cancer survivors further showcased these results:
75% of studies reported a significant decrease in fatigue and pain 

67% of studies showed an increase in quality of life and acceptance

67% of studies demonstrated an increase in physical activity

33% of studies showed improvements in social relationships. 
Among those actively undergoing cancer treatment, health coaching has supported better medication adherence. A study on nurse coaching interventions to promote oral chemotherapeutic medication adherence showed significantly better adherence rates among the coaching group. While more research is always in order, the current data makes a clear case for why every woman facing cancer (and those with cancer in the rearview) needs a health coach.
What is YourCoach doing to help?
As a company founded by a health coach and a Breast Cancer Superhero, we understand and deeply respect the patient journey and the role health coaches play before, during and after this winding road through cancer. That's uniquely positioned us to cultivate Industry Partnerships that leverage our best-in-class health coaching services to achieve better outcomes for their clients, patients and members—directly reaching Cancer Superheroes at multiple touchpoints.
Our partnership with Medisafe, for example, augments their patient support programs by leveraging our cross-speciality, live health coaches to generate better medication adherence outcomes. It's through partnerships like this where we're able to put the research into practice, improving the ways cancer patients and others pursue their ongoing treatments through the support of health coaches.    
We're proud to continuously champion change through real health coaching by providing best-in-class health coaching services across industries, and there is still so much more to come! If you're interested in learning more about how we partner with companies to deliver best-in-class health coaching services, contact us at team@yourcoach.health .