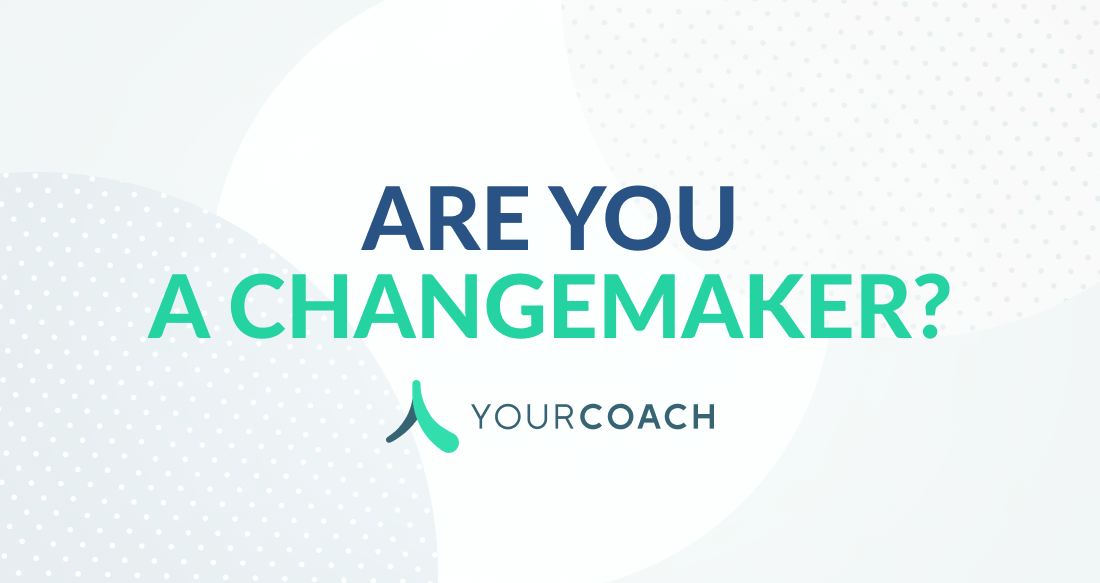 Here at YourCoach, we're category creators. We're the only operating system for behavior change, powered by health coaches, the first HIPAA-compliant platform to roll out a gamified pricing model with more client opportunities through our industry partnerships with esteemed companies like Twill, and today, we're pioneering a whole new first. 
The YourCoach Changemaker Council is the first-ever collaborative of individuals of influence with the opportunity to become more invested in health coaching—quite literally! As true champions of YourCoach, our platform, and our mission and the health coaching industry, these Changemakers will raise awareness within their networks and in turn receive partial ownership of our company! 
Whereas others share referral codes or gift cards, we're giving coaches the chance to have a real say in this industry; a hand in growing our coaching community; the opportunity to shape the Health Coaching Revolution; and a seat at our virtual table. 
We believe in the power of community and authenticity, which is why we're always focused on keeping health coaches at the heart of everything we do. This is our next step towards empowering coaches to furnish their virtual home, and this exclusive, one-of-a-kind program is only open to 10 individuals via an application and interview process. We want YOU to join us on the Health Coaching Revolution! Changemakers will be announced on a rolling basis after applying HERE.
Why YOU want to be a part of the YourCoach Changemaker Council:
Become a partial owner and shareholder of YourCoach, the fastest growing and ONLY operating system for behavior change, powered by health coaches 

Enact impactful change through health coaching by guiding YourCoach initiatives within and beyond our immediate community

Be on the frontlines of change with the founding YourCoach team, the industry category creators

Grow your leadership skills and tap into resources to build your business and brand

Establish yourself as an industry leader and network with fellow trailblazers 

Amplify your brand through cross-promotional YourCoach channels
You could be a Changemaker if you:
Are passionate about health coaching and the YourCoach platform, community and brand, with a deep knowledge of our tools and services

Think outside of the box and appreciate the startup mentality

Are familiar with the YourCoach brand, platform, our mission, our values and what we do

Have received your coaching certification with an NBHWC-accredited program or have relevant experience in the health and wellness field

Are involved in the coaching, wellness or healthcare communities through social media, coaching groups and more

Have a strong social media presence and following of other health and wellness professionals

An added bonus if you teach/have taught at an accredited health coaching school or run a program for health and wellness coaches
Changemakers will be responsible for:
Attending quarterly meetings and monthly briefings, where together, we'll set and track KPIs

Providing insights on new features, campaigns and more

Sharing YourCoach news and events on social media, meeting set KPIs and helping grow our talent pool

Participating in events and serving as speakers, where possible

Offering resources, support and encouragement to the coaching community through various channels
About YourCoach Health: 
YourCoach.Health is the only organization on the market that's beyond a full practice management solution for the rapidly growing gig-economy of health & wellness coaches. We're an operating system for behavior change, powered by a technology-augmented army of health coaches. Our industry partners entrust us to power up their clients, members and talent with validated and credentialed coaches who are actively practicing on our platform, supported by science-backed methodologies. We're the premier Virtual Home for health and wellness coaching, an ecosystem built to empower health coaches to deliver their services to even more individuals across the globe. Join us on the Health Coaching Revolution as we strive to deliver the power of health coaching to the 8.5 billion global population by 2030.