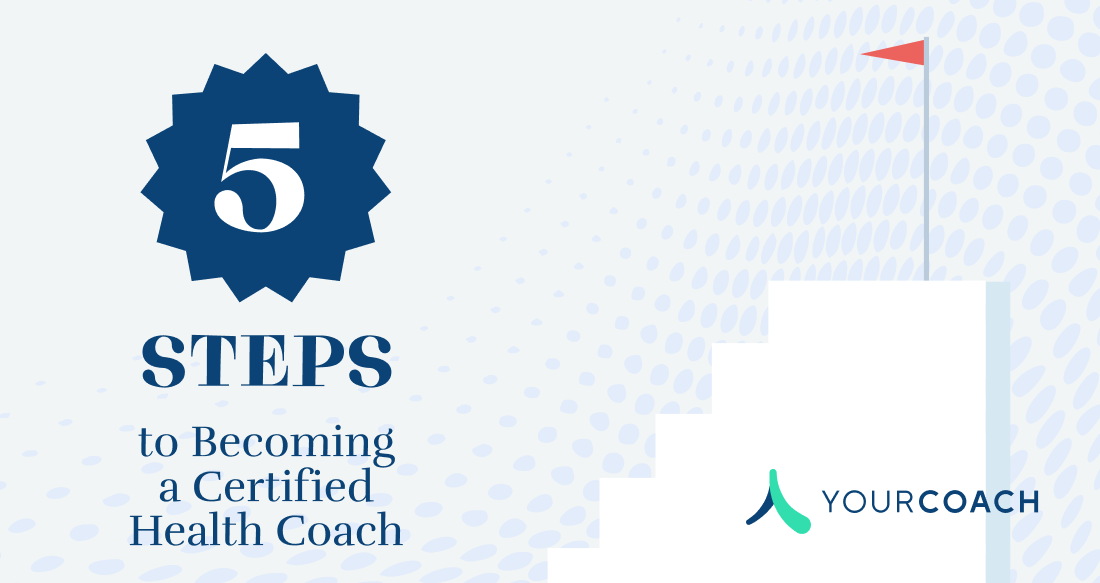 Health coaching is an incredibly rewarding career path. Here at YourCoach we truly believe that everyone needs a health coach, but does everyone have the skills to become one? As the demand for real health coaching increases across industries, there's never been a better time to commit to this profession and see if it's the right path for you.
For those who are in the early stages of considering health coaching, you may be asking yourself, "Where exactly do I start?" We're here to help! In today's blog, we outline five steps to becoming a thriving health coach. Every coach's journey will look a little different, but these steps are important to consider if you're seriously contemplating a career in health and wellness coaching. 
Do Your Research–Is Health Coaching for You?
This one seems obvious, but it's arguably the most important step of all. If you're thinking about coaching—or have been for a while—now's the time to get serious! Put simply, health coaches support clients with their goals related to health and wellness. We recently published a great blog on the definition of a health coach, including some frequently-used methodologies, their scope of practice and more. The NBHWC (National Board of Health and Wellness Coaches) is another great place to start. Their website provides helpful educational materials to give you a better understanding of health coaching basics. Ask yourself, "Could I envision myself in this role, guiding people along their health journeys? Am I driven by a need to help others, inspired by science-backed principles and diligent enough to help others track and measure their successes?"
If, after consulting the latest available information on health coaches, you still could use some support, reach out to a health coach! Identify a current coach on social media or online (look for someone who identifies as a health coach, and perhaps is affiliated with an accredited institution or is NBHWC certified). Reach out to them to see if they'd be willing to speak with you about their role as a health coach and what they did to get where they are. Health coaches are in the business of helping people—most are more than willing to support a future health coach. 
Consider Accredited Health Coaching Programs or Courses
Once you're certain that health coaching is for you, it's time to train! Some universities, like Creighton and the University of Maryland, offer specific health and wellness coaching courses or curricula. Some private sector organizations, like Dr. Sears Wellness Institute or Wellcoaches, offer their own training programs (both approved by the NBHWC). All offer great opportunities to acquire coaching skills, network with future and current health coaching professionals, and (depending on the program) will allow you to become eligible to sit for the NBHWC exam. 
For a full breakdown of available health coaching training programs, check out our 2022 Health Coaching Industry report. 
Begin Acquiring Firsthand Coaching Experience
Real world experiences is just as important as professional training—one could argue that it's perhaps even more important in the field of health coaching. Health coaching is a relationship-based profession, which means that nothing can prepare you for live one-on-one or group coaching sessions until you actually experience them firsthand. Participating in and graduating from an accredited program can give you more access to your first few coaching opportunities since most have systems set up to connect you with clients. Put the ask out to friends and family to see if someone in your extended network might be willing to begin a coaching program with you, free-of-charge. Now's a great time to expand your coaching network and see if other coaches may have clients looking to participate in your coaching sessions pro-bono. 
It's important to note that these coaching hours are critical; not just so that you're prepared for the day-to-day health coaching responsibilities, but also because the NBHWC exam (if you choose to go that route) requires you to complete 50 health and wellness coaching sessions in order to sit for the exam. This is an important next step in setting a strong foundation for your coaching career—it's not to be skipped!
Decide Whether NBHWC Certification is Right for You
We mention the NBHWC exam several times throughout this blog. While you're not required to receive your NBHWC certification in order to practice as a health coach, we find that sitting for the exam solidifies your health coaching trainings; may make a critical difference if you'd like to work within a digital health or healthcare organization; and may become integral to be eligible for insurance reimbursement codes which are just on the horizon. 
In order to sit for the exam, you must: 
Complete an NBHWC approved training program

Complete 50 health & wellness coaching sessions 

Have an associate's degree or higher or 4,000 hours work experience (in any field)
Here at YourCoach, we're proud to offer the Rita & Gene Presman Memorial Scholarship Program, awarding five coaches full exam sponsorship and exam preparation for each term. Applications are accepted on a rolling basis—if you're interested and ready to sit for the exam, apply HERE. 
Set Up Your Practice & Connect to a Coaching Community
Once you've acquired your training, certifications and work hours, it's time to become a Health Coach-Preneur and get serious about setting up your practice! YourCoach is the BEST place to start. It's a practice management platform and end-to-end solution for your business, with everything from intro forms and questionnaires to video and chat capabilities, scheduling tools and more, to make practicing with your clients that much easier. 
We're also the only operating system for behavior change, powered by health coaches. This means that we provide verified and validated health coaches that are practicing on our platform real client opportunities through our industry partnerships. We're bridging the divide between digital health and health coaching, ensuring that coaches are omnipresent in the field, while giving coaches more opportunities to build their businesses. Moreover, we offer a Coaching Community of like-minded and high-performing coaches looking to support one another as we further the Health Coaching Revolution. 
Downloading the YourCoach platform is, as we see it, the final step towards achieving success as a health coach because we provide superior access to the tools, people, education and opportunities you need to be a successful Health Coach-Preneur.