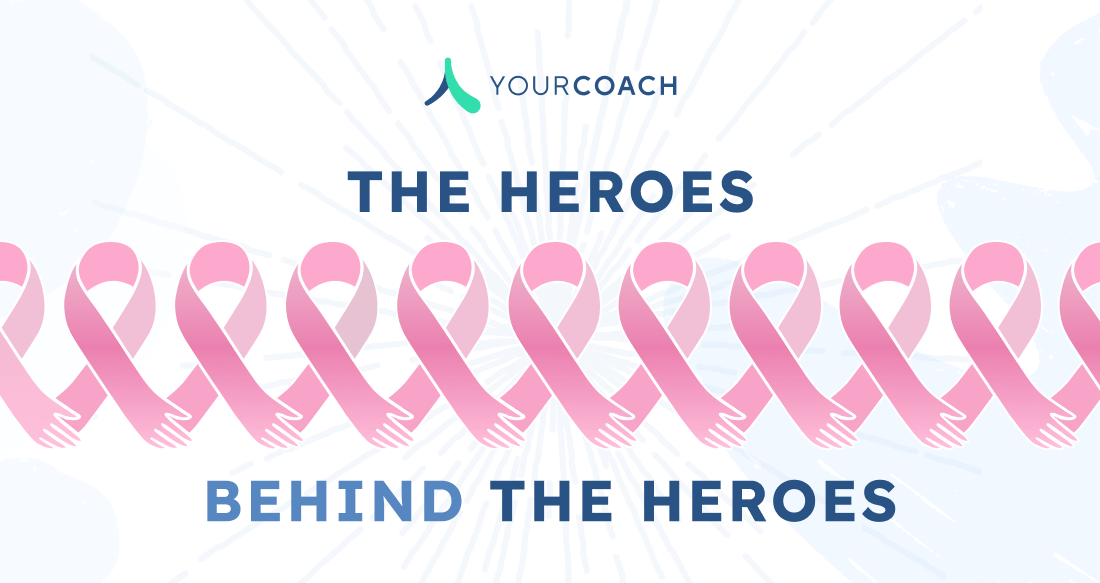 In honor of the stories told today, the stories that have yet to be told, and the stories some superheroes are no longer around to tell. 
Earlier this month, we honored incredible Breast Cancer Superheroes from within our community by sharing their stories, their advice, and how health coaching has made an impact on their continued journeys. As we continue to recognize Breast Cancer Awareness Month, we're spotlighting the Heroes Behind Cancer Superheroes—the family and friends that tirelessly support their loved ones through treatment and beyond. It's no easy feat to watch a loved one go through cancer, which is why we firmly believe each and every family member, caregiver and friend of a Cancer Superhero is a Hero themselves.
Many of our teammates, loved ones and friends of the YourCoach team and within our extended network have been affected by breast cancer in some way. Today, we're very grateful to share stories, perspectives and advice from Shaine and Adeena Borukhovich, daughters of our CEO, Founder and Breast Cancer Superhero, Marina; Jill Foos, NBC-HWC whose mother is an incredible Breast Cancer Superhero; and our PR & Marketing Manager Nicole Zoulis, whose mother is also a Breast Cancer Superhero. 
How did you support your loved one through their cancer journey?
Adeena: As a 12 year old, understanding the term "cancer" is unimaginable, what's even more unimaginable is seeing your own mom go through it. Supporting my mom to me was being there for her in every step of the way—to show her I wasn't scared and I knew that she was strong enough to tackle this, to cuddle up with her on the days she was tired after chemo, and go on walks and have our "Mama, Adeena" days when she felt a little better. Supporting her was to celebrate the small wins, but also to be there on some of the hardest days (for example, watching her shave her hair off as it started to fall). Supporting her meant baking "welcome home" cupcakes after her surgery and filling the room with "f*ck cancer" posters, supporting her also meant to respect her decision to share her journey with as little people as possible, but most of all supporting her meant to love her unconditionally and believe in her and never treat her as "sick", but just as my mama. <3
Jill: First and foremost, my mom is the true hero here for her courage and dedication to her health and longevity. As a health coach (and daughter), I have always helped my mom with optimizing her nutrition and other lifestyle interventions while she was free of cancer. So, she was already well equipped with strategies and knowledge when cancer reappeared in her life this year. She tried different ways to stay up on her protein intake, focused on whole foods that she knew wouldn't make her feel sick, and avoided all processed foods that she was offered in the hospital setting, such as cookies. I supported her by finding local cancer support groups, and meditation classes both online and in-person, so that she had options for herself.
Shaine: Being only 10 years old when my mom was diagnosed, I found it hard at first to fully grasp and understand what was happening, and so much felt unknown. But one thing I knew for sure was that she was still my mom, and one of the best ways to be able to support her was to treat her as such. While I made sure to tell and show her that she is strong, and that I was so incredibly proud of her, I also knew how important it was to still keep up the small little mother/daughter arguments, still make jokes, and to annoy her just as I normally would because my mom just wanted to feel like herself, and not be defined by her cancer. 
Nicole: My mom was diagnosed with breast cancer when I was seventeen, several months after she lost her mom and suffered an unrelated health scare. At the time, it felt like life was torpedoing out of control and I felt too young, too ill-equipped and too focused on the college application process. I wish I could have been there for more chemo sessions and I wish I could have been more prepared. But I've recently learned that supporting your loved one means leaning on your broader community for support and frankly, doing the best you can. It means showing up in the ways you can–when my mom shaved her head (a process that still makes me cry every time I think about it), I donated mine in a desperate ploy to make her feel less alone. We went to doctor's visits together where I'd do my best to make jokes to lighten the mood, even when she made the difficult decision to pursue a double mastectomy. And every year we participate in the breast cancer walk together. Support is showing up during treatment and every day you get to spend another day with your loved one afterward.
From your perspective, what role did health coaching play in your mom's cancer journey?
Jill: It's easy to feel the need to take charge of someone else's health journey, especially when a chronic illness is involved, like cancer. Do this, do that, ask this question. My health coaching training has given me the skillset I need to show empathy without judgment, and to allow the client, or family member, to make the decisions that are best for themselves. The daughter-voice of mine wanted to tell my mother to do certain things, but my health coach-voice quickly took over so that I could continue to support my mom in the ways she needed.
Shaine: I think health coaching played a large role in my mom's cancer journey, helping her feel like the intelligent, funny, determined, powerful (and more incredible adjectives that would make this too long) woman that she is, (unbiased opinion btw) and not just a treated statistic. I watched her discover health coaching, gain the tools she needed to become herself again and use her experience to help others find themselves. 
Adeena: Health coaching played a large role in my mom's cancer journey—as she says herself, the doctors did an amazing job, and did what they do best, but health coaching helped her feel like a "person" throughout the journey. Through discovering health coaching in her journey, she was able to continuously do the things that make her feel best such as heavy weight lifting and boxing. It made her feel strong, and was able to be therapeutic for her during this time.
Nicole: Cancer treatment was really hard on my mom, just as it is for so many cancer superheroes. While my mother could have very much used a health coach while she was going through cancer (as could I), it's the after effects that don't really get addressed enough. Chemotherapy caused some joint pain that persisted to today and makes it hard to pursue different exercises. Health coaches can offer critically-needed support to those continuing on in their cancer journeys post-treatment. My mom and I are currently connecting with a health coach we speak! 
What's one thing you'd like to share with someone who's supporting a loved one through their cancer journey?
Shaine: I think one of the most important things I can share is that it's okay to admit that it's extremely hard for you too. It may feel like you need to suppress your feelings and "stay strong", but being vulnerable is being strong. It's okay to break down, it's okay to talk about things, it's okay to be scared and worried. Talk about things. I think that's one of the only ways to make everything feel 'normal.'
Adeena: Something I unfortunately learned growing up, seeing and supporting multiple of my loved ones go through cancer, is that everyone's cancer journey is different, and everyone wants to be treated differently in their own journey. You need to remember to be there for them and their needs during this time, respect their decisions, and try to do what makes them happiest during the journey. As hard as it is at times, it's just as important to take care of yourself and your own wellbeing while supporting your loved one through their cancer journey.
Nicole: Be present when you can. Especially for young people supporting a parent or other close family member or friend through cancer, it can be exceptionally overwhelming. Don't put too much pressure on yourself to always have the right thing to say or to attend every doctor's appointment (that's what their brilliant patient care team and health coach are for!). As much as we want to be there, always, as much as we want to put on the gloves and fight for them, really what our loved ones might need most days is a buddy to sit and watch TV with them while they drift off into sleep on the couch. 
Jill: Listen the most. Talk less. If you choose to stand by your loved one as they navigate their cancer journey, be there with an open mind. Allow them to lead the way and ask permission to offer an idea.
A Message from the YourCoach Team: We're so grateful to all who volunteered to participate in our Breast Cancer Superhero Stories this past month. We're deeply inspired by you. It's thanks to your stories that we're continually driven to make health coaching more accessible to the global population through our Industry Partnerships. If you're interested in participating in future Cancer Superhero Stories (we have more on the horizon), please send us a note at team@yourcoach.health .