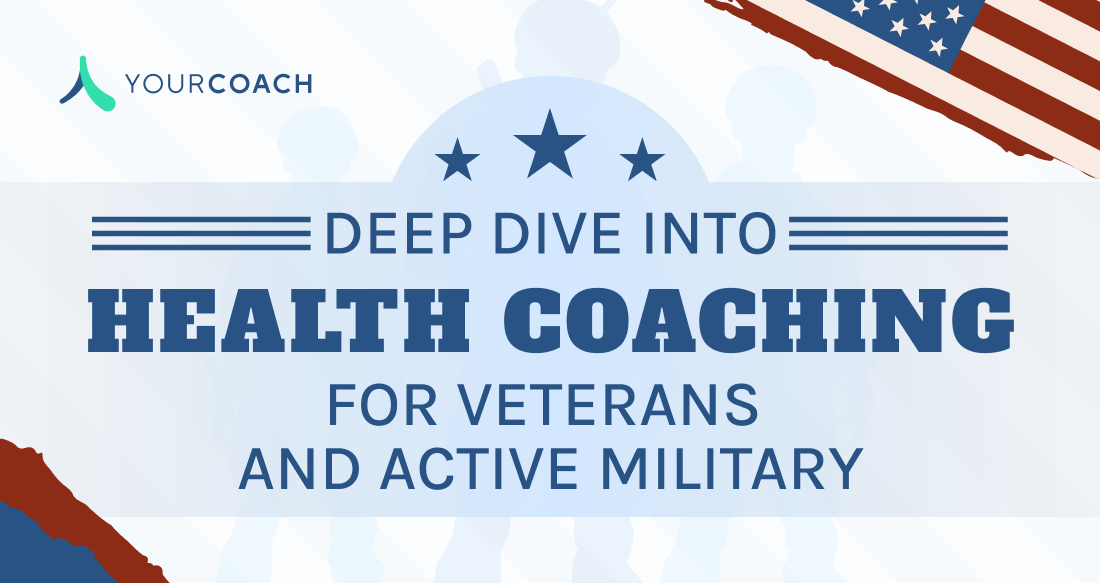 United States veterans, more than many other demographics, have widely embraced the benefits of health coaching (major shoutout to Whole Health Coaching through Veterans Affairs for making this possible). As a result, we've already seen massively encouraging data surrounding the positive impacts of health coaching on this population. What these results point to, however, is that more access is absolutely necessary to improve the overall health and wellbeing of veterans and active military members. 
Active military members and veterans make up a large portion of the population in the U.S. and are afflicted with distinct and important health challenges—from managing chronic health conditions to addressing complex mental health concerns. In fact, the active-duty military population consists of more than 1.3 million people, with an added 16.5 million veterans across the country. Today's Deep Dive takes a closer look at some of the health concerns these individuals face and how health coaches can and do help them achieve more optimal health. 
Why is health coaching for military members and veterans so important?
By nature of their physically, emotionally and mentally demanding jobs, military members and veterans face long- and short-term health concerns that might persist long after their service has concluded. 
One of the single most widespread and concerning health issues are those related to mental health. PTSD is one of the most prevalent and most talked about, with a whopping 76% of veterans and 14-16% of active duty members suffering from PTSD. Not only does this condition make it difficult to assimilate back into civilian life after deployment, but it's also contributed massively to worrisome and growing stats around suicide risks. A 2021 study conducted by Brown University estimated that 30,177 veterans of post-9/11 conflicts had died by suicide. When compared to the 7,057 personnel killed in the conflict, at least four times as many veterans died by suicide than personnel were killed during the last 20 years. 
In addition to mental health concerns, military members and veterans face disproportionate risks related to chronic health conditions. Namely, half of male veterans and a third of female veterans have two or more chronic conditions; a third of all veterans live with disability;  every two in ten veterans have a substance use disorder; and more than 90% report poor quality sleep. As a result of their service, many veterans also face disabilities that complicate or contribute to chronic health conditions. For example, 30% of Veterans are currently living with a disability, according to the latest Census data. 
As with all health concerns, the risks are highly nuanced and may be experienced differently across gender identities, sexual orientations, race, and other indicators. We've taken a close look at overall health for military members and veterans intersectionally through our latest Deep Dive.
How are health coaches helping to support military members and veterans?
As mentioned, health coaches have already made an important impact on veterans through the VA's Whole Health Coaching Program. The data that's come out of this program, and other recent studies, has made a strong case for why every veteran and active military member deserves a health coach. However, more work needs to be done in order to expand access to health coaching for this population (which is exactly our goal here at YourCoach—to ensure everyone has access to a health coach by 2030). 
For example, the impact of health coaching on mitigating PTSD has already shown to be significant. Results of a 2021 study show health coaching is associated with increased and sustained goal achievement in some veterans with PTSD. Another study showed health coaching for veterans with PTSD increases engagement and satisfaction with intervention programs and identified coaching as a helpful approach to making progress on individualized wellness goals. In terms of mental health overall, a 2019 study on health coaching effectiveness for veterans with suicidal ideation reported significant improvements for all measures on post assessment, from psychological wellbeing (80%) to suicidal ideation (78%). 
More studies are needed (and many are already in progress) to continue to confirm the efficacy of health coaching on active military members and veterans, but the available data at present is undeniable. 
What is YourCoach doing to help?
It's our mission here at YourCoach to ensure every human has access to a health coach by 2030. We have recognized and will continue to recognize active military members and veterans as an important part of that goal and are always expanding our Industry Partnerships with the intent to reach new populations.
We're proud to continuously champion change through health coaching by providing best-in-class health coaching services across industries, and this is only just the start of what's to come! If you're interested in learning more about how we partner with companies to deliver health coaching services, contact us at team@yourcoach.health .