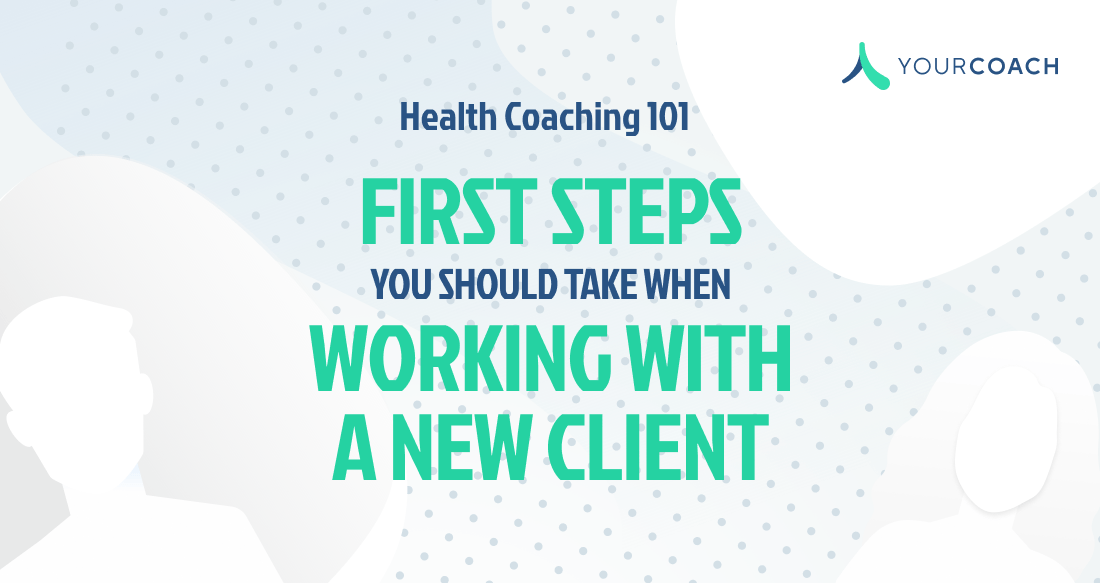 Health coaches enact change where it really counts—beyond the doctor's office! In our upcoming Global Health and Wellbeing Coaching Symposium, we offer a series of sessions guided by experts on health coaching efficacy; techniques that help clients implement habits that stick; and so much more. 
In today's blog, we kick off the conversation by exploring three imperative first steps health coaches should take when working with new clients. These three steps will help set you, and your client, up for success. 
Have Clients Complete a Health & Lifestyle Questionnaire
Before you even book your first call, health questionnaires can be hugely helpful in getting to know your new client and preparing you both for more productive conversations in the future. Not only can you collect important logistical information like availability for sessions, the best mode of contact for any questions, preferred pronouns and more, but this is a great opportunity to ask guiding questions that will give you a better sense of your new client's physical, emotional and mental health and existing lifestyle. 
The YourCoach platform offers a helpful health questionnaire template which provides sample questions related to motivations, expectations, risks, stressors and so much more. This is a helpful place to start if you're looking for a framework for your very first form. The platform also makes it incredibly easy for you to create your own questionnaire from scratch so that you can personalize questions per client or per client group.
Helpful questions are those that are tailored to your clients anticipated needs and goals and may include: 
What are your expectations for working with a health coach? 

What will life be like 6 months or a year from now if nothing changes? 

Do you have 'unhealthy' food habits?

Do you take any supplements or medications under a doctor's supervision? 

What are your main wellness concerns?
Set Up an Initial Intake Session
Once you've received a completed wellness assessment questionnaire from clients, you're ready to schedule your first virtual session (bookable within the YourCoach platform)! Take a moment to synthesize some of the responses you received through the questionnaire and jot down open-ended questions to help guide your first meeting.
Your goals for any first session should include: 
Set rules and expectations for sessions. Is it a phone free zone? Now is a great place to remind clients that sessions are confidential and that cooperation from both parties is paramount to your client's success.

Review session logistics. What days/times will you be meeting? How will payment be processed? How can your client reach out in between sessions? 

Conceptualize the client's wellness vision. This vision will be a guiding force and help the client see "the big picture". It allows them to focus on what they will gain from the behavior change journey.

Begin to co-create goals. Leverage motivational interviewing to help clients define the overarching focus of your sessions. 
This first meeting can feel overwhelming. Make sure you give clients time and space to ask questions and get comfortable. If the above goals weren't achieved in your allotted time, schedule a follow-up meeting to pick back up where you left off. 
Introduce Clients to their Virtual Home
Deciding to work with a health coach can be daunting, but showing up week-to-week and really committing to those health goals can be even more intimidating. Creating a space where your clients feel supported, can access resources, know how and where to reach out to you, and can track their progress is so incredibly important. The YourCoach platform provides a seamless end-to-end process for both you and your clients so that they have all the tools they need to succeed. 
We offer a full suite of tutorials to help walk your clients through navigating the platform and host regular onboardings for coaches so you can answer any client FAQs. It's important your clients feel like they have a home base and we've seen this have a massive impact on client successes. 
These three steps offer an important springboard for any coach looking to kick off work with a new client. For more tips and best practices, join us at our upcoming Symposium!