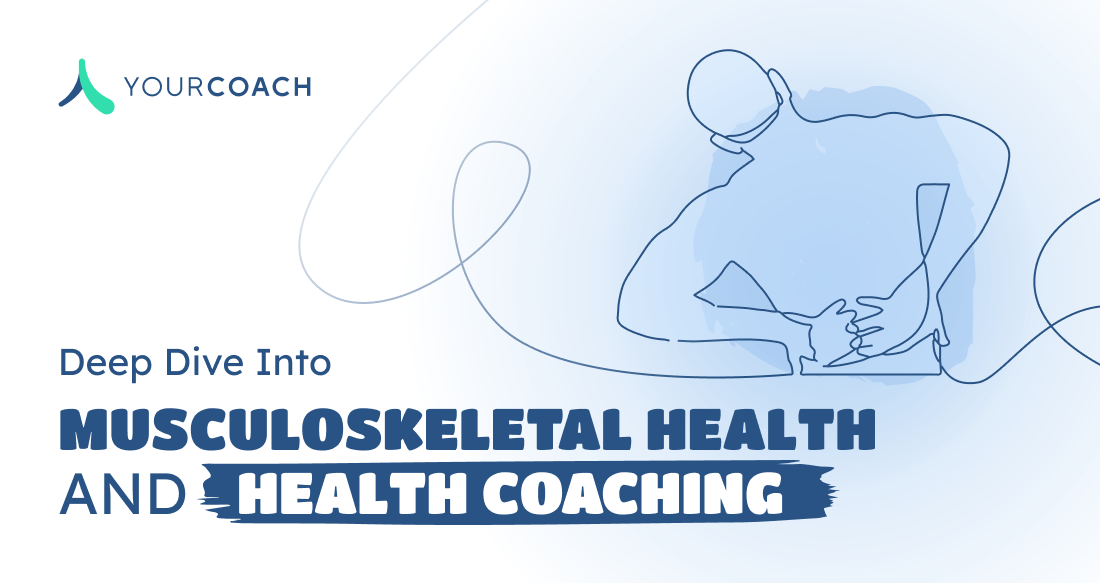 Although it might sound a bit more nebulous than other Deep Dives of the past, our report on musculoskeletal disorders is arguably one of the most important to-date. That's partially because these conditions are the leading cause of disability in the United States, costing the nation an estimated $420 billion in 2018, alone. 
What's more, these disorders, which encompass issues related to the muscles, bones, tendons, ligaments, joints, and other connective tissues, are a major source of chronic and debilitating pain for millions of Americans (about one fifth of them, per recent research). Conditions like rheumatoid arthritis, fibromyalgia, gout, scoliosis, and more fall under this umbrella, amounting to a critical and important need for effective interventions and pain management. 
Health coaches can and do help with both prevention and management of these taxing and often progressive issues, not only helping individuals combat the pain of these chronic conditions, but also helping them age actively and maintain their independence. In today's blog, we're sharing just a few of the many reasons why this Deep Dive was so important for us to compile, highlighting what readers can expect within. 
We all should care about musculoskeletal health 
A whopping 1 in 2 Americans live with a musculoskeletal condition, and these numbers only increase with age. That means half of the population is more than likely to encounter a musculoskeletal condition at some point in their lifetime. Not only does this extend to conditions like osteoarthritis and osteoporosis, but also injury-induced, short- or long-term conditions like tendinitis or chronic back pain.
What many of these conditions have in common, however, is they often result in debilitating pain that might limit an individual's mobility and independence, if even for a short time. A 2023 JAMA study found that chronic pain is substantially more common in the U.S. than diabetes, depression, and high blood pressure. This increase in chronic pain is deeply and distressingly connected to the rise in substance misuse across the country (we evaluate this a bit in our Substance Use Disorder Deep Dive) as well as the growing number of individuals suffering from mental conditions like anxiety and depression (more on that in our Mental Health Deep Dive). Not only are musculoskeletal conditions widespread across the country, but their symptoms have far-reaching impacts that are serious cause for concern.
Health coaches are critical partners to those facing musculoskeletal conditions
Health coaches have already proven themselves to be important and necessary partners to those struggling with long- or short-term musculoskeletal conditions. They work closely alongside clients to promote healthier lifestyle habits that might result in better outcomes—like achieving good sleep hygiene and managing stress—as well as work closely with healthcare professions to help clients practice regular techniques that manage or improve their pain. 
Studies have showcased firsthand benefits health coaches can have on clients managing ongoing musculoskeletal issues. A 2022 study on musculoskeletal patients and health coaches showed particularly encouraging results. At the 12-month mark, those who worked with a health coach saw a 16% improvement in pain and muscle functioning and reduced anxiety and depression compared to the non-intervention group. We've compiled similar instances of health coaches improving outcomes for those managing chronic lower back pain and other musculoskeletal conditions within our Deep Dive.
Through our Industry Partnerships, we're bringing health coaches to those who need them most
We've pioneered a growing roster of Industry Partnerships and are delivering validated, dedicated and skilled health coaches through our easily embedded technology to those who need them most. Together with several of our Partners, for example Medisafe, the leading medication engagement platform, we deliver health coaching that complements our Partners' products or services and supports those managing ongoing musculoskeletal conditions in the long- and short-term. 
We're proud to continuously champion change through health coaching by providing best-in-class health coaching services across industries, and there is still so much more to come! If you're interested in learning more about how we partner with companies to deliver best-in-class health coaching services, contact us at team@yourcoach.health .