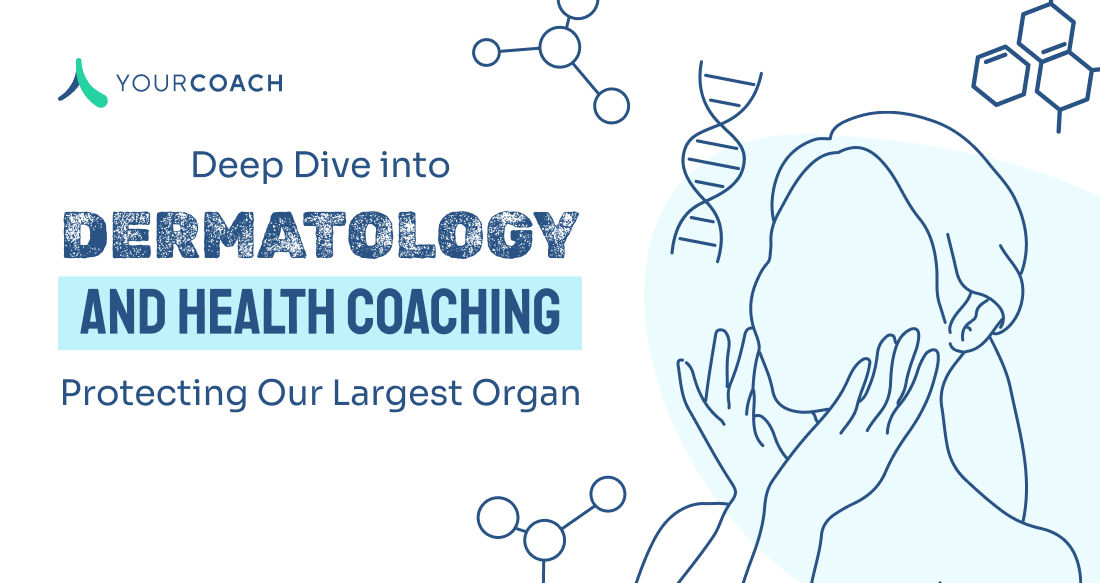 Summer is a smart time to start thinking about skin health, especially as skin cancer risks continuously increase. Sadly, research suggests that just 16% of men and 13% of women have had their skin checked in the last year. This is hugely concerning, namely because skin cancers and disorders are often caught during these critical exams. 
Overall, skin disorders reportedly affect a whopping 100 million Americans in the U.S. and one in five Americans are projected to experience skin cancer within their lifetime. These statistics suggest the importance of skin health is often underestimated despite the fact that the disease is incredibly widespread—which means it's high-time for a Deep Dive!  
Today's Deep Dive takes a closer look at our largest organ, peeking beneath the surface of the issue to better understand skin health and skin disorders, dispel some common misconceptions, and outline where and how health coaches support clients with ongoing skin concerns.
Why is skin health so important?
The effects of skin conditions run deep. Since our skin is one of the first things others notice about us, visible skin issues can be deeply distressing. For those suffering from these conditions—from acne to eczema, rosacea, and psoriasis for example, the impacts extend far beyond physical discomfort. For many, they might have an impact on their social wellbeing and relationships, their self-efficacy, or their mental and emotional health. The good news? As these conditions are increasingly more common, they're also becoming increasingly more normalized. Health coaches are doing great work to help facilitate this process (more on that later!).
One of the greatest skin health threats is, of course, skin cancer, which is steadily on the rise. Some research points to global climate change as contributing heavily to this alarming trend. In fact, 9,500 people are diagnosed with skin cancer in the U.S. daily, making it the most common cancer in the country. Even worse, many of these cases go undetected. Education surrounding proper sun safety habits, like applying sunscreen 30 minutes before sun exposure and avoiding the sun when it's at its strongest (usually between 10AM. and 2PM) can significantly reduce skin cancer risks.
How do health coaches help?
Because skin cancer is so preventable, health coaches can have a marked impact on those at high risk for the condition. They can provide necessary education on risks and watch-outs that contribute significantly to the growing issue, and they can be cognizant of inclusivity when providing these educational tools. In fact, only 4.5% of images in dermatology textbooks represent darker skin tones. Health coaches can help close this gap by providing more inclusive resources to clients at high risk. Moreover, health coaches can encourage clients to pursue those critical, regular skin checks and seek out help from their health care professional when a concerning skin mark arises.
Health coaches can also serve as a transformative support system for those encountering a variety of skin health issues. As we mention, the impacts of skin conditions run skin deep. This means health coaches not only encourage patients to seek out treatment when needed, adopt lifestyle modifications to achieve healthier skin and adhere to medications prescribed by their health care team, but they also help ameliorate the psychosocial effects so many individuals struggling with skin conditions often face. This means helping to normalize and destigmatize skin conditions through regular coaching sessions, supporting them in managing mental health concerns and stress resulting from these conditions (and encouraging clients to seek out additional support when needed), and providing emotional space and tools for them to grow.
What is YourCoach doing to support?
We know with absolute certainty that health coaches can be game changing for those struggling with skin and other health conditions. That's why we've made it our mission to make health coaching accessible to the global population by 2030. Through our growing roster of Industry Partnerships, we're making this goal more possible. 
Part of these partnerships includes working closely with Medisafe, the leading digital health company specializing in patient engagement and medication management, to improve medication adherence by augmenting their existing offering with live health coaching.
We're proud to continuously champion change through health coaching by providing best-in-class health coaching services across industries, and this is only just the start of what's to come! If you're interested in learning more about how we partner with companies to deliver health coaching services, contact us at team@yourcoach.health.