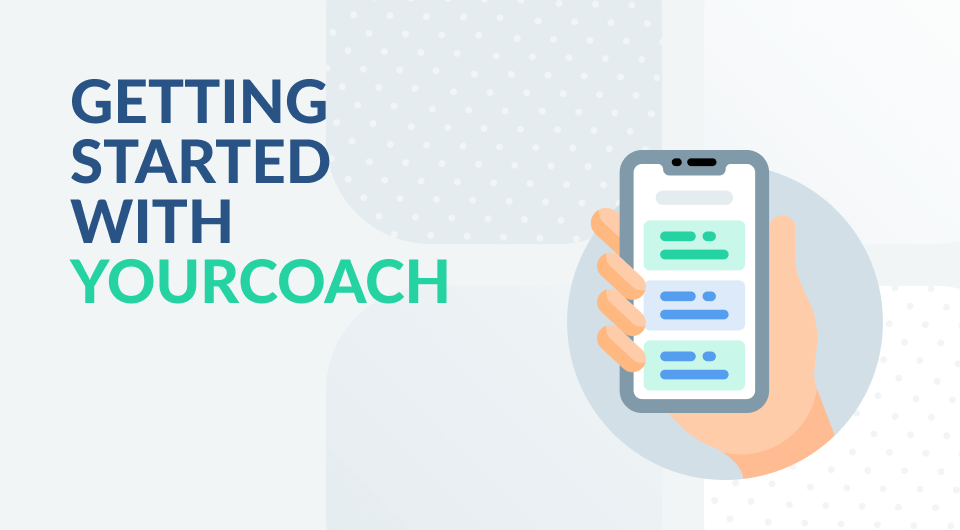 So you downloaded the YourCoach platform and are ready to go? First off, we want to share a resounding WELCOME from our team to you – we're so happy to have you as part of our #CoachingCommunity!
We know that downloading a new tech tool can be intimidating at first, but we're 100% here for you – it's our goal for you to love and live in our app (we'll get you there!). To start, we've outlined 5 easy steps for getting yourself acclimated to the platform and ready to kick off your fabulous programs!
1. Set up your coaching profile
As soon as you register on the platform, you'll be asked whether you're a coach or looking for a coach. Be sure to select the "coach" option and follow along with the prompts, providing as much information as you feel comfortable. Remember that your coaching profile is a fun and easy way for your clients to get to know you – feel free to include a photo, a personal and professional bio and upload any certifications you'd like to display.
2. Connect your existing workflows
Part of what's so wonderful about our app is that we're a one-stop-shop for your entire coaching practice – from program start to finish, from finance to note taking, to setting tasks and accountability for your clients – everything you need to run a great practice lives right in the app. Although you can schedule client meetings within our app, you can also connect your Calendly account to your profile so that clients can book meetings with you based on your listed availability. Similarly, our platform is currently integrated with Stripe to receive and request payments (other payment services are in the works!). Head to the YourSpace tab on the app to integrate any of your existing workflows with your profile.
3. Add in your proprietary content
Also located within the YourSpace tab are folders for storing your existing library of content and personalized client Questionnaires and Forms. You can upload worksheets, PowerPoint decks, checklists, contracts, nutrition plans and more to the Library folder so all of your client content is one place. You can then select items from your content library and introduce them within your client programs at any time, again, all right within the app! Our Questionnaires and Forms feature, located within the Toolbox section of the YourSpace tab, makes it easier than ever to get to know new and existing clients and align on goals and priorities before they start your program. We crafted an easy-to-use onboarding questionnaire you can adopt for your clients or create your own questionnaires for clients so you can craft individualized, goal-oriented programs as well as have check-ins along the way.
4. Set up your first squad
Here's where the fun really starts. Our Squad tab is where all of your existing individual or group client programs live. You can create a new squad for your group programs, or an individual squad will be created each time your client joins an individual program (learn more about squads in our FAQs here). The tasks, materials, conferences and everything else you set up in your program will transfer into your client squad. Of course, you can update this information at any time as well as change the dates when you'd like your content to be available to clients. You can set long and short-term goals here as well. Your clients will have all of the tools they need to succeed right in one place and can feel a sense of closeness and community even when we're coaching through virtual environments.
5. Become an active member of our #CoachingCommunity
Okay, we lied, here's where the fun really starts. Part of what makes YourCoach so special is that we're more than just an incredible space to store, organize and run your client programs, we're also a nurturing community that's genuinely interested in your long-term growth as a coach. Head to our Community tab to send messages to other coaches for potential co-coaching efforts (our app is the only one out there that allows multiple coaches to collaborate and run a program together) or connect with one of our many wonderful mentors to discuss your personal goals and exchange best practices. Sign up for our Newsletter or connect with us on socials for key industry updates, coaching highlights and event announcements. We host several free, virtual events per month with industry leaders who provide key tips for leveling up your practice so you can continue to do your great work. And! Our events are eligible for NBHWC CEUs – it doesn't get any better!
We're always here to answer your questions, however big or small, and are constantly crafting new ideas to help you use our platform even better so that the platform becomes yours!
For more information on getting started with the app:
Check out our latest webinar where we answered key tech questions from our #CoachingCommunity here.
Set up a one-on-one demo with CEO and Founder, Marina here.
Join Marina's "Getting to Know You" program right within the app.
Send us a note here.