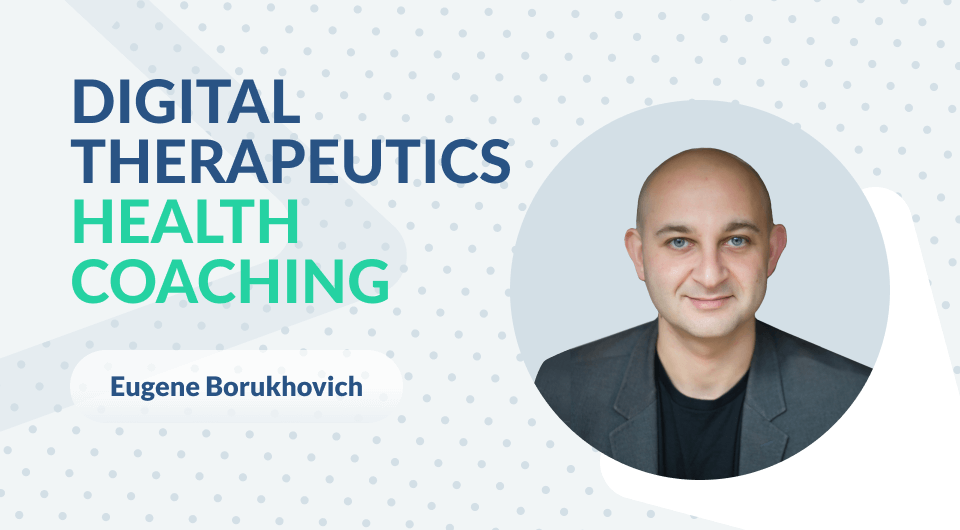 The Health Coaching Revolution is here. At YourCoach, we firmly believe that health coaches are ushering in new, more effective, science-backed and behavior-driven mechanisms for championing long-term health outcomes. Key health and wellness innovations are only as effective as the people who integrate them into our everyday life. The emerging world of digital therapeutics democratizes access to self care with clinically validated positive health outcomes.
I come from the healthcare and Big Pharma universes, which surprisingly, served to intensify my interest in exploring holistic health approaches. When my wife and now CEO, Marina, started her journey as a health coach and later, founded YourCoach.Health, I was working for a pharmaceutical company leading a team focused on non-molecular therapies and approaches. Last January, I decided to leave Big Pharma and join Marina and our team on the journey of building YourCoach. I became even more enamored with the work health coaches are doing (I even completed the Level 1 Wellcoaches Program). These health and wellness champions sit at the intersection of their clients' health goals, leveraging tools and techniques from across the industry. What I've realized as COO here at YourCoach is that there's an unmatched opportunity for health coaches and digital therapeutics (check out our Symposium video for more info). Below, I share 5 key takeaways about the emerging world of digital therapeutics for those in our Coaching Community:
Digital Therapeutics Definition
According to the Digital Therapeutics Alliance, digital therapeutics or DTx, deliver medical interventions directly to patients using evidence-based, clinically evaluated software to treat, manage, and prevent a broad spectrum of diseases and disorders. Essentially, they're a digital "pill." One of the clearest examples is by Akili Interactive, a company that produces an action video game experience that manipulates sensory stimuli and simultaneous motor challenges to mitigate the effects of ADHD. Digital therapeutics provide alternative, clinically effective interventions with proven results.
Health & Wellness and Healthcare Are Intersecting.
Whereas once the word "wellness" was shunned by healthcare practitioners, who challenged that wellness interventions often lacked scientific backing, we're now seeing a new, widespread appreciation for wellness. Across the industry, health is no longer being seen solely as an amalgamation of a person's biomarkers, or their health history or their genetics. We're approaching health holistically, and we're re-evaluating our healthcare system to transform it to a well-care system – one that incorporates a variety of tools, be it medications, or behavioral strategies, digital therapeutics or otherwise. Health coaches are critical as we make this shift, because they sit at the inflection point of an individual's wellness vision, guiding them to reach their holistic goals.
Health Coaches as Intra and Entrepreneurs 
While we strongly believe in empowering coaches within our Coaching Community and beyond to be entrepreneurs, running their practices end-to-end on our platform, it's important to recognize that the emerging world of digital health also offers coaches new career opportunities and a chance to innovate from within digital therapeutics companies. The expertise from coaches is in high demand across digital therapeutics companies like One Drop, Oshi, Virta Health, Livongo (just to name a few), because coaches understand meaningful and effective intervention strategies. We're seeing more and more coaches working for health services like digital therapeutic companies while still managing their own practices to maintain their edge and creativity.
Digital Therapeutics Require Human Beings and Empathy. 
Health coaches are necessary because they make health tools feel more approachable and accessible to clients – they create meaningful plans that integrate whatever tools their clients need to meet their goals. Any healthcare intervention is only effective if it's being regularly utilized. Coaches make this happen.
Digital Therapeutics and You (and Your Clients!)
In our YourCoach Toolbox, we're working on providing access to digital therapeutics tools you can explore and integrate within your programs. We can't wait to share more about this soon!
We're certainly reeling from a host of massive changes within the health & wellness and healthcare worlds as we continue to cope with the global pandemic. But we're witnessing a positive shift within the industry towards approaching health more holistically. Between integrating digital tools in healthcare interventions alongside the long-term guidance of health and wellness coaches, there's plenty to stay hopeful about in the year ahead. We're confident that health coaches will be at the frontier of these positive changes.
Want to learn more about digital therapeutics and digital tools? Stay tuned for a series of upcoming webinars and resources – starting with how to integrate wearables into your health coaching practice.