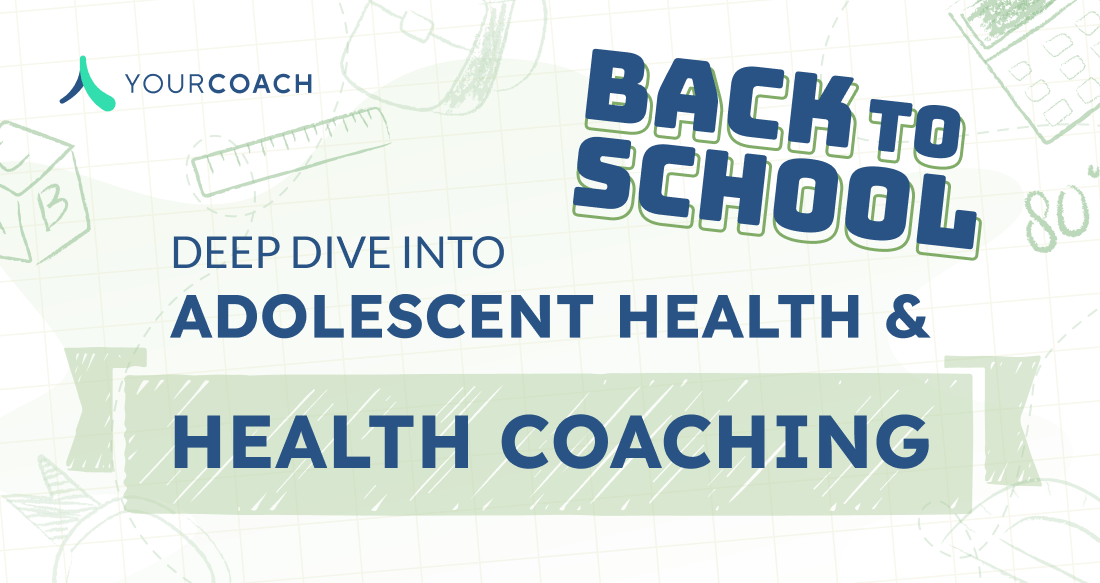 For parents, teachers, students, and school administrators, back to school is top-of-mind as early as now. The number one tool every high school and college-aged student needs won't be something you'd find on your school supply lists—you guessed it, it's a health coach!
Cheekiness aside, adolescent and young adult health and wellbeing faces serious and compounding risks. From mental health concerns to substance use disorders, issues with body image and balancing proper nutrition, gaps in adequate sexual health education, inability to goal-set and overuse and misuse of social media, this important demographic needs more support than is presently available. 
It's our mission, especially this year, to ensure more and more students across the country have access to a health coach as their critical first line of defense towards combating these many health threats. Today's Deep Dive lays the groundwork for that important commitment by providing the latest data surrounding adolescent and young adult health and wellbeing and where health coaches can and do provide game-changing support.
Why does every college and high-school-aged student need a health coach?
The U.S. Surgeon General declared an adolescent mental health crisis in 2021, and we're still very much experiencing its effects. Between 2012 and 2022, the number of adolescents and young adults with anxiety and depression more than doubled. Almost half of high school students reported persistent feelings of sadness and hopelessness, including 57% of girls and 69% of LGBTQ+ students, and nearly 1 in 3 high school girls reported having seriously considered suicide—a 60% increase from a decade ago.
Of course, mental health is further impacted by increasing social media use and misuse due in large part to its impact on body image and rampant cyberbullying. A survey by Common Sense Media revealed overall screen time among teens increased by 17% from 2019 to 2021, growing more rapidly than in the four years prior. Its correlation to poor body image and the rise of cyberbullying is hard to ignore, and these issues are surely on the rise. A recent study even revealed that 58% of boys and a whopping 90% of girls at the age of 16 want to modify something about their body due to poor body image and in regards to cyberbullying, 16% of high school students were electronically bullied, including through texting, Instagram, Facebook, or other social media, during the 2020 year. 
Beyond mental health, body image and cyberbullying, data surrounding substance use and sexual health is also a cause for concern. Every fifth (20%) college student has a Substance Use Disorder, according to the data from SAMHSA's Survey and more than half (57%) of the nearly 20 million new STIs reported in 2020 were among young people aged 15–24.
We've compiled more of this necessary—but highly concerning—data in our latest Deep Dive.  These stats are alarming, to say the least, and we need to do better for our children, nieces and nephews, cousins, siblings, neighbors and friends.
How have health coaches already proven their value?
Health coaches have already proven their necessity, especially among this highly vulnerable population. When it comes to improving healthy behaviors and overall wellbeing, studies have shown the impact wellness coaching programs can have on developing healthy lifestyle behaviors compared to the control groups. 
Health coaching has also shown to bolster mental health. A 2022 pilot study showed 83% of participants achieved their health & wellness goals related to stress management and self-efficacy skills when working with a health coach; more than 68% of students said that coaching increased their confidence; 73% said it made them more motivated; 56% said coaching brought about behavior change; and a whopping 96% recommend health coaching to their peers. This is the single most encouraging result that makes a strong case for why every student needs a health coach and why every student will want one. 
Our Deep Dive provides a thorough look at the most promising studies to date, which show the positive impacts health coaching can have on preventing teen pregnancy, lowering costs associated with overall adolescent health, reducing binge drinking and so much more.    
What is YourCoach doing to help?
We need to provide more for adolescents and young adults in this country and health coaching is a necessary new frontier on the quest to improve their health. We believe strongly in the impact health coaches have already proved to have on this vulnerable demographic and are on a tireless quest to implement our best-in-class health coaching services in every school, college and university. Part of our mission to provide access to the global population by 2030 means ensuring every student has access to a health coach—and ultimately, has hope for a better, healthier future.
If you're a school administrator and you've come across this Deep Dive, connect with us at team@yourcoach.health to kick off some important discussions.
Here at YourCoach, we're proud to continuously champion change through health coaching by providing best-in-class health coaching services across industries, and this is only just the start of what's to come.