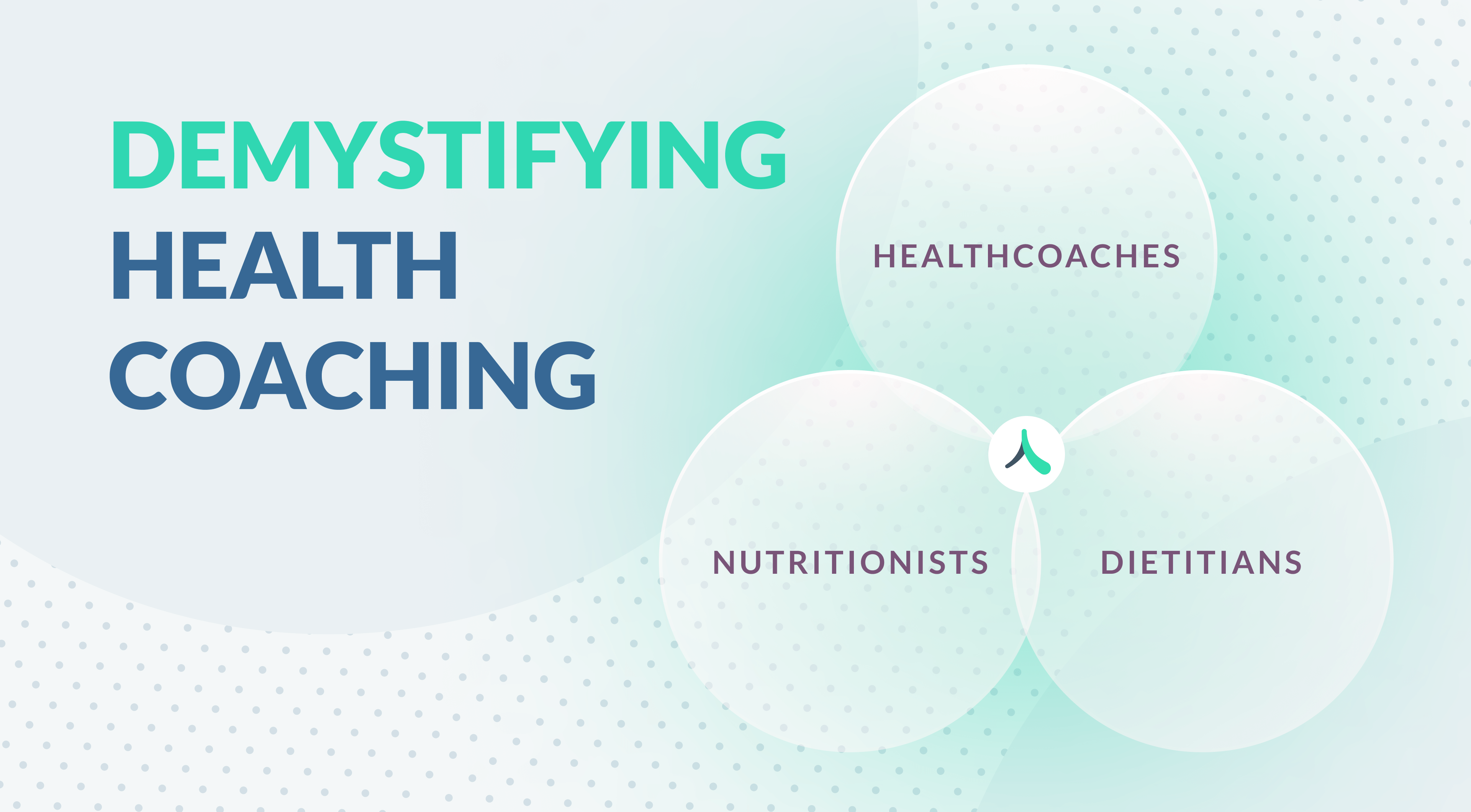 In this series on Demystifying Health Coaching, we're excited to offer clarity on some common misconceptions we often encounter in the health and wellness worlds. These articles are meant to generate important dialogues about the past, present and future of health coaching–and without conversation there is no dialogue! We look forward to thoughts from our community on these articles and suggestions for future topics. 
It takes a village to keep us healthy. More and more, the world is embracing this critical idea that doctors are not the sole protectors of health, but rather, we all need a dedicated health team comprised of different combinations of doctors, nurses, PAs, nutritionists, physical therapists, dietitians, mental health counselors, and more, depending on our health needs. Health coaches can operate as a powerful connective force between these roles, bringing out their best strengths (and ours) to help us reach our health goals! 
When figuring out what, and more importantly who, we need on our sides to achieve our unique health and wellness goals, it's important to understand what each of these professionals can bring to the table. Health coaches are a great place to start, because they can help us identify and prioritize our goals, both within nutrition and otherwise. From there, they can offer more concrete support, or suggest that we incorporate a nutritionist or dietitian into our health journeys.
While health coaches share many of the goals, responsibilities and interests of nutritionists and dietitians, there are quite a few nuances and differences between the three that are often conflated. Although some individuals may be certified across all three roles, it's important to have a general idea of where these professionals may differ. 
Dietician (RD/RDN)
The primary differentiator between dietitians, nutritionists and health coaches is that dietitians must be certified by the Academy of Nutrition and Dietetics. In order to become certified, individuals must have a bachelor's degree or higher qualification at a regionally accredited university or college in the U.S., complete coursework and hours of service, and pass an examination. Dietitians can offer a range of services, from treating patients in a clinical setting, where they can help diagnose and treat eating-related illnesses, to ensuring safety guidelines are being met in a food service setting.
Nutritionist (CCN)
Although nutritionists often work in many of the same settings as dietitians, their role differs in the certification process and day-to-day responsibilities. Unlike dietitians, not every state requires that nutritionists pursue a certification in order to practice. Where it's required, nutritionists undergo certification through the Clinical Nutrition Certification Board (https://www.cncb.org/). In order to become certified, nutritionists must have at least a Bachelor's of Science, plus pursue certain coursework, fulfill field work hours and pass an examination. Nutritionists counsel their clients on healthful eating habits, developing practical meal plans based on their needs and evaluating their impact. 
Health Coach
Whereas dieticians and nutritionists overlap quite heavily in the type of work they do, health coaches differ greatly in their scope and in the ways they partner with clients to achieve nutritional health goals. Health coaches understand that each person may have a unique reason for why they want to lose or gain weight or fundamentally change their eating habits. While they can't create meal plans or tell clients exactly what to eat, they can help them get to the "whys" and make strategic recommendations based on their lifestyle and goals, while leading them to understand how their eating habits play into all aspects of their lives.
Another primary difference is that health coaches range in the scope of health concerns they target. Health coaches can partner with their clients to pursue health goals ranging from establishing better sleep habits to cultivating a better work/life balance, to coping with their cancer treatments to creating healthy eating habits. For example, when coaching clients through cancer, health coaches can figure out what works for them and make them feel at their optimal, even as they work through chemo and radiation. It's the sheer range of specialties that health coaches can engage with that makes them different from most other health and wellness professionals. You can truly find a health coach for every one of your health goals! 
Health coaches are sometimes certified as dieticians or nutritionists or even partner with dieticians and nutritionists to implement programs that clients can really stick to. Similar to a nutritionist, not every health coach is required to be board certified, but many receive their certifications similar to nutritionists and dieticians through accruing coaching hours, pursuing coursework and passing an exam through the National Board of Certified Health Coaches. 
The beauty of health coaches is that they exist to recognize and accentuate the talents of other health and wellness professionals, all while helping their clients achieve their health goals! Alongside other health professionals like nutritionists and dietitians, health coaches leverage motivational techniques to put healthy habits into practice, helping make more health goals become realities.