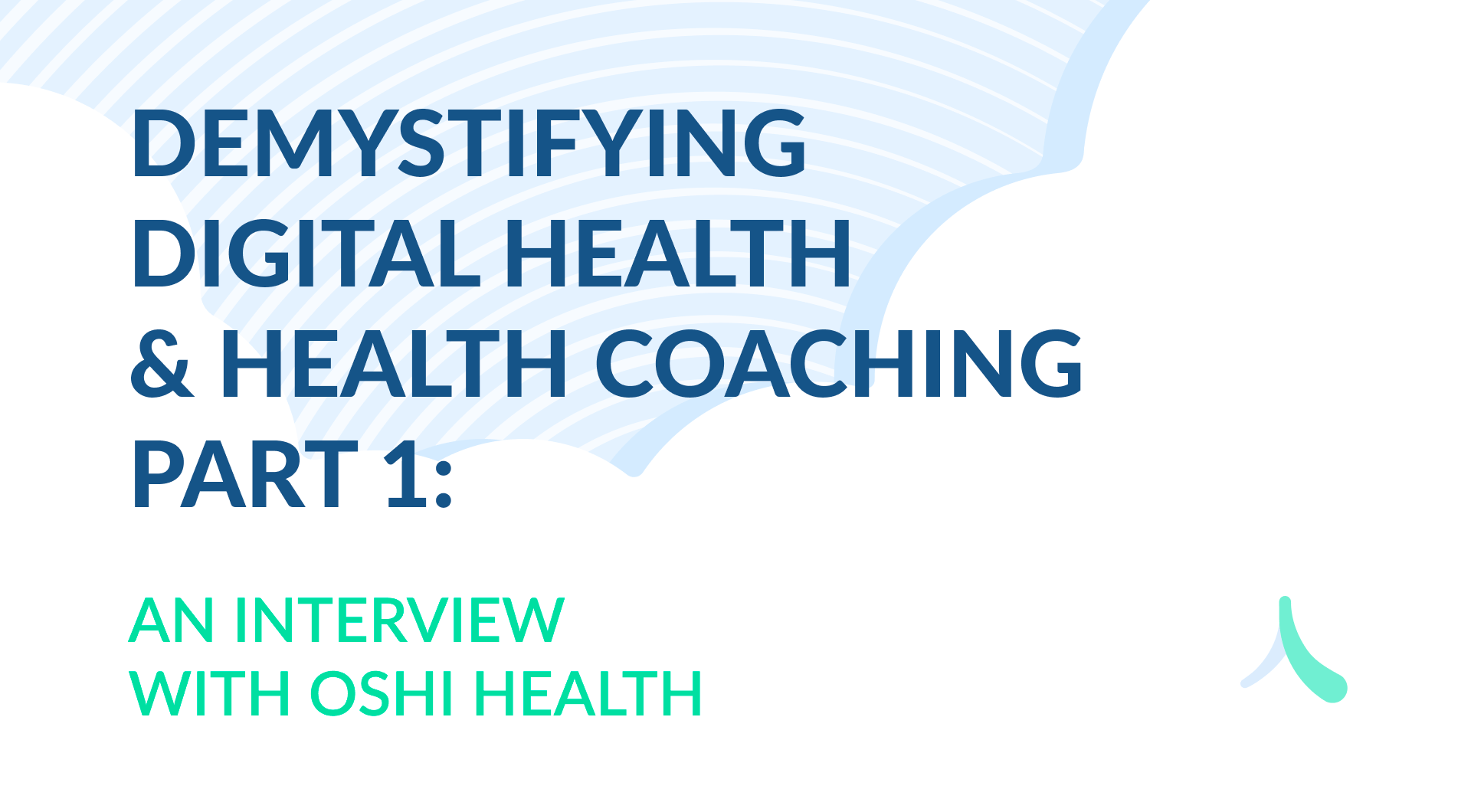 For the past decade, health coaching and digital health technologies have been co-evolving while transforming health & care worldwide. The two worlds are increasingly intersecting, offering more opportunities for health coaches, more personalized care for individuals, and a bright future for holistic health outcomes. In this mini-series, we're interviewing Digital Health companies to hear their perspectives on this exciting shift, the current opportunities for health coaches within DTX companies and their projections for the future.
Oshi Health
Today, we're lucky to speak with Taylor Bathel, Clinical Operations Manager at Oshi Health. Oshi Health is gastrointestinal care, redesigned. Its virtual, patient-centered care delivery model is built to provide diagnosis and multidisciplinary care for GI conditions, and to empower people to gain significant and lasting control of their symptoms and improve their quality of life. Health coaches are becoming a crucial part of this model and Taylor's joined us to share more.
– Hi Taylor! Tell us a little more about you!
– Every coach has a unique but intentional story about how they found the industry. My first career was in medical writing and fundraising for a children's hospital where I was often interviewing patient families to share their stories. It was a huge hospital with astonishing innovations in medical care, but every family I talked to always highlighted the doctors foremost; how compassionate they were, how they listened, how invested they were in their child's health outcomes. These conversations were always inspiring, especially when realizing how important the relationship between healthcare teams and patients/their families is to a child's medical success. After a few years, I realized that I didn't just want to write about it—I wanted to be a part of that team.
That's when I discovered health coaching. Health coaching was everything I loved about the patient experience. Coaches create that safe space where people can feel empowered to pursue their unique health journeys. I started off as a health coach and ultimately joined Oshi in the summer of 2020. I actually began with their first batch of 30 members, as a health coach, and later transitioned into my current role as a clinical operations manager, overseeing our health coaching team; developing programs; implementing our core values; and evolving our coaching programs to better fit our members' needs.
– What is your 'Why?' What does Health Coaching mean to you?
– For me, personally, I'm driven by the power of the relationships between health coaches and their clients. This sort of partnership ensures people can have a safe space to find their voice and develop their own goals within their health journeys. Health coaches are thought partners in a client's exploration, empowering them to create the life they want for themselves – rather than telling them what life to create. It's a beautiful field because every single person can benefit from a health coach in their own unique ways.

– Tell us more about Oshi Health and its mission.
– Oshi's mission is to reduce the impact of GI conditions by redesigning GI care. Oshi has built this clinic from the ground up with the members in mind (we call those who use our platform "members" since it evokes more of a partnership than "patients"). We help members define what GI problems they'd like to solve and what support they need to get there. We leverage an integrated team of gastroenterologists, nurses, dietitians, behavioral health providers,health coaches and more that are uniquely chosen to fit their needs. Together, they work to craft and implement comprehensive and sustainable solutions within our platform.
– What does it mean to be a health coach at Oshi Health?
– To truly understand what it means to be a health coach on the Oshi team, you have to first understand the context of chronic GI conditions. Members may be balancing complicated dietary plans, supplements, medications, lifestyle changes, and more. The support they need along that complex journey is enormous. If you think about fitting all those puzzle pieces together, coaches are a critical part of how Oshi is redesigning GI care. They're assigned to every single member upon joining Oshi Health; they're your go-to to make sure you understand yourcare plan, are educated and motivated, and know how to realistically fit care plans into your life. Members get a list of what to do from different providers on their team and a health coach helps create action plans for how to follow through. Between appointments is a critical time for healing and behavior change, and at Oshi, our coaches help members make the most of that time.
-How do health coaches fit into your overall company mission?
– As we spoke about, health coaches make sure that time between appointments is spent productively. Since our mission is to redesign the GI healthcare experience, a huge part of that is providing support to maintain health and symptom control long-term. Health coaches help clients find what they need to sustain these lifestyle changes — including motivation. They shift the conversation from, "tell me about your symptoms," to "tell me about how your symptoms are impacting your life." This is how we keep people intrinsically motivated to succeed.
– As we evolve through the pandemic, it's no secret that health coaches are playing a critical role in major shifts in health, care and overall wellbeing.
How do you see health coaches further transforming the digital health sphere and healthcare more broadly?
– The pandemic has forced people to work more in a digital space; health coaches have mastered the digital space far before the pandemic! Many coaches started their careers digitally and have proven success rates in digital environments. From my vantage point, the pandemic has opened more doors for health coaches because it built trust in the fact that digital/virtual care doesn't have to be a replacement for in-person care or a solely transactional experience. It can be meaningful on its own, centered on real relationships, and coaches fit naturally into this model.
– We're firm believers that this year is the year of the Health Coaching Revolution! What health trends do you predict will take the mainstage in 2022?
– It's clear that digital/virtual will continue in health & wellness. What's driving so many changes in our industry is that the healthcare consumer has changed. They're more informed and empowered. They're redefining health and happiness in their life and want better for themselves and their care. Further, they know they can get better care. We'll continue to see more innovative solutions match what clients are looking for, especially when we think about the rise of chronic disease. There's a need for solutions that increase quality of life and ease suffering versus giving people more tests and procedures. That's how Oshi was developed and more companies will hear that call. Clients are willing to pay for it, too, emboldened by the growing selfcare movement—they're relying less on what insurance will cover and more on what they can do to feel better.
– Anything else you'd like to add?
– I just want to highlight how well health coaches can function in the clinical space. It might feel scary to move into this space, especially if you personally haven't had a great healthcare experience. But, it's worth considering the benefits of coaches in clinical care, and the satisfaction of being part of a meaningful shift in healthcare. Health coaches have a unique scope that's complemented well by other practitioners with varying scopes. As someone who started off as a one-on-one coach and now is working in the clinical space, it really feels like it took me back to my roots and reinforced my goal of bringing relationships into healthcare. I anticipate to see more and more coaches make that switch into a clinical model, and digital health companies can be an ideal means to do so.