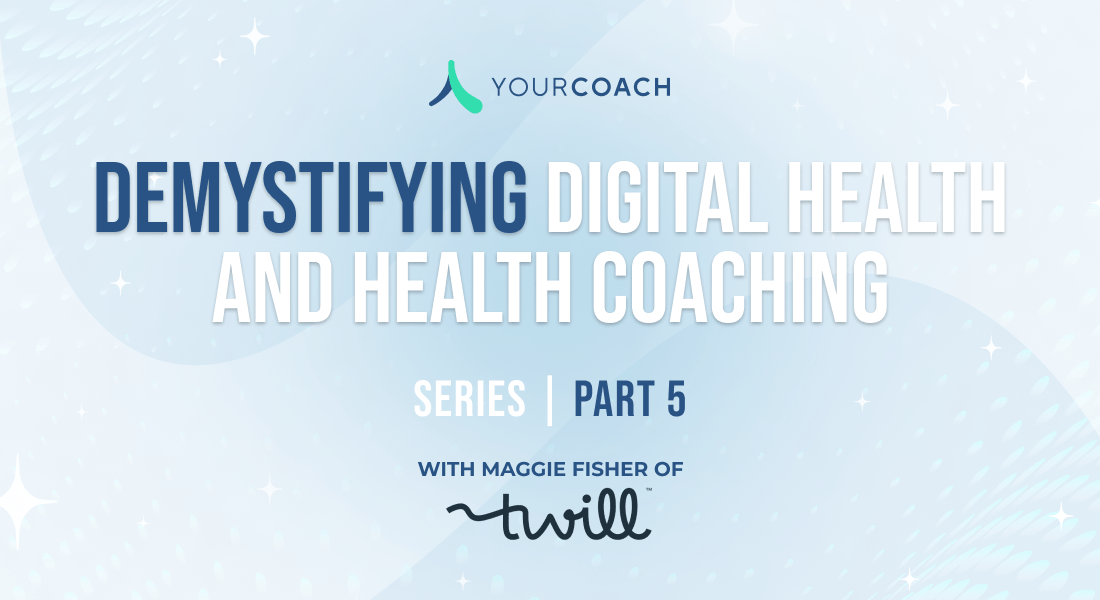 For the past decade, health coaching and digital health technologies have been co-evolving while transforming health & care worldwide. The two worlds are increasingly intersecting, offering more opportunities for health coaches, more personalized care for individuals, and a bright future for holistic health outcomes. In this mini-series, we're interviewing key talent at Digital Health companies to hear their perspectives on this exciting shift, the current opportunities for health coaches within the broader digital health and digital therapeutics companies, and their projections for the future.
– Hi Maggie! Tell us a little more about you!
– My background has always been in digital health within healthcare. My first introduction to this world was actually as part of a team that developed the Cancer Survivor's Network alongside the American Cancer Society. At the time, this was one of the first communities that was able to connect fellow cancer survivors, and I had the opportunity to oversee all community moderators for this great network that's still in place today.
– Since then, I've worked in healthcare developing programs to help organizations better promote internal learning and collaboration. Along this path I was also diagnosed with breast cancer, went through treatment, and as a result of that (similar to YourCoach's CEO, Marina), learned plenty about the patient experience. There were people that came forward in my journey who really made a difference for me. These people were not necessarily my doctors, though I am grateful for their care, it was the people who advocated for my overall wellness, who gave me strategies for dealing with different lifestyle concerns as they arose. After this journey I became a certified holistic cancer coach to help cancer survivors and their families manage how they're moving through the process and grappling with aspects of their journey they can control.
– A year ago I came to Twill (at the time, Happify Health) because they were beginning to build a coaching offering for their customers and wanted to shape something authentic and unlike anything else on the market. They assembled a team of us who'd cultivated a deep understanding of the health coaching industry to create a health coach offering that was true to Twill's digital-friendly mindset within their product.
– What's your why? What does Health Coaching mean to you?
– If there's something I can do to make someone's life better, I want to be part of that—that's what drew me to health coaching in the first place. I'm not going to be able to cure someone's cancer, or help them avoid going through chemo, but if there's something that I can do to help that individual manage those experiences, to make them just a little better, that's all the satisfaction that I need. I believe that if we focus on helping other people and make their lives less difficult, we'll all find fulfillment. Health coaching is a gift and with passion and preparation, we all have the ability to do it. I just can't even begin to tell you how grateful I am that this is my job!
– Tell us more about Twill and its mission.
– Twill has tremendous resources for mental health and well-being, with science-backed data to show the efficacy of its digital programs, tools, and games offered to support those coping with various health concerns. Recently, we have been focused on untangling the complexity of our healthcare system to shorten the distance between need and care so that everyone gets the care they need, when they need, in the way they want.
– A really compelling aspect of Twill's platform is that it is built to be open and configurable. That means that any healthcare payer or employer is able to bolster their existing offerings and ability to deliver precision care to their populations through the integration of Twill-developed offerings into their existing healthcare ecosystem including digital therapeutics, community, and of course; coaching.
– I was lucky to pioneer our health coaching offering, Duet, to provide that human experience, centering our product resources as means to practice new habits participants are looking to achieve.
What does it mean to be a health coach at Twill?
– We piloted Duet with some of our direct to consumer customers last year and saw huge successes. It wasn't the fully-developed product we were envisioning just yet, but it was a strong enough proof point that the value of health coaching was indisputable. We began to pursue vendors to support us as we built out our health coaching offering—our latest and greatest version is yet to be rolled out—and we're thrilled to partner with YourCoach to make this happen. There's plenty more to come on the details of this engagement in the upcoming months (and both teams are ecstatic to share more) but we're at a very exciting point in Twill's journey in terms of the clinical-grade platform itself and the integration of health coaching.
– Overall, we understand that health coaches at Twill are not therapists; they're not providing advice to help you with depression, anxiety or prescribing treatment. They do, however, play a major role in a broader approach to wellness, someone who's prepared to help clients recognize the desire to change, make sure they have the support in place to make that change happen and identify goals to help them get there (while celebrating successes along the way!).
– How do health coaches fit into your overall company mission?
– Twill is "The Intelligent Healing Company." We want to be able to serve our users in their mental health journeys through a content-robust platform with programs, resources, and tools geared to support them. At its core, Twill supports the S.T.A.G.E.R skills in order to deliver better health outcomes— Savor, Thank, Aspire, Give, Empathize, Revive. These skills are core to a lot of the training, messaging, and interactions clients encounter through the platform and they'll also be strongly threaded through Duet, our health coaching offering.
– Currently, we're very focused on adding in an additional layer of connection between the coach and the user (through live video or voice sessions), a personalized interface, and more health coaching functions to offer consumers more hands-on support within our platform. It's one of the key foundations to our Intelligent Healing Platform, especially as more individuals demand personalized, one-on-one attention.
– We're thrilled to build out the Duet coaching program alongside YourCoach, who is committed to connecting Twill users with high quality coaches already verified and practicing on their platform. Together, we'll be working collaboratively to oversee the official launch of Duet this summer.
– As we evolve through the pandemic, it's no secret that health coaches are playing a critical role in major shifts in health, care and overall wellbeing. How do you see health coaches further transforming the digital health sphere and healthcare more broadly?
– Coaches can help individuals take control of their own lives. A good coach is going to help you uncover the strengths and introduce you to new techniques as part of your goal setting process. They impart sustainable tools that carry on even as your health goals evolve. Working with a coach builds confidence, especially as new goals are met. Confidence inspires happiness and a greater tendency towards goal setting and achievement. The pandemic made many of us feel very out of control of our own lives. Health coaches help people regain their sense of control helping clients take charge of their mental health goals making them more self-reliant and happier long-term.
– We're firm believers that this year is the year of the Health Coaching Revolution! What health trends do you predict will take the mainstage in 2022?
– I firmly believe that customized experiences at the user level will continue to thrive and will be expected increasingly by consumers. Twill is paying attention to what users need to leverage this information so our Duet coaches can start from the 40-yard line, setting more accurate and achievable health goals in collaboration with their clients.