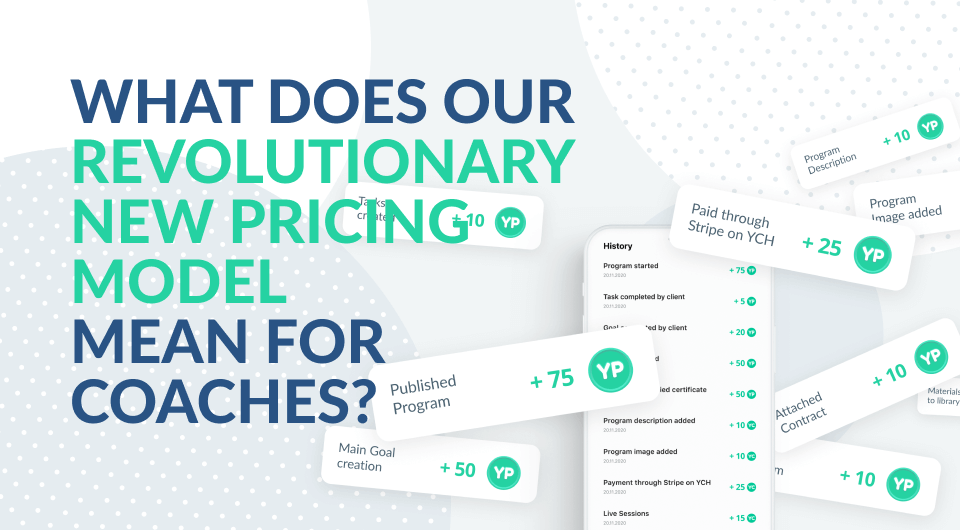 Health Coaching Community
Here at YourCoach, we've made our Coaching Community a top priority. When it came time to roll out our Big Announcement news, including our transformative, gamified pricing model, we made a point to share the news with our Coaching Community before anyone else. If you joined our webinar on April 29, you witnessed this firsthand, when our CEO Marina shared all of the strategies we're implementing to ensure that YourCoach is your virtual home for all things health and wellness coaching.
Now, we're thrilled to begin educating new and existing members of our Coaching Community about how this exciting change will provide a runway towards success, motivating and supporting coaches in all their endeavors. We'll be providing resources to help acclimate you to this new change, and all the exciting updates we've incorporated recently.
Health coaches were and are needed more than ever
For existing coaches – we're so grateful that you've grown with us into our Best Version (yet!) and we are happy to have been able to provide the platform at no cost during the trying times when health coaches were and are needed more than ever. If you joined the platform before our Best Version announcement, you will still be earning points for all your actions on the platform towards our exciting perks, but as promised – you are grandfathered at no cost for life.
It's important to earn points towards perks by practicing with your clients on the platform not just to reduce the cost, but also, to be matched with new clients through our employer partnerships. We will only be able to match you with these new opportunities if you are regularly practicing with your existing clients on the YourCoach platform. We appreciate you and can't wait to support your continued growth into your best versions.
Global population of Health Coaches
For new coaches – welcome! We're so glad you're here. Our mission at YourCoach is to deliver the power of health coaching to the global population, propelling forward the Health Coaching Revolution. We believe that coaches on our platform are critical catalysts for making health coaching more accessible. We're focused on matching you to opportunities where your expertise is well-needed through our expansion into employer partnerships and corporate wellness.
As with existing coaches, it's important that you're practicing with your own clients on the platform before becoming eligible for these opportunities. This helps us ensure that we're matching clients with experienced coaches who are well-equipped to address their needs. If you're a brand new coach just starting out – keep working with your practice clients as this earns you points as well!
YourCoach Platform pricing model
Our pricing model, that incrementally decreases the cost of the platform based on how much you coach, utilizing all the platform has to offer, is rooted in motivating you to expand your practice into new opportunities, while ensuring that more and more people have access to the best health coach for them.
So how, exactly, does it work?
If you're just starting out or want to make sure YourCoach is the right fit for you – we're here to support you! Coaches with up to one group program and two individual programs can practice on our platform, free of charge.
If you're building your practice – we're here to encourage you! The price of our platform starts at $40, and decreases depending on how much you practice, right down to $10 a month. Anything from completing your profile to setting up programs, creating goals and tasks for your clients, sharing forms and using video and chat features earns you points towards decreasing the cost of the platform. (Hint: just completing your profile and adding your certificate will already get you to $35!)
We're encouraging all coaches to be their best selves by crafting the most comprehensive, holistic experiences for your clients on our platform and rewarding you with a pricing decrease, as well as opportunities for continued success. This includes matching practicing coaches with employees from our employer partnerships, amplifying your brand across our social channels and newsletter and potential inclusion in our upcoming Founding Squad (more to come on this later in the month!).
If you have any additional questions on how this might work now or at any point in the future, please don't hesitate to reach out to us. And, be sure to mark your calendars for June 19, when we'll be recapping our latest updates and sharing even more news.