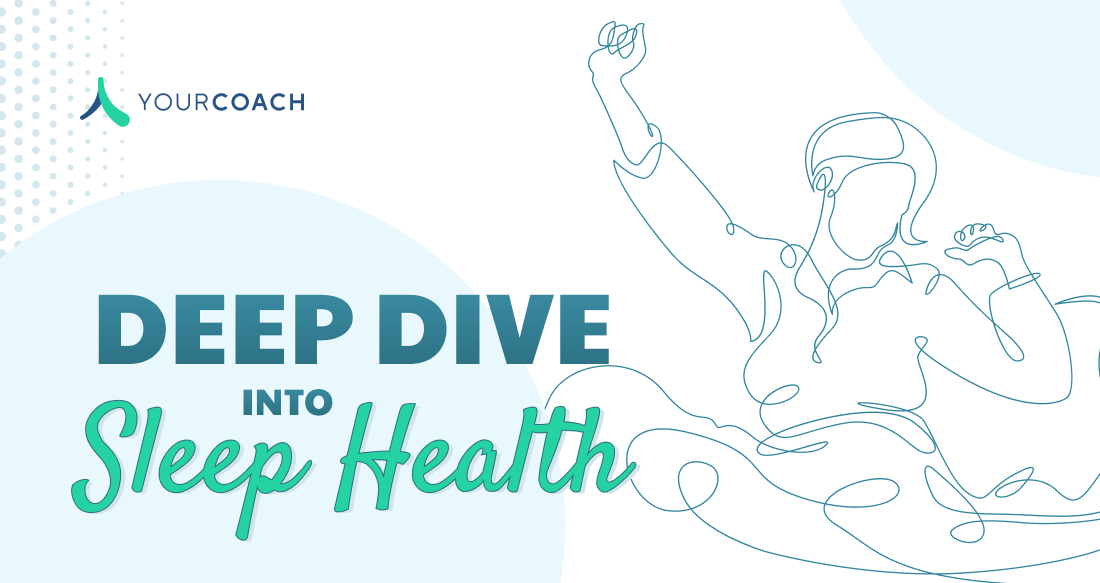 Think back to your last night's sleep. Did you wake up feeling refreshed? Did you sense yourself hitting a wall in the late-morning or early-afternoon? Are you constantly wanting for more, or better, sleep? If you answered yes to any of those questions, our most recent Deep Dive reveals you are very much not alone. 
In fact, a third of Americans describe their sleep as "fair" or "poor" and at least 70 million suffer a sleep or wakefulness disorder. That's a huge chunk of the population that's wanting for—and needing—better sleep. It's a shock to no one that sleep is quite literally the root of an overall healthy life. When we're not giving ourselves enough or quality sleep, our mental, physical and emotional wellbeing takes a serious nosedive. 
In today's Deep Dive, we delve into the science of sleep to understand the important role it plays in overall health and the equally important role health coaches can play in helping clients establish better sleep habits.
Why are sleep interventions so important?
While the reasons why we sleep are still largely unknown, sleep science has undoubtedly shown that we need to sleep—desperately. Sleep helps with critical cognitive functions, like solidifying learning and locking in our memories. It keeps us emotionally regulated throughout the day and without it our mental health takes a serious hit. Sleep has even been linked to longer lifespans. 
However, it's estimated that 35% of US adults are sleep deprived (and we're certain that number is much higher!), many of whom suffer from sleep disorders like insomnia, sleep apnea, narcolepsy, parasomnias and more. These numbers are massively concerning but not at all surprising. In a country where work, family and entertainment are the focus of our lives—and oftentimes, in that order—our sleep, of course, takes a major hit. 
The most concerning part? Sleep deprivation is linked to many chronic diseases and conditions (and counting), like cardiovascular disease, obesity, diabetes, depression, and immune system dysfunction. When looking back on our prior Deep Dives, like our Heart Health and Mental Health dives, it only makes sense why these conditions are so prevalent when sleep habits are so poor. Sleep interventions, especially by health coaches, could have a massive impact on the prevalence of chronic conditions across the US, and it's often one of the easier behavior changes to implement!
How can health coaches help? 
Health coaches have already shown encouraging results in implementing better sleep habits for clients. Results from a 2022 randomized controlled trial on health coaching programs used to manage shift work disorder in nurses showed significant improvements in sleep hygiene, insomnia, depression and anxiety compared to baseline. Health coaches have also been helpful in ensuring clients adhere to medical treatment plans aimed at improving sleep conditions. A 2020 pilot study evaluated the effectiveness of health coaching interventions to improve positive airway pressure (PAP) adherence and reported significant outcomes. 
Why are health coaches so effective? Health coaches can help clients review their day-to-day habits and figure out which lifestyle shifts might make better sleep habits more accessible. Maybe it's establishing a manageable nighttime routine to help clients wind down or it's partnering with health and care teams to ensure treatment plans are regularly followed. Coaches can meet clients where they are to help establish better sleep hygiene and mitigate the effects of sleep disorders.
What are we doing at YourCoach to move the needle?
We believe deeply in the power of health coaching—especially as it impacts sleep health! We've hosted sessions with sleep experts to educate our partners and coaches on the science behind sleep health and health coaching. Moreover, we work closely with our Industry Partners, including our newest partner, Medisafe, to grow or scale their Health coaching operations. Our verified and validated coaches work closely with clients and members to address ongoing health goals—very often sleep is deeply intertwined with their health concerns and becomes a component of their coaching plans.
We're proud to continuously champion change through health coaching by providing best-in-class health coaching services across industries. Through our growing roster of Industry Partnerships, we're able to make health coaching more accessible, helping clients navigate concerns ranging from sleep, to chronic illness and more. If you're interested in learning more about these partnerships, send us an email at team@yourcoach.health