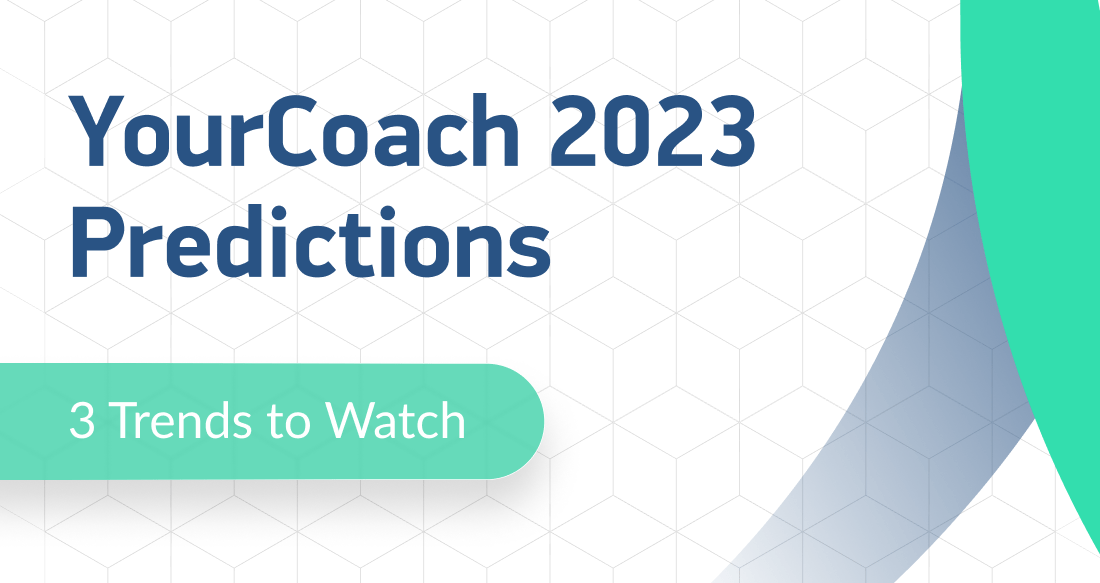 The field of health coaching has expanded significantly in the past several years, and is poised to grow into an $8.87 billion industry by the year 2025 (check out V2 of our forthcoming Health Coaching Report for more great stats like these!). 
We're proud to have facilitated and contributed to much of the important dialogue and progress within health coaching, digital health, and healthcare more broadly. Based on these important conversations, we know there are many exciting developments on the horizon in the year ahead. As is our yearly tradition, we're sharing three top trend predictions for 2023. 
Corporate Wellness Will Take the Mainstage (and Health Coaches Will Play a Major Role!)
Though it can sometimes feel like 2020 was 20 years ago, we're still very much readjusting to workplace changes catalyzed by the pandemic. Many individuals are learning to manage work-life-balance in newly remote conditions; or reconfiguring their schedules to accommodate hybrid work environments; or re-learning how to physically show up to work daily while still prioritizing physical, mental and emotional wellbeing. 
No matter the workplace, individuals are asking, "What impact does this job have on my holistic wellness and overall well-being?" Moreover, when they can (and we know this is unfortunately not always possible for everyone), they're reconsidering higher-paying roles in favor of ones that better support their health. The US Surgeon General has paid particular attention to this growing concept of "workplace wellness," recently identifying it as one of his key priorities. Namely, he wants to, "build workplaces that are engines of well-being, showing workers that they matter, that their work matters, and that they have the workplace resources and support necessary to flourish."
One of the best ways companies can support their employees holistically (while also improving their productivity; perceived happiness; etc.) is to offer corporate wellness benefits that help them show up for their health in and outside of work. Health coaches can make a major impact here—especially by working one-on-one with employees to identify their goals for managing work-life-balance and providing strategies and accountability to support their health at all times. We're already seeing trailblazing companies bring health coaches to the table, and we're proud to have helped make that happen. 
Amazon, for example, recently began offering Twill's services (including live health coaching) to employees in a push to provide them with more mental health benefits and resources. We expect to see many organizations follow suit in the new year (especially because we're working to make this happen alongside our industry partners as we speak!). 
Digital Health, Health Coaching and AI Will Complement One Another
With the rise of ChatGPT and other major AI breakthroughs, many begin to wonder how the role of health practitioners, like health coaches, might shift in the next year…ten years…fifty years…etc. We recently spoke with FirstWord Healthtech on the topic of AI and health coaching, sharing: 
"When we think about artificial intelligence, and any type of digital health technology, we have to remember that the role of the healthcare team (including the health coach) is absolutely irreplaceable. Something like Chat GPT might be helpful to provide information about an individual's health concerns, but just like Dr. Google, we'd always recommend taking any blanket health information with a grain of salt. Health and care is becoming increasingly personal, which means no two individuals experience a condition; health risks; etc. in the same way. The patient care team can help clients interpret information from something like a ChatGPT. Health coaches, specifically, can help clients decipher how this info might apply to their lifestyle, goals and values. This interpretation to application pipeline is really only possible through the human eye, not AI as we know it."
We're confident that advancements in digital health, which might include leveraging AI technologies for individualized results, can only open more doors for health coaches globally. As we've seen time and time again, a live health coaching component can be critical to ensuring digital health technologies are being implemented to their fullest extents, and with the highest success rate, at the patient level. We're already seeing these effects firsthand through our industry partnerships with leading digital health organizations, and expect to continue to see digital health, AI and health coaching work together synergistically in the year ahead. 
Research on the Science of Health Coaching Will Increase 
In V2 of our Health Coaching Report, we analyzed trends in completed clinical trials that have involved health coaching interventions over the last two decades. Over this relatively short period of time, we've seen studies grow from just one known study in 2001, to nine in 2012 and 67 in 2021. While these numbers might not seem significant compared to other fields, this exponential growth in studies is absolutely something worth watching.
Not only are digital health organizations, healthcare teams, and employers recognizing the value of health coaching, but the scientific community is taking serious note. Many of these studies demonstrate statistically significant positive effects of health coaching on those struggling with diabetes, in symptom management for cancer patients, in reduction of weight and BMI in those suffering from chronic obesity, and so much more. We're confident the number of scientific studies evaluating the efficacy of health coaching across conditions will continue to grow rapidly in the year ahead. 
This past year was only the start of what we call the Health Coaching Revolution, but it's far from over. We're thrilled to see these trends, and then some, come to fruition in 2023. Join the conversation on social media to share what you're expecting (or hoping) to see in the year ahead.