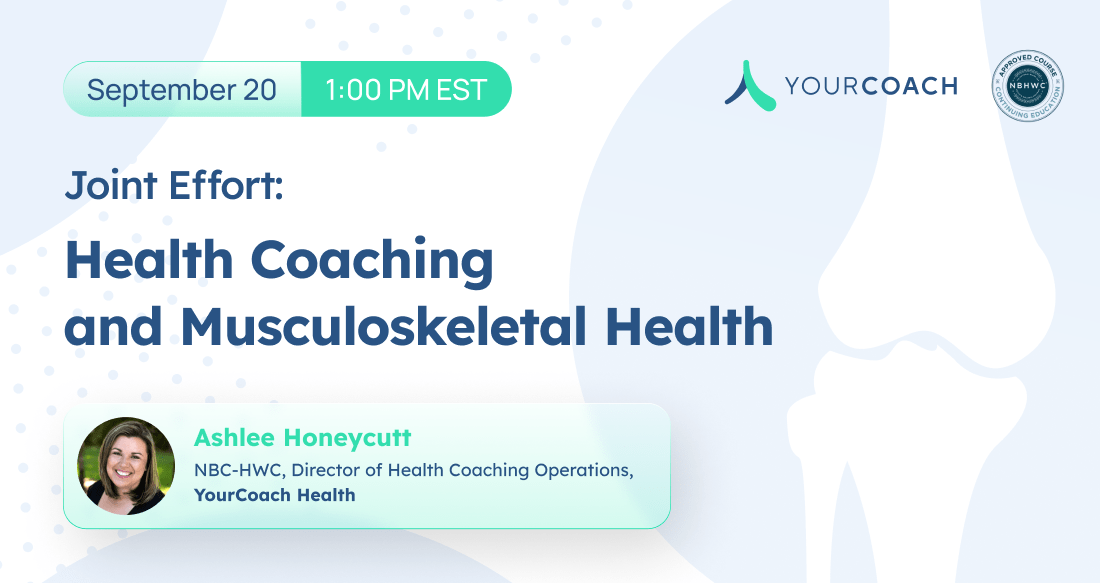 Date and time
Starts on Wednesday, September 20 – 01:00 PM EST
About this event
The Arthritis Foundation reports that musculoskeletal conditions are the leading cause of disability among adults in the United States, affecting more than 50 million people.
In this webinar, we will explore the significance of musculoskeletal health in overall well-being, focusing on the importance of healthy joints, bones, and muscles in enabling movement and maintaining physical function. We'll also cover the latest research on musculoskeletal health and common issues that can arise, such as osteoporosis, arthritis, and joint pain. Leveraging real client scenarios, we will walk through common challenges clients with musculoskeletal conditions may face, as well as practical tools and skills coaches can leverage to support them. By the end of the webinar, coaches can expect to have a comprehensive understanding of musculoskeletal health, practical strategies for maintaining healthy bones and muscles, and insights into how to support clients with musculoskeletal issues, enabling them to lead a more active and fulfilling life.
This webinar is approved for 1-CEU by the NBHWC – you will receive the quiz after the webinar. All ticket sales go towards the Rita & Gene Presman Memorial Scholarship Program – we're committed to ensuring that cost is never a barrier to anyone who wants to become a National Board Certified Health and Wellness Coach. Please note that members of the YourCoach Coaching Community can attend this webinar (and receive CEUs) at no cost.
Relevant Content Area for NBC-HWCs:
Related to one or more competency areas required for the practice of health and wellness coaching: Content Area 2: Coaching Process
Related to health and wellness coaching subspecialties, including but not limited to: Digital coaching skills and Coaching in healthcare
Frequently asked questions
– How many CEUs can I get for this course?
– This course is approved for 1 CEU by the NBHWC – you can obtain the CEU by attending this event and filling out the post-webinar quiz.
– Can I attend the event if I don't need CEUs?
– Absolutely, you can attend at no cost. Please pick the General Admission – NO CEUs ticket
– How can I join the event?
– You will receive an email with the meeting link on the day of the event. You will also be able to join via this Eventbrite page.